The Roadmap is an online course designed to teach you how to go vegan or incorporate more plant based meals into your diet in a way that is delicious, simple, and that allows you to find your very own sweet spot when being vegan.
All through an approach that is respectful of your very own journey, that allows for flexibility, missteps, and that focuses on the long road ahead. Think of it as the ultimate guide on how to become a vegan, created by a doctor and vegan chef, husband and wife team.
---
We cover everything from the benefits of going vegan, the basics of how to start a vegan diet, vegan nutrition essentials and reliable resources on plant-based nutrition, as well as shopping and eating vegan on a budget, meal planning for vegans, cooking, vegan meal ideas for everyday life and special occasions and holidays, how to eat out as a vegan, navigating the social aspects of being vegan, raising vegan kids and teens, going through different life stages as a vegan, plant-based recipes and so much more.
---
21+ Modules
180 lessons including:
Vegan recipes

Vegan nutrition basics

Shopping

Support when eating out as a vegan

Seasonal plant-based menu ideas

And much more
Multimedia Approach
Content comes in 3 main formats:
Beautiful HD videos
High quality audios
Written lessons
Tons of Recipes
You'll get 40 step by step recipes including:
Vegan main dishes
Sides
Breakfasts
Desserts
Ideas for lunch and dinner
Plant-based recipes for entertaining
And more
We'll help you with all the social aspects of going vegan
Traveling as a vegan

Dealing with the reactions of non vegans, and friends and family members who might eat in a different way

What to do if your partner isn't vegan

How to eat out as a vegan at restaurants, weddings, dinner parties, office parties and through the Holidays
We'll help you with all the practical aspects of going vegan and getting started with a vegan diet
Seasonal and special occasion menu ideas with easy to assemble dishes
Eating plant based on a budget
Shopping and finding vegan options at the grocery store, meal planning, substituting favorites and cooking the best vegan recipes
Raising vegan kids and teens & much more
We'll teach you how to make delicious dishes
Over 40 step-by-step recipes for things like white cheddar vegan mac & cheese, fudgy chocolate cake and braised seitan with a barbecue glaze.

Beautiful printable PDFs for all the recipes.

Glute free vegan meals.
We give you ongoing support
Staying motivated and finding your "why"

Dealing with common missteps when going vegan

Dealing with the physical and emotional changes you might experience

Answering any questions you might have throughout the course
We go beyond the plate
 

Giving you support if you have special needs


 

Guiding you to other areas of veganism like choosing cruelty free and vegan makeup, cosmetics and fashion

 

Helping you keep family traditions alive no matter how you choose to eat, and honoring and enjoying family holidays as a vegan
Take it wherever you go
The course can be enjoyed through any device

Beautiful HD videos

Longer lessons via audio so you can take them on the go
Course Content
---
Module 1
Hitting the Road: What is Veganism vs What it Means to Eat a Vegan Diet
What is veganism?
What do vegans eat?
What being vegan is not
---
Module 2
First Stop: Finding your Motivation
Finding your why and deciding you can give it a try
Veganism and your health
Veganism and the animals
Veganism and the environment
Veganism and humankind
Veganism and your relationship to food, your body and yourself
---
Module 3
Frequently Asked Questions About Veganism 
Is a vegan diet healthy and complete nutritionally speaking?
Where do vegans get their protein?
What about all the other nutrients? Calcium, iron, omega 3s, etc.
I understand why vegans don't eat meat, but why don't they eat dairy and eggs?
Isn't eating vegan too extreme or radical?
Do I really need to supplement vitamin B12?
If it's such a healthy way to eat why hasn't my doctor recommended it?
Is it safe to eat some of the ready made vegan meat alternatives?
Is soy safe to eat or drink?
Can anyone be vegan? (Pregnant women, children, athletes, etc) 
If I have a medical condition, is it safe for me to eat a vegan diet? 
Isn't it ok to eat free-range eggs or grass fed beef?
Is it expensive to eat a vegan diet?
Do you need special equipment or fancy and expensive ingredients to be vegan?
Isn't a vegan diet too limited or difficult to keep up for long?
My partner doesn't want to go vegan. How can I make the switch to a vegan diet and still maintain a healthy relationship with them? 
Aren't we supposed to eat meat? We've been doing it for centuries and it's tradition
---
Module 4
Vegan "Side Effects": What to Expect when you Go Vegan
Common changes and symptoms you might experience when you go vegan
The emotional changes you might experience when you go vegan 
---
Module 5
How to Build a Balanced Plate
Plate re-arrange: Another way to see our plate
First thing's first: What about protein?
Other important nutrients for vegans
Introducing the plant plate and our favorite vegan registered dietitian nutritionists plus some must read books
Supplements
What's up doc? Getting regular check ups and knowing what to test
---
Module 6
Re-Stocking your Kitchen
What to take out
What to add in
---
Module 7
Going Shopping
Conventional store or supermarket
Meeting the health food store or specialty vegan shops
What if there are no vegan products or health food stores where I live 
Let's meet some vegan products you might not know
---
Module 8
Budget Friendly Tips 
Is eating vegan food more expensive than eating a standard animal-based diet?
My budget friendly mantra
Saving money while shopping
When you come back from the store
Some great budget friendly resources
---
Module 9
Vegan Substitutions
Scrumptious ingredient swaps!
---
Module 10
I Can't Live without... 
I can't live without cheese
I can't live without meat
I can't live without eggs
I can't live without seafood
I can't live without baking!
---
Module 11
A Day of Eating
Spring Menu 1
Spring Menu 2
Summer Menu 1
Summer Menu 2
Fall Menu 1
Fall Menu 2
Winter Menu 1
Winter Menu 2
---
Module 12
A Special Day of Eating
Pressed for Time Menu
On the Road Menu
Airport Travel Menu
Kids Won't Complain Today Menu
Picnic or Camping Menu
A Thanksgiving Feast Menu 
A Christmas Feast Menu
A St. Patrick's Day Party Menu
An Easter Feast Menu
A Smoky Summer BBQ Menu
A Spooky Halloween Comfort Food Party Menu
---
Module 13
The Social Aspects of Being Vegan
Family members' and friends' reactions after we go vegan
When my partner isn't vegan
Eating out in restaurants
But where am I putting my money?
Attending dinner parties or other social events with food
Enjoying the Holidays
Answering difficult questions
Dealing with friends and family who still eat animal foods
Keeping traditions alive, and starting new ones
---
Module 14
Vegan Travel
Traveling as a vegan
Tips for the journey: air travel, airports, bus, train, or road trips
Tips for when you've arrived at your destination 
The vegan passport and visual guides for traveling
Great travel blogs and resources
---
Module 15
Vegan Kids, Teens and Pregnancy
Can I be vegan and have a healthy pregnancy?
Recommended resources for pregnancy, breastfeeding and raising vegan kids and teens
Support for vegan parents and soon to be parents
Raising vegan kids
Raising vegan teens
If you are a vegan teen
---
Module 16
Athletes and Vegans with Special Needs
Vegan athletes
What if I have allergies to certain foods?
What if I have limited access to foods or I'm struggling with food insecurity?
What if I've had or am struggling with an eating disorder?
What if I have a disability that limits or impairs shopping and cooking?
What if I have an underlying medical condition?
---
Module 17
Veganism and Pets
Can our dogs and cats be vegan?
Some commercial brands of vegan pet food
Pet adoption over purchase: The problem with breeders and buying companion animals
Being responsible pet owners 
Having a herbivorous companion if you don't wish to have dogs or cats
When you can't have a companion animal
---
Module 18
Vegan Beauty and Fashion
I have to do what now? A gentle introduction into vegan beauty and fashion
The truth behind animal testing, leather goods, fur & other apparel that uses animal products
Choosing more vegan/cruelty free products out of the kitchen
Clothing and accesories basics and labelling
Shoes and labelling (the easiest symbol in the world!) 
Vegan makeup and beauty products
What should I do if I already own non-vegan fashion products or cosmetics?
---
Module 19
Animals in Entertainment 
Animals in entertainment: Swap this for that!
The truth behind animals being used in entertainment
Creating new traditions
Children and education
---
Module 20
Common Vegan Missteps
Common nutrition missteps
Common social missteps
Common cooking and eating missteps
Common internal missteps
Deliciously Decadent Chocolate Cake with a Fudgy Chocolate Sauce
Tofu Scramble with Peppers, Mushrooms, Onions and Greens
No-Tuna Salad Sandwich
Country Style Ratatouille
Classic Lasagna
Fluffy Buttermilk Pancakes
Chocolate Peanut Butter Balls
Fresh Summer Rolls
Thai Coconut Peanut Sauce
Herbed Cashew Cream Cheese
Oven French Fries
White Cheddar Mac & Cheese
Smoky Tempeh Bacon
Fall French Toast with a Cinnamon, Maple and Apple Topping
Coconut Berry Almond Squares
Crunchy Cajun Cobb Salad
Easiest Kale
Mediterranean Couscous with Chickpeas and Avocado
Protein Packed Kale and Pineapple Smoothie
Jini's Bananas Foster
Quickest Chickpea and Broccoli Coconut Curry
Cheese and Smoky Tempeh Quesadillas
Tofu No-Egg Salad Sandwiches
Picnic Potato Salad
Lentil and Mushroom Holiday Roast with Stuffing
Creamy Sweet Potato Purée
Herby Roasted Green Beans
Classic Pumpkin Pie
Red Wine Mushroom Gravy
Roasted Garlic Mashed Potatoes
Country Style Apple Pie
Spinach Quiche
Dublin Coddle
Pea, Mushroom and Asparagus Galette
Braised Seitan with a BBQ Glaze
Carrot Cake with a Cashew Cream Cheese Frosting
Roasted Artichokes with Lemony Parsley Pesto
Spooky Halloween Truffles
Jerky Tofu Kebabs, Corn on the Cob and Melt in your Mouth Kale
Sunny Side Up Dipping Sauce for Toast!
This program is for you if...
You've been trying to make more vegan meals and need inspiration and support when thinking of easy vegan breakfast, lunch, dinner and snack ideas and recipes.

You've tried going vegan before but lacked the motivation, or found it difficult to sustain.

You're curious about the benefits of going vegan, all the pros and cons to this way of eating and need a comprehensive "how to" guide.

You need help and support on how to start a vegan diet.

You've decided to become vegan or make more vegan choices but you're worried about nutrient requirements, what supplements you might need to take as a vegan (like the importance of vitamin B12) and how to build your new vegan meals.

You've been looking for a more balanced approach, one that isn't about restriction or deprivation but about reconnecting with your own body's cues and needs, a full online course that will give you all the tools you'll need to make this transition to veganism easily, in one easy to access platform.
Who is this program not for?
This course is not for you if you don't have access to a kitchen or an internet connection.
It is also part of our philosophy to respect the journey each person wants to go through, so we ask all of our students to be respectful of each other, in order to maintain the wonderful and supportive community we've always had within the course. It is not about perfection, but about positive steps forward.
What you'll need
You'll need an internet connection, and a device with access to it. Our course can be enjoyed through your computer, phone, or tablet.
You'll also need access to a kitchen and all your basic kitchen tools. If at any point a video showcases a piece of equipment you don't currently have in your kitchen, I'll be right there to give you alternatives and you'll of course have countless other videos to choose from. 
Just in case we haven't met before, I'm Kim. I'm a teacher, a certified plant based cook, and together with my partner in crime, my husband Carlos, doctor (MD) and online tech/filming fanatic, we created "The Roadmap". An online course designed to help you in and out of the kitchen to make more vegan choices in a sustainable way that suits your lifestyle.
We're on a mission to help people get back in the kitchen, cook delicious vegan meals, while falling in love with the simplicity of food and cooking again.
We've been helping our students on their journey to veganism or to making more vegan choices for many years now, both from a culinary perspective and also from a lifestyle perspective, making many online vegan courses to give you all the support and tools you need.
We want to inspire you, motivate you and teach you how to go on this journey without additional restriction, without a sense of purity or perfection, and where missteps are welcome and part of the process.
This is what our students are saying...
Melanie
★★★★★
"I want to say how incredibly impressed I am with this course and it's thoroughness so far- and it looks like I have been barely even scratched the surface! You clearly put so much love, attention and detail into this astounding amount of content, it is truly mind blowing and I can't thank you enough."
María
★★★★★
"I have read and completed other courses on veganism but none is so complete as this one if you want to get into all the aspects of a vegan lifestyle. It not only covers food but also ethical and environmental aspects behind this choice, vegan diets for different age groups and conditions, animal abuse, the cosmetic industry, etc. Kim is the perfect communicator. She is honest, considerate, engaging, and very passionate about everything. I could be listening to her for hours and never get tired because she has that special thing that makes her instantly connect with her listeners/ readers. Some of the aspects she deals with, especially the way animals are treated and the not-so-known working conditions of workers in the meat industry, are very sensitive matters and she talks about them in a very tactful, respectful way. I appreciate her for that. Thank you Kim and Carlos for putting this amazing course together. The vegan world has just gotten richer with your wonderful resource!"
Helena
★★★★★
"What a magical place! And "The Roadmap" is a gem! I love every bit so far! Thank you, Kim and Carlos, for putting it together."
Anonymous
★★★★★
"This really is a fabulous program that covers the most up-to-date information and options available to a new (but overwhelmed-at-times) vegan. Thank-you once again, Kim and Dr Carlos, for sharing your wealth of knowledge on each and every subject in this Brownble Roadmap. This really is the one of the best online programs, if not the very best program for learning about veganism and how to become a healthy, happy vegan."
DM
★★★★★
"This is everything. I cannot possibly come up with the words to express how this course, and this module in particular, helped me find myself. I've battled being the odd one out for most of my life and struggled with my relationship with food for many many years. I would go vegan for periods of time because it felt right for me, but being such a perfectionist, any little setback or mistake became a total derailment and made me feel like a failure of a vegan. But now, after experiencing this and hearing all of the kind and encouraging words, as well as utilizing the additional resources mentioned, I truly feel the confidence you mentioned. I feel like I am one with myself now and not just living day by day in a shell of who I really am. I feel complete and I feel grateful. My heart is full and my soul is happy!! From the bottom of my heart, thank you!"
Benedicte
★★★★★
"This course has taken me on an amazing journey. I became Vegan 3 months ago and made the decision based on health as well as environmental issues. Your course has given me a completely new global picture on many issues I was not aware of; such as how bad we treated the animals we eat, the utter importance of not using Veganism as yet another diet, or obsession about purity. The wealth of resources that you put at disposal has enabled me to learn in so many areas and take my vegan journey to a new dimension that includes after 20 years of dieting. working on intuitive eating as well as mindfulness. I feel very fortunate to enter the vegan community through this introductory workshop because I feel I won't be judged for missteps; I am not alone; I can listen to your podcasts and I am part of a momentum that is growing every day to make this world a better place. So well done, thank you for sharing your story and keep up supporting all the new vegans!"
Frequently Asked Questions
Can I try out the course?
Are the recipes gluten free?
Are the recipes whole food plant-based? Do you use ingredients like oil, salt, sugar, flour, etc.?
What payment methods do you accept?
Do you have a mobile app?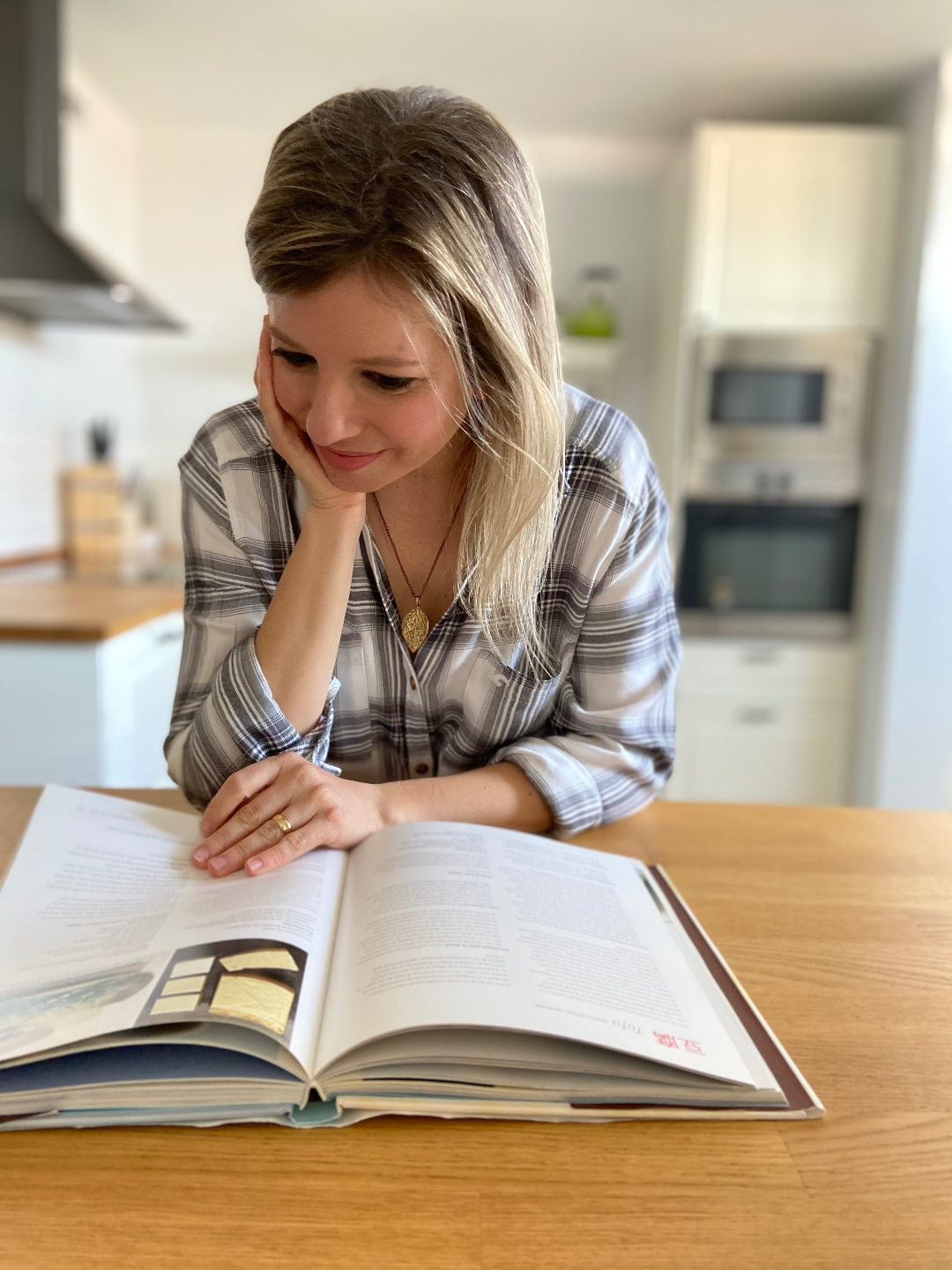 Why join a course like The Roadmap
"Any big change such as going vegan requires motivation and support, but above all that, going vegan is a big step that often comes with roadblocks, moments in which you weren't able to do it perfectly, countless questions and opinions from friends and family, it can be a challenge to go through this on your own.
What I've seen happen time and time again is that even when we are so motivated to go on this journey, we take any stumbles as failures, any difficulties as signs that we aren't doing it right. This course will help you not only learn everything you need to know when going vegan safely and deliciously, but it will teach you how the road can be filled with self compassion, how you can use this journey to learn so much about yourself, how you can make a change for yourself, the animals and the planet in a way that includes all the intricacies and nuance that make you you, how no two journeys are the same and how you can forge your own path so that these changes can accompany you for life."
Kim Sujovolsky - Co-founder and your instructor for the course
More from our students...
Helena
★★★★★
"I have learned so much from you! I appreciate that you are not the usual vegan preacher but rather a very genuine, down-to-earth mentor. One that knows how difficult it may be to start a vegan lifestyle, a person that anyone can relate to because you too have struggled with food and with society's stereotypes."
Annie
★★★★★
"The new roadmap looks absolutely beautiful, Kim!! All the time & effort that you & Carlos put into this is really apparent in the first few videos that I've seen so far. I can only imagine the work that this took, from all script/topic preparation to the things that had to be packed & taken along with you to do the filming!! Your beautiful season-appropriate outfits for each class, the beautiful, tranquil settings in that quaint little town of 12!, your beautiful puppies in the background!! I love it all!!!"
Vandana
★★★★★
"Dear Kim, when you talk about food, the aura of the environment around you is so divine that I really forget what I am watching. I really admire your caliber of doing various projects with that high level of precision and I love your passion for your work. Focusing on many things creates complexity and it actually calls for unshakable dedication to the cause and you have tons of potential for work"
But wait, there's more!
We donate a part of all our proceeds to amazing charities including:
Vegan Outreach
A Well Fed World
Food for Life Global
Our Hen House
Chilis on Wheels
Heartland Farm Sanctuary
Catskill Animal Sanctuary
Plans and pricing
Select your favorite plan and start your Brownble adventure today
All plans include:
Lifetime access | 21+ Modules | 180 Lessons | 40 Vegan recipes
Access to our free courses Tofu Mastery and Breakfast & Brunch Classics