Just in time for Valentine's Day, we bring you a super easy and delicious vegan dessert recipe that is perfect to share with loved ones and friends. These make fantastic vegan food gifts when wrapped up and given to a loved one. Gift it with a container of non-dairy ice cream on the side and you can transform these vegan apricot chocolate chip oatmeal cookies into delicious ice cream sandwiches in under a minute.
I know some people have a slight aversion to finding pieces of dried fruit in their oatmeal cookies or other baked goods. Carlos, my husband, initially looked at me like I was ruining the recipe by adding the little apricot bites, he is a very "classic recipe-don't mess with it" kind of guy.
Then he tried them.
Then they were all gone.
Happy dance!
There are some ingredients that are just soulmates. Apricot and chocolate are a perfect example of an ideal vegan food pairing that just make your tastebuds do jazz hands.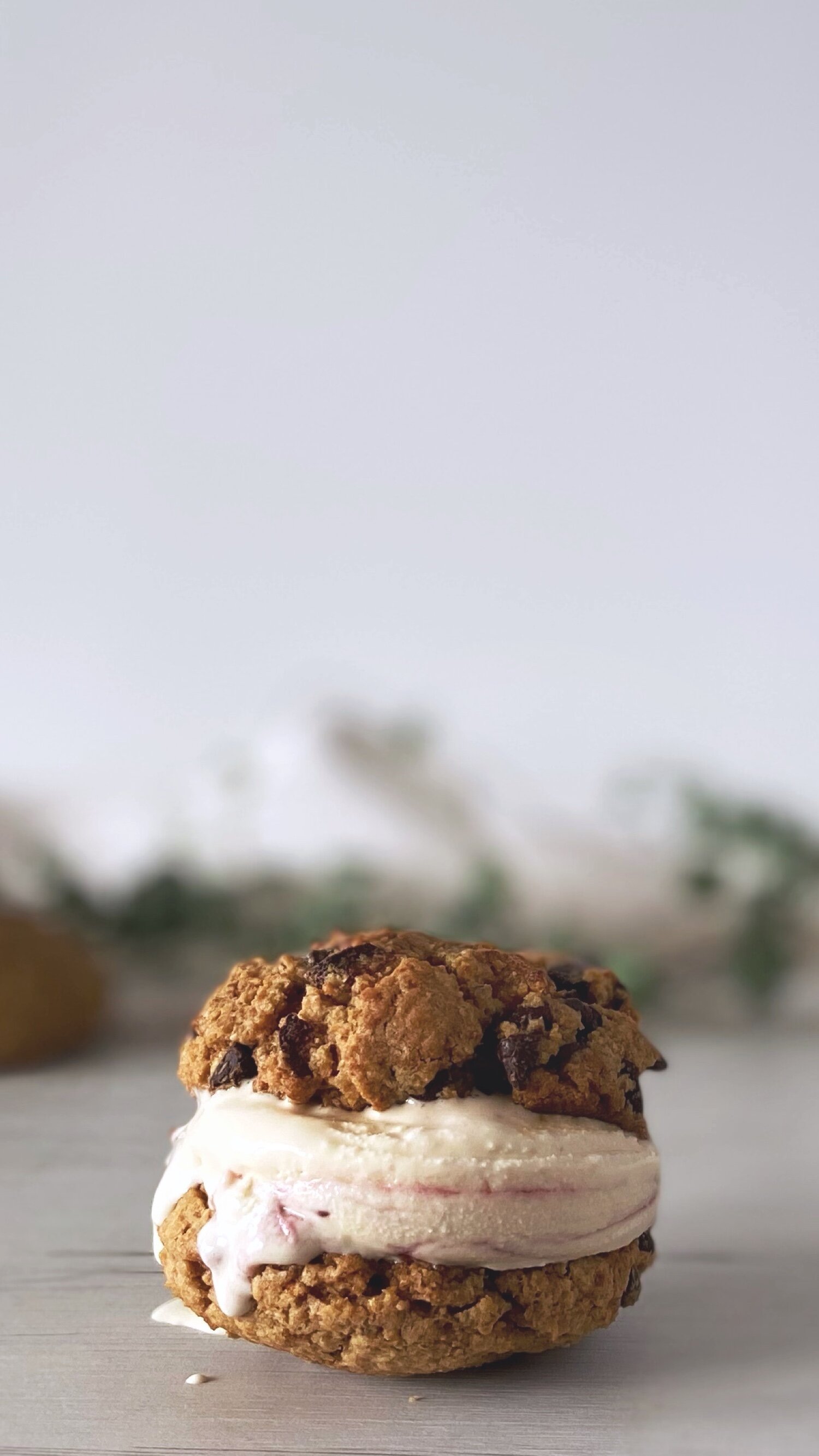 The process is super easy: mix dry ingredients together, cream up the non-dairy butter and panela (or sugar of choice), combine the two, add your yummy add ons, scoop, and bake! It's the joy and wonder of cookies, they're one of the easiest baked goods to make!
We're using panela in this recipe (it's the unrefined version of the sugar cane, ground up and full of flavor), but you can also use brown sugar, evaporated cane sugar or any kind you like or have on hand.

Are you ready to bake some vegan cookies and ice cream sandwiches? Enjoy the video, printable and recipe below!
APRICOT CHOCOLATE CHIP OATMEAL COOKIES AND ICE CREAM SANDWICHES
Yield: 12 cookies or 6 ice cream sandwiches | Prep time: 15 minutes | Cook time: 15-18 minutes
Ingredients


1 & 1/2 cups rolled oats
3/4 cup all-purpose flour
2 tablespoons ground flaxseeds
1/2 teapsoon baking powder
1/2 teaspoon baking soda
1/2 teaspoon salt
1/2 cup non-dairy butter
3/4 cup panela (unrefined brown sugar) or simply use regular brown sugar or your favorite kind
1 teaspoon vanilla extract
2 tablespoons apricot jam (or peach jam)
1/3 cup chopped dried apricots
1/3 cup vegan dark chocolate chips

For turning the cookies into ice cream sandwiches:
Your favorite non-dairy ice cream
Directions


1. Pre-heat the oven to 350ºF (180ºC) and line a shallow baking sheet with parchment paper.
2. In a bowl, combine the oats, flour, ground flaxseeds, baking powder, baking soda and salt.
3. In a large bowl, using a handheld or standing mixer, beat the non-dairy butter, panela (or brown sugar) and the vanilla extract until very creamy and well mixed.
4. Incorporate the dry ingredients into the large bowl with the butter and sugar mixture and mix again until everything is well incorporated and you don't see any loose flour.
5. Add the apricot jam and mix again.
6. Add the chopped apricots and chocolate chips and mix using a spatula this time.
7. Using an ice cream scoop, divide the dough into 12 portions and place them with space between them on your prepared baking sheet.
8. Bake for 15-18 minutes until golden brown. Keep in mind that they will still feel soft when they've just come out of the oven and they will continue to firm up when placing them carefully on a cooling rack. Let them cool.
9. Serve them as cookies, or if turning them into ice cream sandwiches, simply scoop your favorite non-dairy ice cream and place it between two cookies to form a sandwich and serve immediately. Enjoy!
You might also like...
Our Program and Courses
Take a look
Don't miss our weekly goodies!
Our best FREE content straight to your inbox