My mother in law makes the best carrot cake on the planet. Yes... on the entire planet. She is the carrot cake master and coming from someone who always loves to order carrot cake whenever it's on the menu (me!), this says a lot. I've seriously never tried one as good as hers.
She's constantly making it for friends' parties, family barbecues, birthdays. The cake became so popular that she even started a mini business selling it to people in her gym, friends of friends, her husband's running buddies. She couldn't keep up with the orders.
There was only one little issue with her cake. It wasn't vegan! So the second I went vegan I made it my mission to use what I had learned from watching her make her famous carrot cake, and make it into the perfect vegan recipe for carrot cake cupcakes I'm about to teach you today. Why cupcakes? Because when it comes to desserts I always feel that I'm still four years old, and I want a special little treat that is just for me. Although I have to admit I can never eat just one.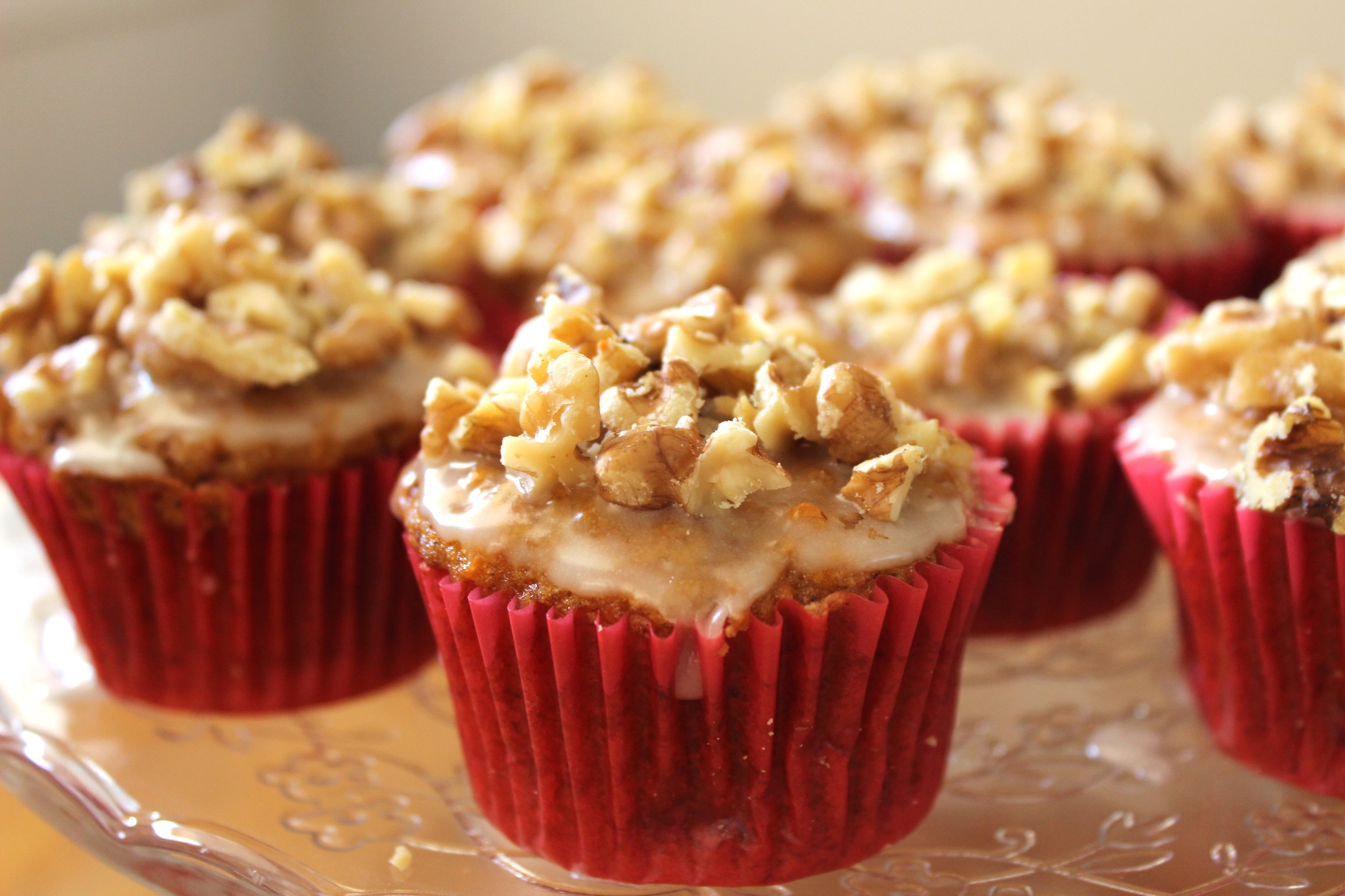 These babies are so decadent and moist you won't even know what hit you! You can make the very simple vanilla glaze I teach you below and add the walnuts on top, or you can create your favorite vegan butter cream or cream cheese frosting for these. Either way, these are scrumptious!
I also need to tell you something very important about this recipe. I created it specially for my friends at Vegan Outreach, an organization that is near and dear to my heart and that is working tooth and nail to spread the vegan message in a doable, simple and responsible way. We just love them! We're adding the video we made for them below, and don't forget to subscribe to their youtube channel, visit their blog and check out their facebook page since they're always sharing delicious and super cool content.
Ok, on with the show! Enjoy the recipe, video and pdf printable below and go make some cupcakes!
CARROT CAKE CUPCAKES WITH A VANILLA AND WALNUT TOPPING
Yield: 12 cupcakes ⎮ Prep time: 20 minutes ⎮ Cook time: 15-17 minutes
Ingredients
1 & 1/4 cup all purpose flour
1/2 teaspoon baking powder
1/2 teaspoon baking soda
1/4 teaspoon salt
1 cup evaporated cane sugar (or regular granulated sugar)
1 & 1/4 teaspoon cinnamon
1/8 teaspoon nutmeg
1/2 cup neutral tasting oil like coconut oil, canola, safflower or sunflower
1 & 1/3 cup finely grated carrot
1/3 cup unsweetened applesauce
6 tablespoons of the drained liquid of a can of chickpeas
For the topping
1/2 - 1 tablespoon non-dairy milk
8 tablespoons powdered sugar
A drizzle of vanilla extract
Some chopped walnuts
Directions
Pre-heat the oven to 350ºF (176ºC) and line a 12 piece cupcake pan with paper liners.

In a large bowl combine the flour, baking powder, baking soda, salt, sugar, cinnamon and nutmeg. Stir to combine.

In a smaller bowl combine the oil, applesauce, grated carrot and chickpea brine (also called aquafaba), stir well to combine.

Add the wet ingredients into the large bowl and stir just until combined being careful not to overmix.

Fill the cupcake liners 3/4 of the way up with the batter and bake in the oven for 15-17 minutes or until a toothpick inserted in the center comes out clean. I also like to rotate my pan in the oven halfway through to ensure even cooking.

Let the pan cook slightly and then transfer the cupcakes to a cooling rack until they've cooled completely.

To make the glaze simply combine the powdered sugar, vanilla and the milk (adding it a bit at a time until your favorite consistency is reached).

Dip the cupcakes in the glaze, top with some chopped walnuts and enjoy!
You might also like...
Our Program and Courses
Take a look
Don't miss our weekly goodies!
Our best FREE content straight to your inbox