Food pairings, aka foods that just go together like two little peas in a pod are what have helped me elevate my cooking the most, especially as a recipe creator, since 90% of the time I'm not cooking tried and true recipes but developing new ones (yes... it's an illness... yes, my husband is a happy man when I don't mess things up too much!).
When you're on this quest of improving your cooking skills, when you want to feel more confident in the kitchen, come up with new ideas and eventually learn how to cook without using a recipe, understanding food pairings is such a fantastic tool. I'm not talking about food and wine pairings, although these are great to learn too if you're a wine lover. I'm also not talking about the traditional and famous food duos like peanut butter and jelly, or caramel and sea salt, or french fries and ketchup, cookies and milk. I'm talking about going right back down into basic ingredients, and which ones go so well together you can build an entire meal on just a simple flavor combination.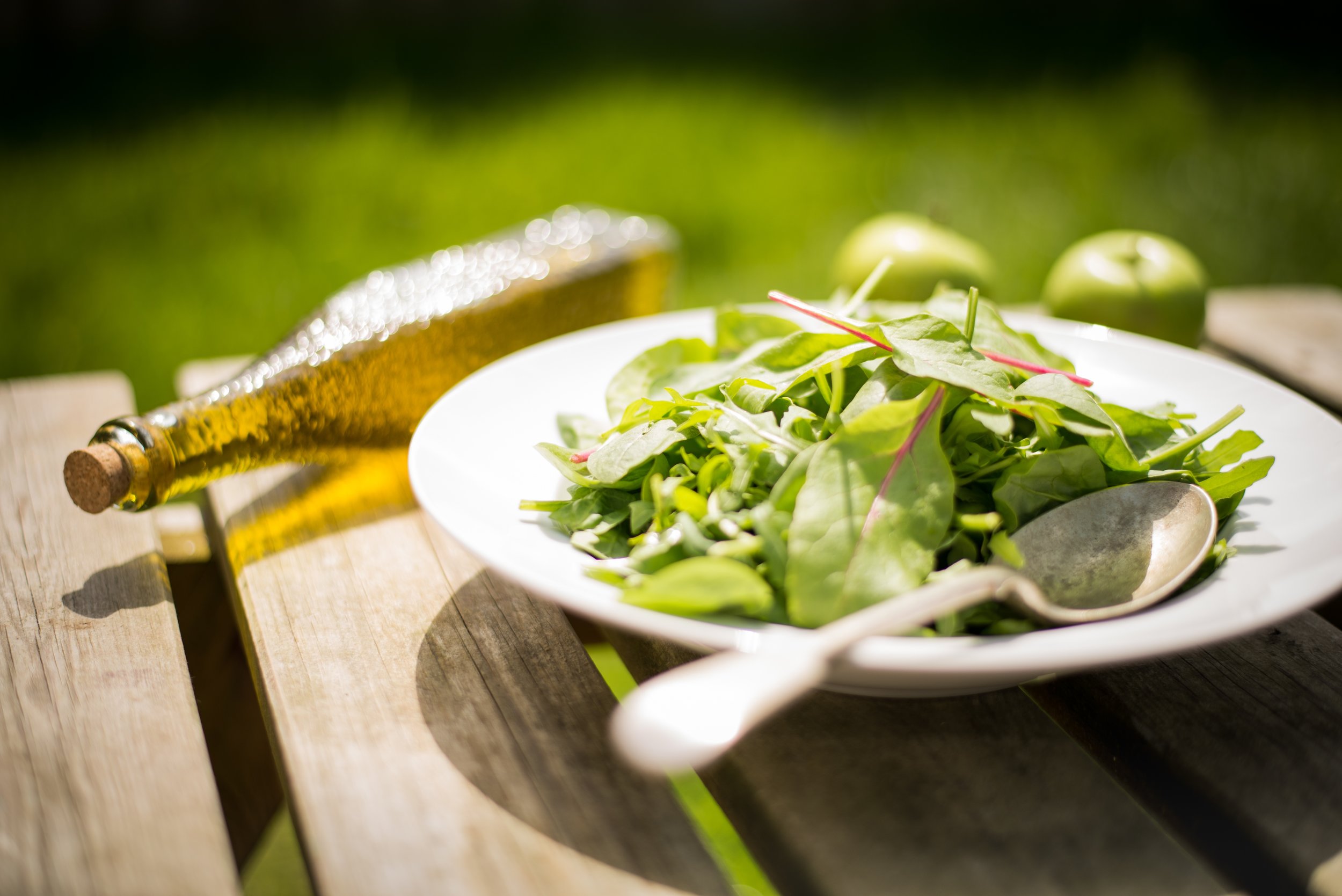 In today's post I'm giving you some of my favorites... crazy style. What do I mean by crazy style? I just got so excited that I simply started writing and writing pairings on a piece of paper. No order, no particular way of organizing them, just perfect combos to help you in the kitchen and some simple ways of putting them together. I barely scratched the surface with these, so we'll have part 2 coming in a future post. For now, though, you've got a really handy list of perfect vegan food pairings with the options I'm about to give you.
Strawberries and black pepper
Get some strawberries tender with a little sugar or drizzle them with maple syrup and add some freshly ground black pepper.
Strawberries and balsamic vinegar
Perfect on a salad that includes balsamic, marinated in a combo of balsamic and sugar, or drizzled with a balsamic reduction.
Pineapple, maple syrup and black pepper
Grilled pineapple slabs brushed with maple syrup and sprinkled with black pepper. Cook until caramelized.
Potatoes and rosemary
Roasted potatoes, with lots of rosemary sprigs or chopped rosemary, some sea salt and pepper and a little oil for caramelizing.
Butternut squash and sage
Previously roasted until tender and then sautéed in a pan with a bit of non-dairy butter, sage leaves and if you're feeling fancy, some gnocchi.
Dijon mustard, lemon juice and dried tarragon
It makes the best salad dressing combined with a little agave and a bit of water to thin it out. Perfect as a sauce on crispy tofu as well!
Brussels sprouts and red grapes
Roasted together with a little oil, sea salt and pepper until the sprouts are tender but still crisp.
Pumpkin and tangerine
Puréed together in a soup with some vegetable broth, onions, garlic and sea salt and pepper. Topped with a little non-dairy sour cream and chives.
Avocado and whole wheat toast
The trendiest breakfast staple right now but I had to mention it! Just mash avocado with a bit of lime juice or lemon juice and some sea salt, spread it on toast and top with some arugula or fresh cilantro.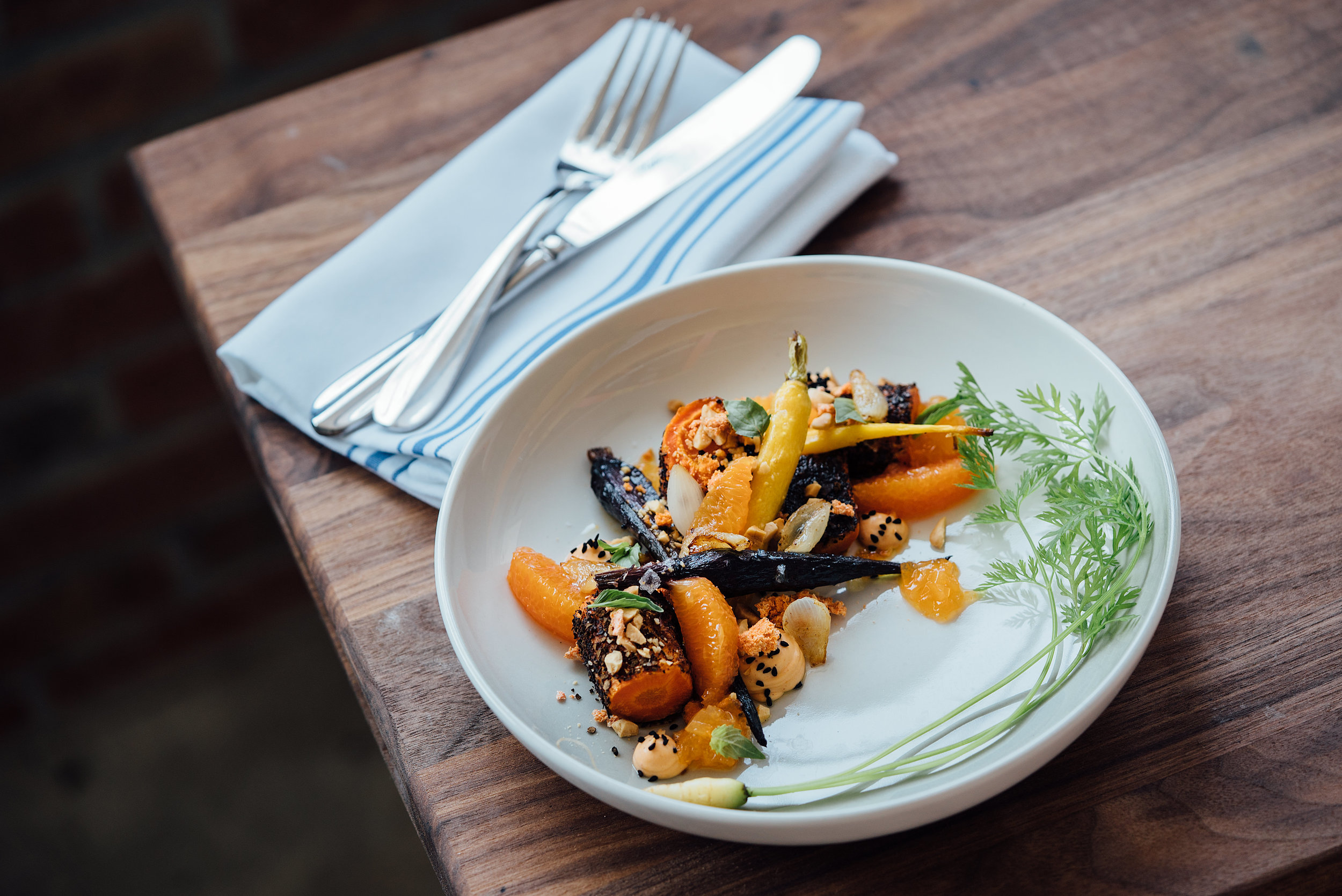 Carrot and ginger
Perfect together in soups and stir fries, but especially in an Asian style dressing with some green apple, lemon juice, rice vinegar and sesame oil, all puréed in a blender.
Cinnamon and lemon juice
Whisked together as part of a marinade or dressing with some olive oil, sea salt and pepper, shallots or garlic finely minced, and you can also add additional citrus juices like grapefruit or blood orange. Not a very well-known pairing but absolutely dreamy.
Red cabbage and apples (plus apple cider vinegar)
Braised in a pan with some caramelized onions, pecans, dried cranberries or raisins and always with a splash of apple cider vinegar to boost the flavor and intensify the color of the red cabbage.
Peanut butter and chocolate
The perfect combo in any dessert, and especially as a chocolate sauce for fruit or fruit tarts.
Oatmeal and shredded coconut
There's nothing like a bowl of warm oatmeal with a drizzle of maple syrup, some chopped fruit (my favorites for this one are peaches, pineapple and banana), and then sprinkled generously with unsweetened coconut flakes.
Chocolate and raspberries
A famous pairing for a reason. Top any chocolate dessert with some berries and dig in, or create a raspberry sauce for topping rich raw chocolate cakes or tarts, or as a topping for a chocolate cheesecake.
Chocolate and chili powder or cayenne pepper
Great combo in moles (a Mexican style sweet and spicy sauce with a chocolate base), or in Mexican hot chocolate (just add a pinch of cayenne or chili powder next time you have your hot cocoa).
Chocolate and sea salt
Sea salt can boost the natural flavors in cocoa and chocolate, so always add it to desserts, hot cocoa or chocolate sauces to get a total flavor powerhouse.
Potatoes and truffle oil
Anything with potatoes goes great with truffles or truffle oil. My favorite is to roast some potatoes in the oven until crispy, and drizzle with a bit of truffle oil at the table. Another great option is a potato and rosemary pizza drizzled with truffle oil when serving.
Banana and peanut butter
Simply serve some banana chunks topped with peanut butter and sprinkled with chia or hemp seeds as a snack.
Black beans and cumin
A simple sauté of onions, peppers, garlic, black beans, cumin and a little lime juice makes for the perfect filling for tortillas. Once everything is in the pan add a bit of water or veggie broth to create a bit of a sauce. Add a dollop of guacamole, some salsa when assembling your tacos and you'll fall in love.
Sweet potatoes and cinnamon
Roast some sweet potato cubes in the oven tossed with some high heat oil (or veggie broth to keep them oil free), sea salt, pepper, paprika and cinnamon. Then serve as a side to any dish, or with some hummus for dipping, as a snack.
Mushrooms and garlic
A simple sauté of mushrooms, garlic, fresh parsley and olive oil is a dream. Add a bit of citrus at the end if desired.
Mushrooms and oregano
Sauté or roast large pieces of mushrooms and add some oregano and lemon juice towards the end of the cooking time.
Mushrooms and tamari soy sauce
Slice up some shiitakes, sauté them in a pan and then deglaze the pan with some tamari soy sauce and serve.
Eggplant and tomatoes
Make a delicious eggplant lasagna with a rich marinara sauce, or use some thinly grilled eggplant as cenneloni, stuff it with tofu and spinach ricotta and then bake with a rich tomato ragu on top.
Bok choy and umeboshi plum vinegar
Grill up thick slices of bok choy until bright green and tender, drizzle with a bit of sesame oil and umeboshi vinegar. Umeboshi vinegar is made from Japanese plums and you can find it in the Asian section of the store or in health food stores.
Peas and onions
Get some onions sizzling and nice and golden brown, and then add your peas. A bit of crumbled tempeh bacon is the perfect addition as well.
Pumpkin and peanut butter
Roast some pumpkin in wedges, add a bit of peanut butter, some cinnamon a drizzle of maple syrup and enjoy as a snack or dessert.
Spinach and pomegranate seeds
Spinach salads go great with a sprinkle of pomegranate seeds, and also a drizzle of balsamic.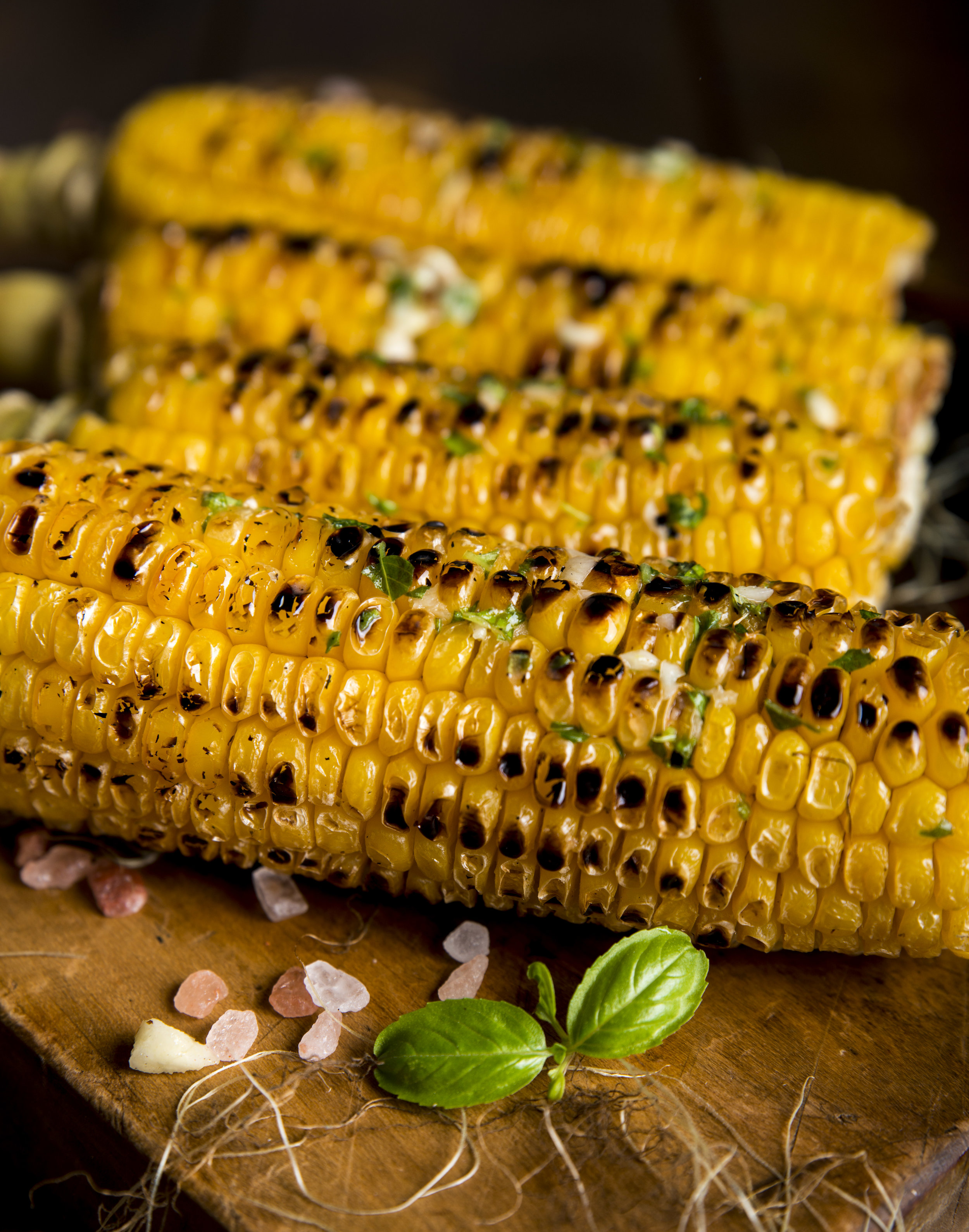 Corn, lime and chili powder
Re-create a total Mexican classic by adding a chipotle or chili powder mayo on corn and drizzle with fresh lime juice as you eat it. My favorite way is right on the cob.
Wild rice and pine nuts
Here it's almost as much about flavor as it is about texture. You won't believe how well these go together. Add some dried cranberries for the perfect Fall touch.
Asian noodles and cilantro
Next time you make a soba noodle salad, or your favorite pad thai recipe, top it with lots of fresh cilantro. It's a match made in heaven.
Avocado and nori seaweed
Add avocado to nori sushi rolls, or simply wrap lots of raw veggies including shredded carrot and avocado inside a nori wrap (burrito style!).
Strawberry and rhubarb
A classic for a reason. Perfect as a filling for pies or as a delicious homemade jam combo.
Pears and wine
Cook your pears in a pot with some red wine, the scrapings of a vanilla bean and some sugar and have the most decadent and elegant dessert. You can serve it with a bit of cashew cream cheese or non-dairy ice cream.
Dates and peanut butter
My daily go to snack. Simply fill a pitted date with a bit of peanut butter and stop that sweet craving in its tracks.
Plums and mustard
Add sliced plums to your salads when you're using a mustard based dressing. It goes great with the mustard-lemon-tarragon pairing I mentioned above!
Figs, cashew cheese and balsamic
The perfect combo next to some wine, or on an arugula or spinach salad with some slivered almonds.
Peaches and tomatoes
Add chopped peaches to your salsa for a different taco topping.
Lentils or beans, and bay leaves
Add a few bay leaves (not that one bay leaf per pot nonsense!) whenever you're cooking your beans or lentils from scratch. When bay leaves spend enough time in a pot cooking and flavoring a liquid or stew, they add a punch of flavor that goes great with beans.
Watercress and mandarin orange segments
Make a simple salad with lots of watercress and arugula, some thinly sliced red onion, slivered almonds, mandarin oranges and an Asian style sesame dressing.
Rice and coconut
A classic duo. Make a savory/sweet rice by adding coconut flakes, a little coconut cream and a bit of your favorite sweetener when you're cooking your rice. Top with toasted coconut shreds. Spicy curries go great with this dish.
Lentils and cabbage
Make delicious stuffed (steamed) cabbage rolls filled with lentils and brown rice, and top everything with a hearty ragu or a simple marinara sauce.
Eggplant and miso
Marinate the eggplant (in squares, slices or however you like) in a teriyaki or Asian style sauce that includes miso paste. Then grill the pieces, add them to kabobs or roast them. You can also make eggplant tempura and serve it with an Asian miso sauce.
Yuca or cassava and parsley
Boil or steam the peeled yuca until tender, then toss the pieces in a bit of non-dairy butter, lots of finely chopped parsley, sea salt and pepper and go straight to heaven.
Stay tuned soon for part 2 where we'll be talking about lots more delicious food pairings, food combos and what we can prepare with them.
Just keeping these in mind will help you get super creative with your plant based meals, even without a recipe.
Let me know in the comments below which ones you loved and tried, what you made, and especially if I missed any of your personal favorites. Don't forget to share this post with loved ones and go experiment!
You might also like...
Our Program and Courses
Take a look
Don't miss our weekly goodies!
Our best FREE content straight to your inbox