Is there anything better than a big bowl of pasta with a ton of chunky sauce with tomatoes and mushrooms, lots of Italian flavors, some of our super simple vegan almond parm, fresh herbs... oh my! I have to tell you that pasta is one of those things that I think I could eat on a daily basis. It's just so satisfying and filled with "stick to your ribs" goodness. This particular pasta recipe came to me one day as I was unpacking the goodies I had bought at the framer's market. Is it only me or are farmer's markets so unbelievably beautiful and special that it's practically a given that you will over shop? I was standing in the kitchen with what seemed to be my weight in tomatoes, and so many mushrooms the drawers of the fridge wouldn't close. It was right then and there, about 6 years ago that I decided to make pasta for lunch that day. Our farmer's market pasta has become a tradition ever since.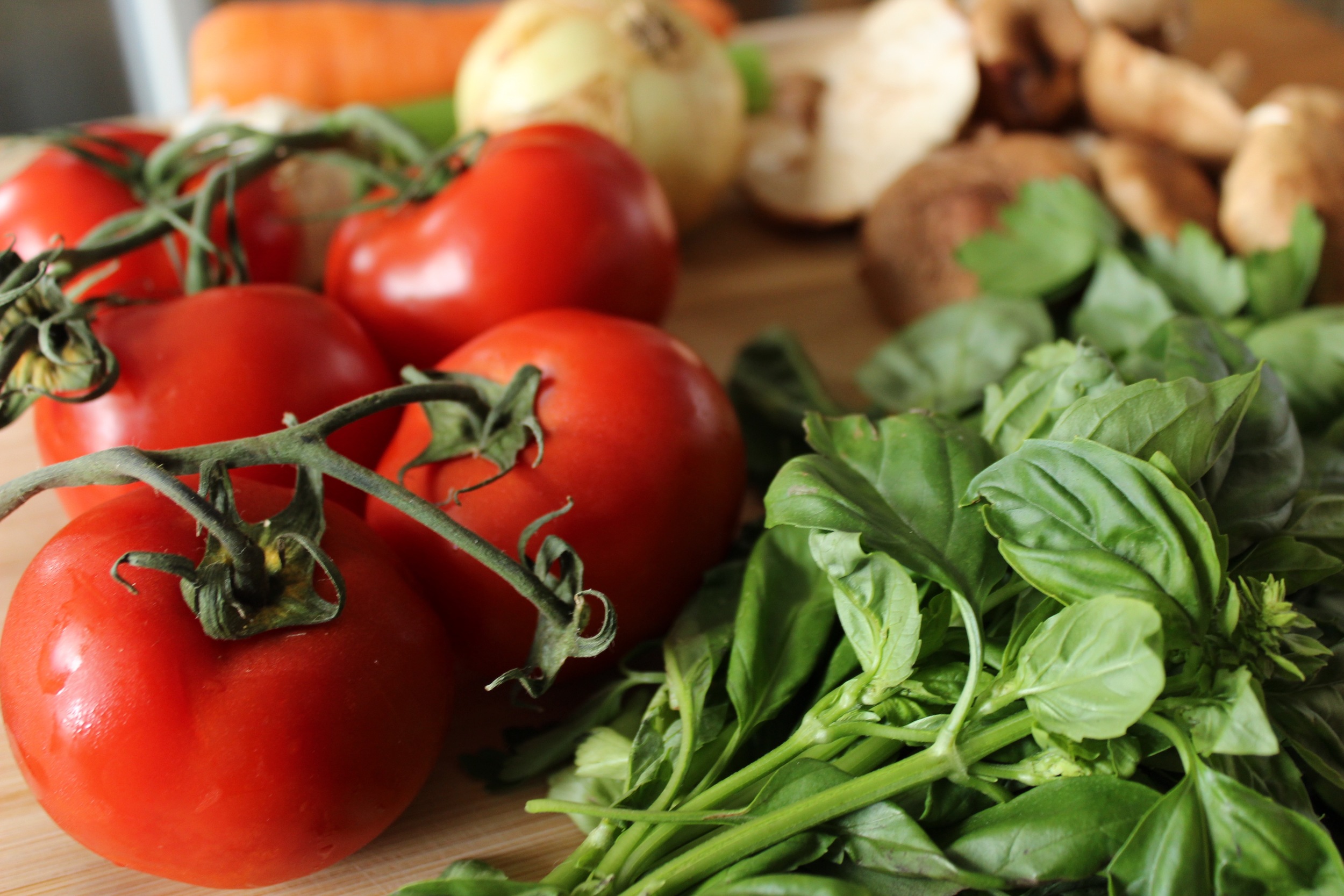 I love it so much because all it requires are really fresh, basic ingredients you can find anywhere, and I love to top it with some almond parm (simply grind sea salt and almonds in a food processor). Today we're adding a little extra twist to this recipe by teaching you the basics of cooking gluten free pasta. You can of course make it with any kind of pasta you have on hand, but I thought it was a great opportunity to show you some tricks for making really good gluten free pasta, as it does vary a bit from the traditional wheat variety.
The sauce recipe is also perfect for freezing, so you can make a large batch, divide it into individual containers, freeze them and then simply cook a quick serving of pasta and have an amazing meal! You can even use the sauce to top stuffed sweet potatoes, stuffed peppers, or over whole grains or veggie bowls.
Are you ready? Let's get cooking!
Enjoy the video, recipe and PDF printable below. Don't forget to show us your photos through social media if you decide to make it!
FARMER'S MARKET PASTA
Yield: 4 servings ⎮ Prep time: 20 minutes ⎮ Cook time: 25 minutes
Ingredients
500 grams (about 17 ounces) of your favorite gluten free pasta (you may also use regular whole wheat pasta)
2 tablespoons extra virgin olive oil
1 onion, finely diced
3-4 garlic cloves, minced
1 rib of celery, finely diced
1 small carrot, peeled and finely diced
1/3cup white wine
1 tablespoon tomato paste
5-6 ripe vine tomatoes chopped
2 cups mushrooms, sliced
A handful of fresh parsley, chopped
Salt and pepper to taste
1 tablespoon tamari soy sauce
A few basil leaves
For serving:
Our vegan almond parm (almonds and sea salt ground up in a food processor), extra herbs, pepper and a drizzle of olive oil
Directions
Bring a large pot of water to a boil.
Heat a pan on low, and add the olive oil.
Add the onions and sweat them in the oil for 10 minutes or until translucent and reduced.
Add the garlic, stirring frequently for 2 minutes.
Add the carrots and celery and season with some sea salt and pepper. Raise the heat slightly and let these cook for a few minutes until lightly golden and fragrant.
Deglaze the pan with the wine and let it cook until almost all the liquid has evaporated.
Add the tomato paste and stir until well incorporated.
Add the tomatoes and let these cook until they have broken down. If at any point the pan seems too dry, you may add a bit of water. This will depend on how much liquid are in the tomatoes you use.
While your tomatoes are cooking, add your gluten free pasta and plenty of salt to the boiling water, making sure to stir often, especially at the beginning. Once cooked to your liking, drain the pasta and run some water through it to remove the extra starch. This will prevent sticking and making the sauce too thick.
Once the sauce has a rich, chunky consistency, add the mushrooms and let the sauce simmer until the mushrooms are cooked through.
Add the parsley, taste, and a bit more salt and pepper.
Add the tamari soy sauce, tear the basil with your fingers and add that as well.
Taste the sauce and adjust the seasoning if needed.
Serve the pasta topped with the sauce, some of our vegan almond parm, a drizzle of olive oil, fresh herbs and a bit of black pepper and enjoy!
You might also like...
Our Program and Courses
Take a look
Don't miss our weekly goodies!
Our best FREE content straight to your inbox