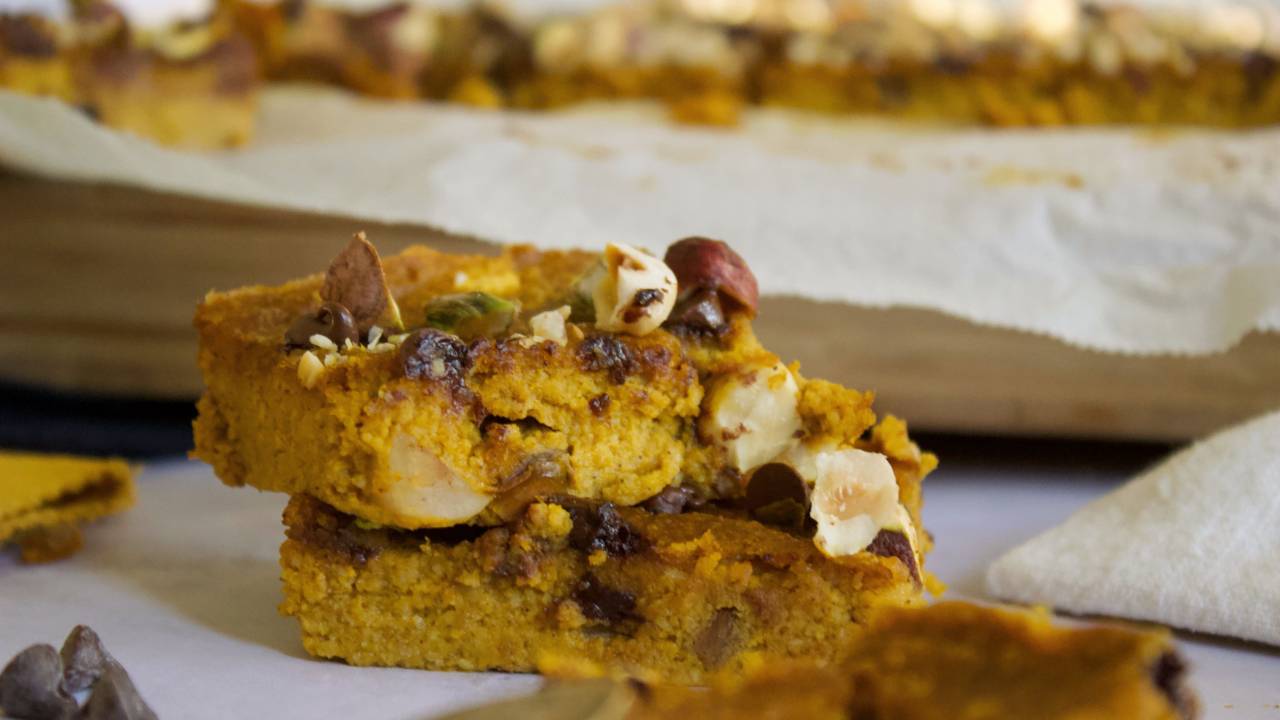 Nothing excites me more than the prospect of fall and lots of pumpkin recipes arriving with the chill in the air. I love pumpkin pie and those wonderful flavors of spice, the cinnamon and clove, the hint of nutmeg and allspice, but I know that often during the fall season making a full on pumpkin pie isn't within my time availability.
In come these wonderful pumpkin bars that are not only fully vegan but also gluten free.



The blender does most of the work for you making this basically a blend + mix and dump recipe, letting your oven bring the magic.
These are delicious served warm or chilled in the fridge for an even better texture, and the addition of an unusual ingredient in the batter makes the texture really work if you like a creamy and decadent bar. We're adding tahini (or sesame seed paste) to the recipe, for the most irresistible mouth feel when you bite into them, and the crunchy toasted hazelnuts, pistachios and chocolate chips take these pumpkin bars to the next level.





They make great edible holiday gifts as you'll get a ton out of the recipe, and they're of course perfect as a Halloween treat, Thanksgiving dessert or snack, or any time of year.




Enjoy the video, printable PDF and recipe below and go make 'em!




PUMPKIN ALMOND CINNAMON BARS OR SQUARES


Yield:
18-20 small bars or squares
⎮
Prep time:
25 minutes
⎮
Cook time:
45-55 minutes (unattended)
⎮
Chilling time (optional but great):
2-3 hours

Ingredients
3/4 cups firm silken tofu

1 can pumpkin purée (about 1 & 3/4 cup cooked pumpkin)

1/2 cup maple syrup

2 tablespoons coconut oil

2 & 1/2 teaspoons vanilla extract

1/2 teaspoon salt

2 & 1/2 teaspoons pumpkin pie spice

1 teaspoon cinnamon

1/4 cup tahini (sesame seed paste)

2 cups almond flour

1/3 cup vegan dark chocolate chips

1/2 cup of a mix of toasted pistachios and toasted hazelnuts, chopped (or your favorite nuts)


Directions


1. Pre-heat the oven at 350ºF (180ºC) and prepare a 34 cm x 24cm (13.4 inch x 9.4 inch) baking pan by lining it with parchment paper.
2. In a blender, add the pumpkin purée, silken tofu, maple syrup, vanilla extract, pumpkin pie spice, cinnamon, salt, coconut oil, and tahini, blend until very creamy and well incorporated.
3. Transfer the mixture to a bowl and fold in the almond flour.
4. Add in some of the chocolate chips and nuts (leaving most for the top of your bars) and mix.
5. Place the mixture in your prepared pan and top with the remaining chocolate chips and nuts.
6. Bake for 45-55 minutes or until a toothpick inserted comes out mostly clean (a little moisture is okay, but no smeared batter).
7. Remove them from the oven and let them cool completely. For an even better texture, chill for 2-3 hours, cut them into bars or squares and enjoy!
You might also like...
Our Program and Courses
Take a look
Don't miss our weekly goodies!
Our best FREE content straight to your inbox