Sometimes I get in my little culinary bubble, filled with new ingredients, experiments in the kitchen, new tools and gadgets I find, and I forget about some of my favorite people on the planet: the newbies.
When you're a teacher you develop a serious love of newbies. It's a clean slate upon which you start building information and techniques and you get to see all the amazing journeys people go through. Newbies are also filled with excitement about learning new things, and they have the perfect balance of being slightly skeptical but also open to learning something new.
Newbies rock, and newbies in the kitchen have something even cooler going for them, and it's the fact that I get to see someone who thought they were hopeless in the kitchen create a delicious dish and eat it with the biggest smile on their face.
Today I'm dedicating this post and podcast episode to all my newbies out there, whether you're beginning to cook for the first time, or simply getting started with vegan cooking, today I want to share 5 very simple starter vegan meals, one for breakfast, one for lunch, one for dinner, and two delicious snacks. Some require measuring, some are all about assembling and serving as much or as little as you'd like. All of them are simple, made with easy to find ingredients, and no fancy equipment needed.
Breakfast
Overnight Oats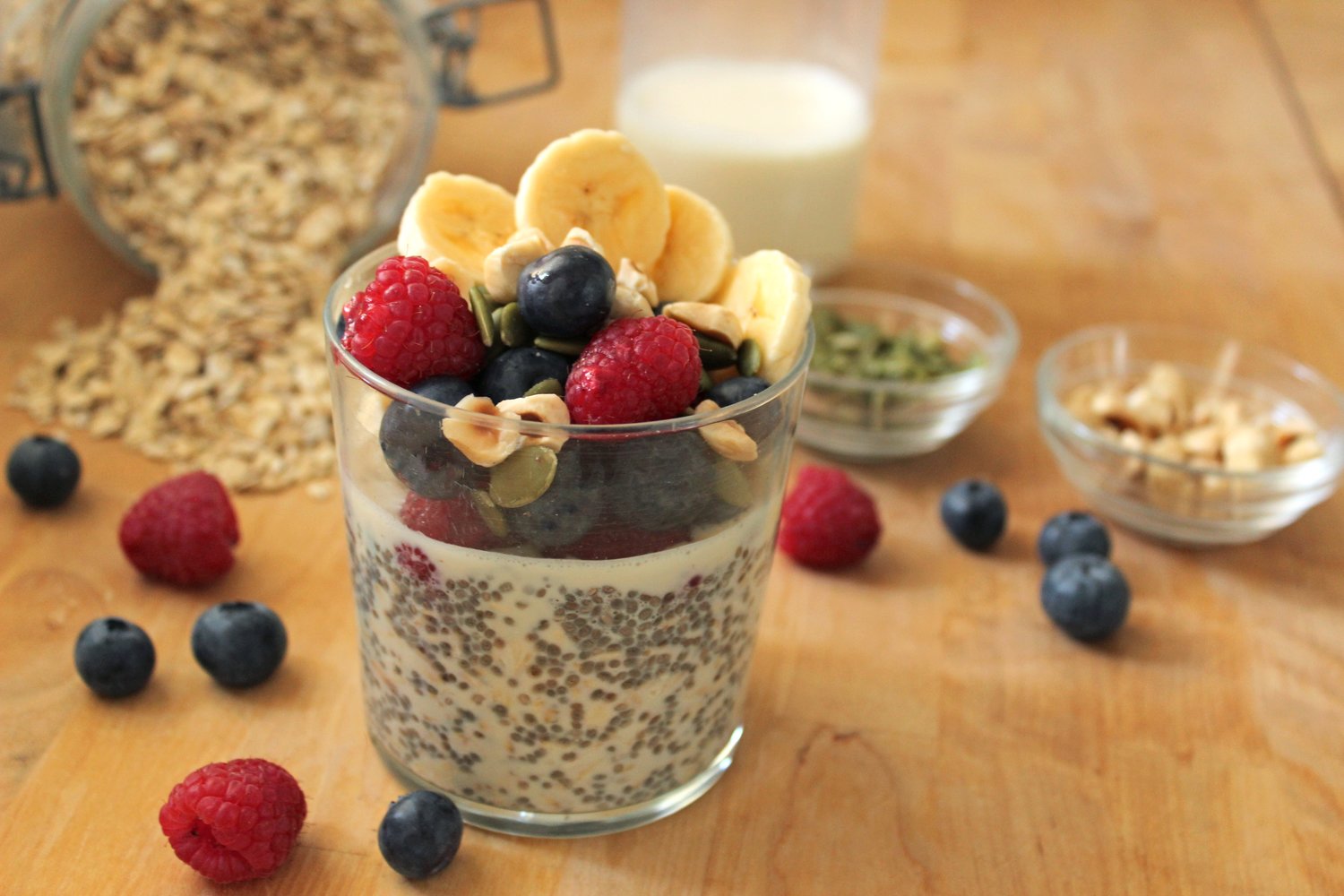 Overnight oats are the perfect breakfast for when you want something filling but that is quick to make if you're always running around in the morning. It's also perfect to grab and go and take to the office with you when needed.
Ingredients (for one serving)
1/3 cup rolled oats
2/3 cup of your favorite plant-based milk
1 & 1/2 tablespoons chia seeds
A drizzle of maple syrup or agave
Your favorite fruit for topping
Directions
1. Combine the oats, milk, chia seeds and maple syrup or agave in a jar or glass and stir. Wrap with plastic wrap or cover with a lid and let it rest overnight in the refrigerator.
2. In the morning, uncover your overnight oats and add your favorite fruit as a topping (my favorites are banana, all types of berries, kiwi, grapes and mango).
Lunch
Carlos's Lentil Tacos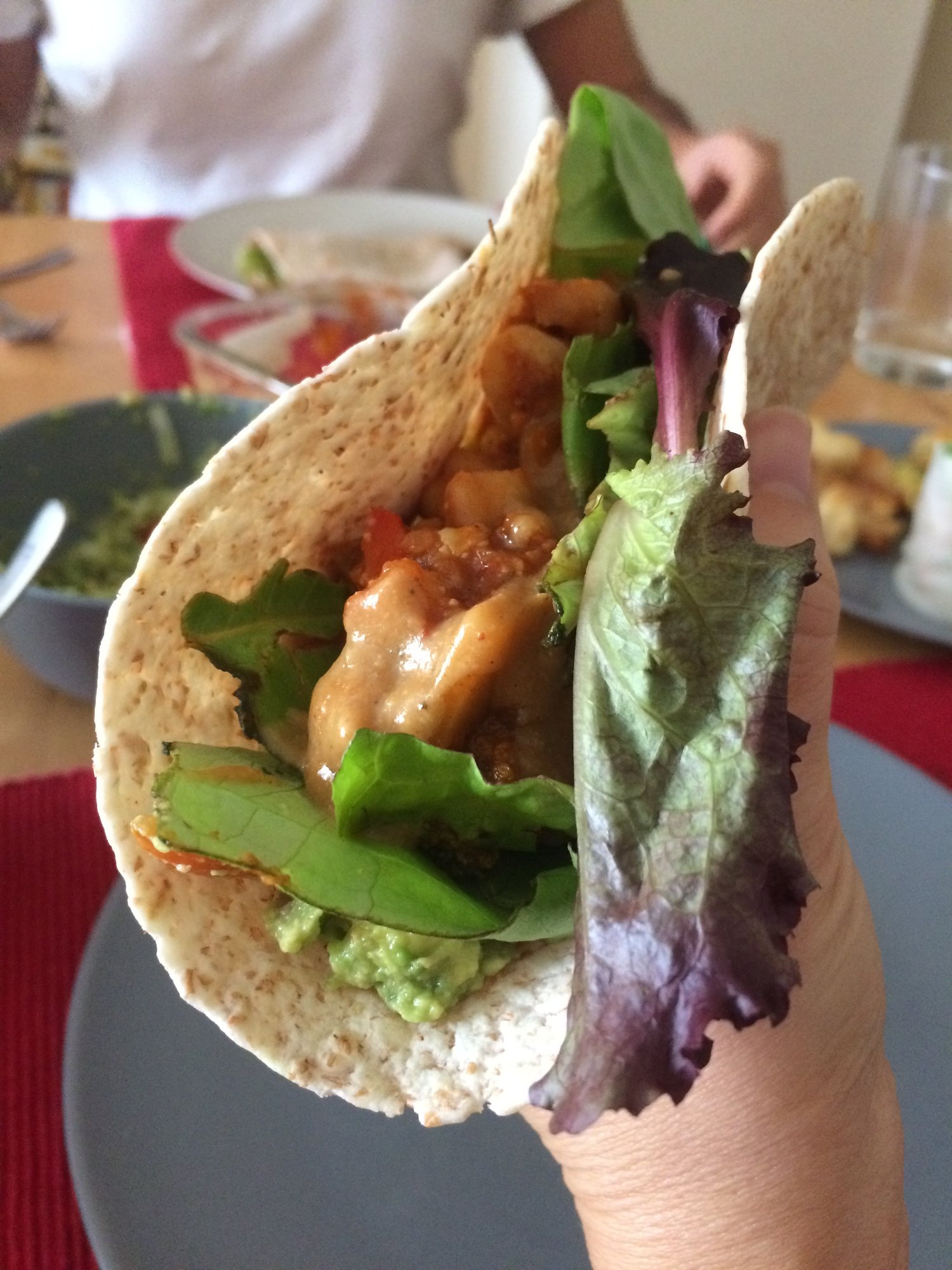 This recipe was created by my husband Carlos (Brownble's co-founder) on a day in which I was wondering what to do with some leftover lentils I had since I didn't really feel like cooking. He came into the kitchen and asked me "Are there any tortillas? I bet those would be good inside a tortilla with some guac". He didn't realize it at the time but he created one of our favorite lunch recipes of all time and we've had it almost once a week ever since.
This recipe requires no measuring, just include the different components and assemble your tacos at the table. This dish can even be made if all you have is a microwave, a knife and cutting board and some bowls. Perfect for dorm room cooking or if you're going through a messy kitchen remodel.
Ingredients (No measuring, make as many as you want)
Canned lentils, rinsed and drained
Cherry tomatoes, quartered
Red onion, finely diced
Fresh cilantro, chopped
A squeeze of lemon or lime juice
Salt and pepper to taste
Guacamole (homemade or store-bought)
Shredded lettuce
Whole wheat tortillas, regular tortillas or corn tortillas
A dash of hot sauce (optional)
Some shredded or melted vegan cheese (optional)
Directions
1. Warm your lentils either in the microwave or by lightly warming them through on the stove on low heat.
2. In a bowl, combine the chopped cherry tomatoes, finely diced red onion, chopped cilantro, a squeeze of lemon or lime juice and sea salt and pepper to taste.
3. Warm your tortillas for just a few seconds in the microwave or on a pan.
4. Assemble your tacos by adding the lentils, fresh cherry tomato salsa mix, guacamole and shredded lettuce to the tortillas, wrap up and enjoy! You may also add a dash of hot sauce or some vegan cheese (shredded or melted) if desired.
Snack Option 1
Whole Grain Peanut Butter and Fruit Toast (or Wrap)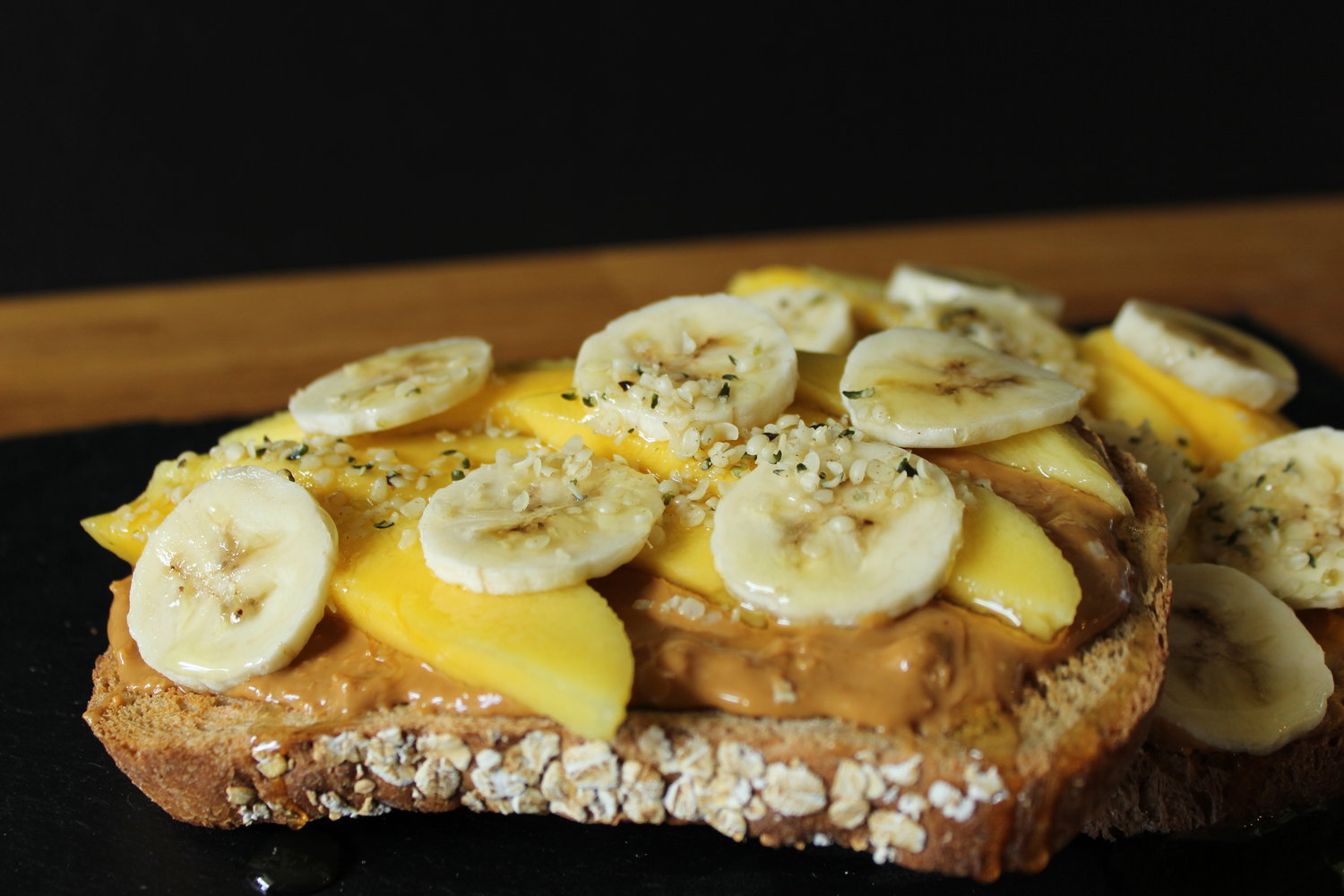 This is another version of the classic pb and j toast, perfect for when we feel like eating something a little more filling and different. This barely even qualifies as cooking which is awesome for beginners.
Ingredients (No measuring, make as many as you want)
Whole grain toast or a whole wheat tortilla
Your favorite all-natural peanut butter
Sliced banana and mango
A drizzle of agave or maple syrup
Your favorite seeds like pumpkin, sunflower or hemp seeds (optional)
Directions
1. Toast your bread, and spread on some of your favorite peanut butter.
2. Top with thinly sliced mango and banana.
3. Drizzle with a bit of agave or maple syrup and top with some crunchy seeds if desired.
You can also do this inside a wrap which is really easy to transport and take on the go!
Snack Option 2
Kim's Roasted Veggies and Hummus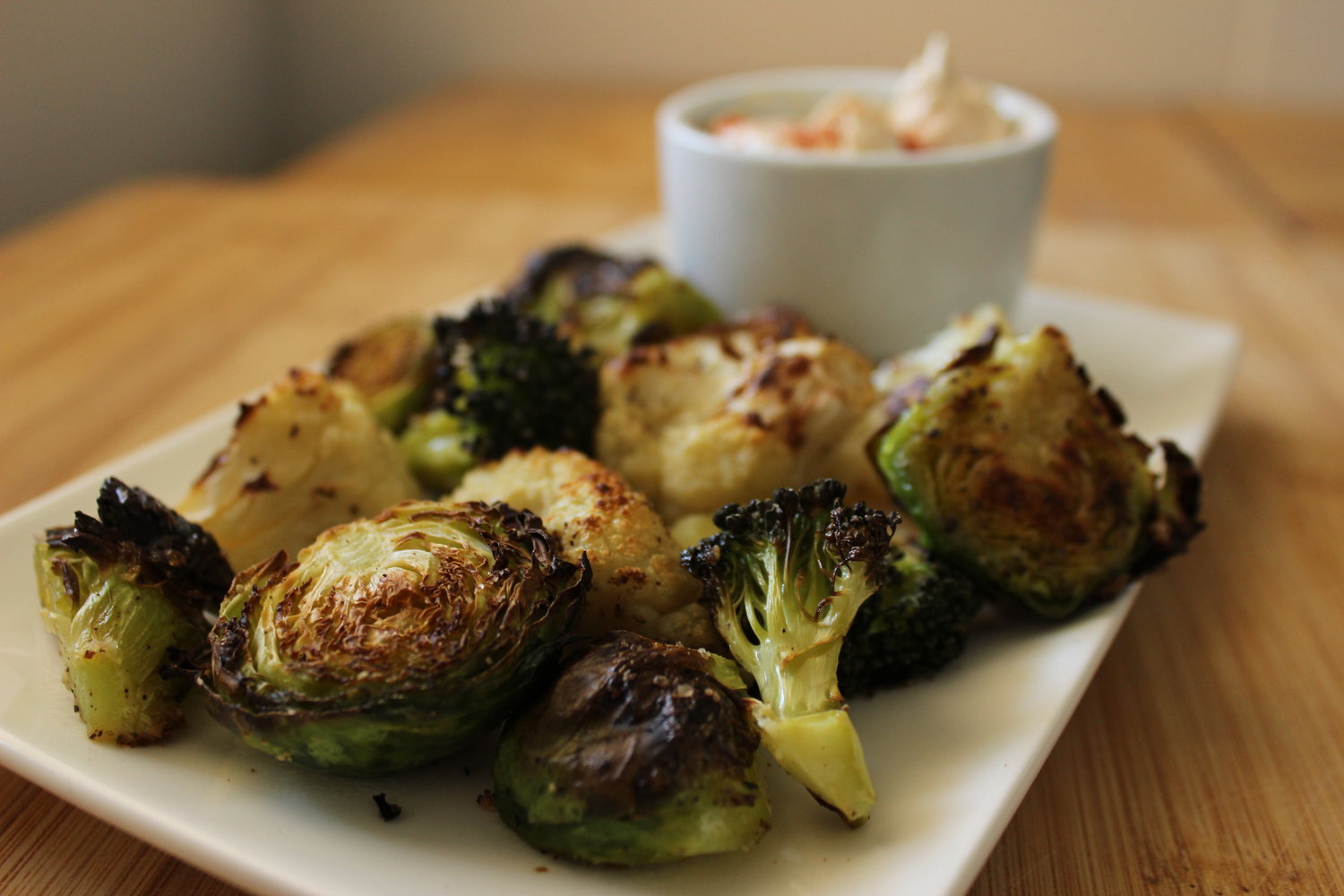 Whenever someone told me they loved raw vegetables dipped in hummus I just didn't get it. I felt hungry immediately after, I felt it wasn't very filling or satisfying. So yeah... not for me. Until one day all I had in my fridge on shopping day were some leftover roasted vegetables and some hummus. Needless to say, these two versions of the same snack are worlds apart. Why? First of all, because you can include heartier and more filling vegetables that aren't as good in their raw version and that improve with cooking, second of all, because roasting makes everything better, and third of all: umami! That elusive savory, fifth taste which gets heightened when roasting vegetables in the oven. I have since been a hummus and veggie fan and I see no more raw celery sticks in my future!
Ingredients (No measuring, make as many as you want)
Store-bought hummus (or homemade)
Your favorite vegetables for roasting, for this snack mine are halved brussels sprouts, cauliflower and broccoli florets (asparagus, peppers, eggplant and mushrooms are also delicious)
A drizzle of high heat oil (canola, safflower, coconut, sunflower, etc)
Sea salt and pepper
Directions
1. Pre-heat your oven to 450ºF and move the oven rack closer to the top of the oven.
2. Line a shallow baking sheet with parchment paper and set it aside.
3. Place your vegetables on the baking sheet making sure they aren't crowded in the pan.
4. Drizzle with a bit of high heat oil, sprinkle with sea salt and pepper, toss well, spread everything out on the tray and pop it in the oven.
5. Roast until golden and tender. The time will depend on the vegetables you choose, but start checking after 20 or 25 minutes.
6. Serve with some hummus for dipping and enjoy!
Dinner
Simple Mediterranean Pasta Toss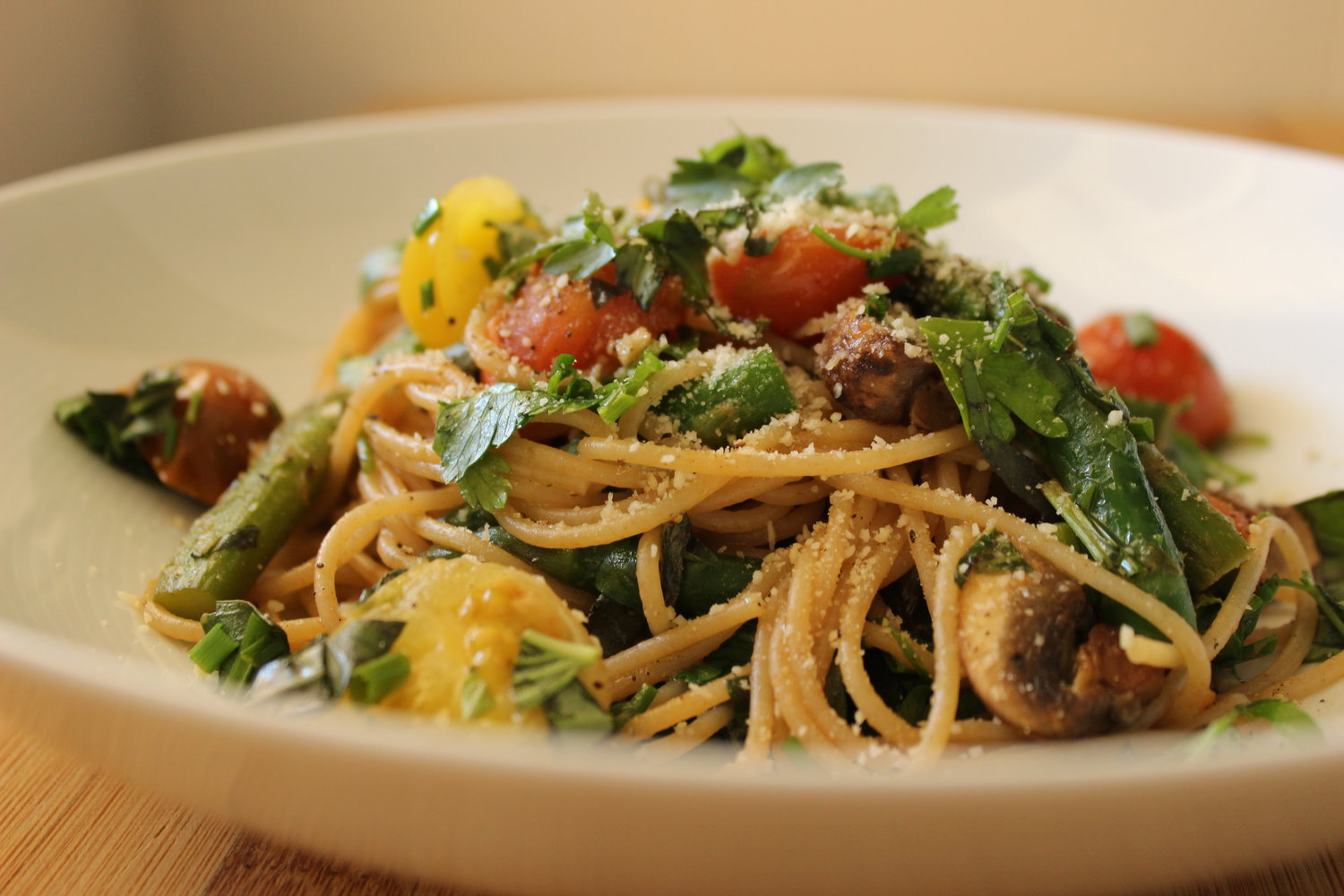 We always think that we have to make a sauce whenever we make pasta, but that is so not the case! A delicious filling pasta dish can include lots of veggies, a drizzle of olive oil, lots of scrumptious garlicky flavors and fresh herbs, like this Mediterranean pasta toss. By toss I mean you literally cook your pasta, sauté some things together in a pan, and then toss the drained pasta right in the pan. So easy and fast.
Ingredients (for one serving)
1 serving of your favorite whole grain spaghetti
1 cup halved cherry tomatoes
1/2 cup asparagus spears cut into large pieces
3 baby portobello mushrooms sliced or quartered
2-3 garlic cloves, thinly sliced
1 tablespoon olive oil
1/2 cup of your favorite fresh herbs, especially basil and parsley, finely chopped
Salt and pepper to taste
Almond parm for serving made by combining ground almonds with some sea salt
Directions
1. Bring a large pot of salted water to a boil.
2. Cook your pasta in the boiling water until al dente. Then drain.
3. While it cooks, heat a non-stick skillet at low-medium heat and add the oil.
4. Add the garlic and let it cook at a soft sizzle (this is called sweating) until fragrant, just for a minute or two. Don't let it get brown.
5. Add the cherry tomatoes, asparagus, portobellos and cook until tender, tossing often.
6. Add your drained pasta to the pan and toss.
7. Add the herbs, salt and pepper, toss and turn off the heat.
8. Serve your pasta topped with some vegan almond parm and an extra drizzle of olive oil and pepper.
I hope you enjoyed these very simple meal ideas! So much of getting started with vegan cooking is to get over the fear that it requires special skills or ingredients you have to go to 5 different stores to find, when in fact, it's really all about re-thinking your dishes to make the veggies the stars, and especially practicing and practicing until you feel comfortable and confident in the kitchen.
If you're new to cooking or need support and more ideas when it comes to going on your vegan journey (no matter how it is you eat right now), you can check out our online program which will help get you in the kitchen, cooking the foods you love, in a way that is easy, fun and with vegan ingredients.
You might also like...
Our Program and Courses
Take a look
Don't miss our weekly goodies!
Our best FREE content straight to your inbox