You've heard about the book of poetry I've written inspired by my love for potatoes right? Well, ok, I haven't actually written it, but if I ever became a poet laureate, you could place all the blame on the potato.
It's hard for me to choose my favorite way to cook and eat potatoes. Let's face it, we've got roasted potatoes, French fries, braised potatoes, potato latkes, potato pancakes, hash browns, mashed potatoes, baked potatoes with vegan sour cream and onion... oh boy. They're all delicious! There is however, one that is near and dear to my heart and that is the potato salad.
Growing up, my grandfather used to come over to have lunch or tea with us every single week, sometimes several times per week, and although he was Brazilian, of Russian descent and living in Venezuela, he lived in Germany during his school years and loved German culture, and especially the food. This meant my mom would constantly make him a plate of sausages, sauerkraut and yes, potato salad.
When perfectly chilled and having just the right onion to mayonnaise ratio, it's one of the best ways to make the potato shine through, and today I'm teaching you how to make it vegan with this yummy recipe we created specially for our dear friends at Vegan Outreach, our favorite animal non-profit organization.
Seriously! They're the coolest! Their many volunteers and staff are responsible for helping so many people make the transition to eating a vegan diet in a way that is responsible, easy, inexpensive and delicious. If you haven't met them already, they've got so many free resources that can help you on your journey, so make sure to stop by and say hi in their blog, and youtube channel!
Ok, let's get on with honoring my friend the potato, with this delicious simple vegan potato salad recipe
VEGAN PICNIC POTATO SALAD
Yield: 2-3 servings ⎮ Prep time: 20 minutes ⎮ Cook time: 10 minutes ⎮ Chilling time: 1-2 hours if possible
Ingredients
3 large potatoes or 4 medium ones
2 tablespoons chopped fresh herbs like cilantro and parsley
3 green onions, finely chopped
½ red onion thinly sliced
1 tablespoon minced chives
¼ cup +2 tablespoons vegan mayonnaise
3 teaspoons olive oil
3 teaspoons red or white wine vinegar
Salt and pepper to taste
Directions
To prepare the potato salad, cut the potatoes into even, bite-sized cubes (you may choose to peel them or not, I like to peel some and leave the other(s) with the peel for presentation).
Bring a large pot of salted water to a boil and add your potatoes. Cook until they're tender but they still hold their shape.
Drain them and place them in a large bowl.
Add the rest of the salad ingredients and toss to combine.
Taste and adjust the seasoning if needed. Chill the salad in the refrigerator until it is time to serve. The colder the better, as this will boost the seasoning and flavor of the salad. Take it to your next picnic or potluck, or serve it next to some vegan sausages, some sauerkraut and mustard for the perfect German platter!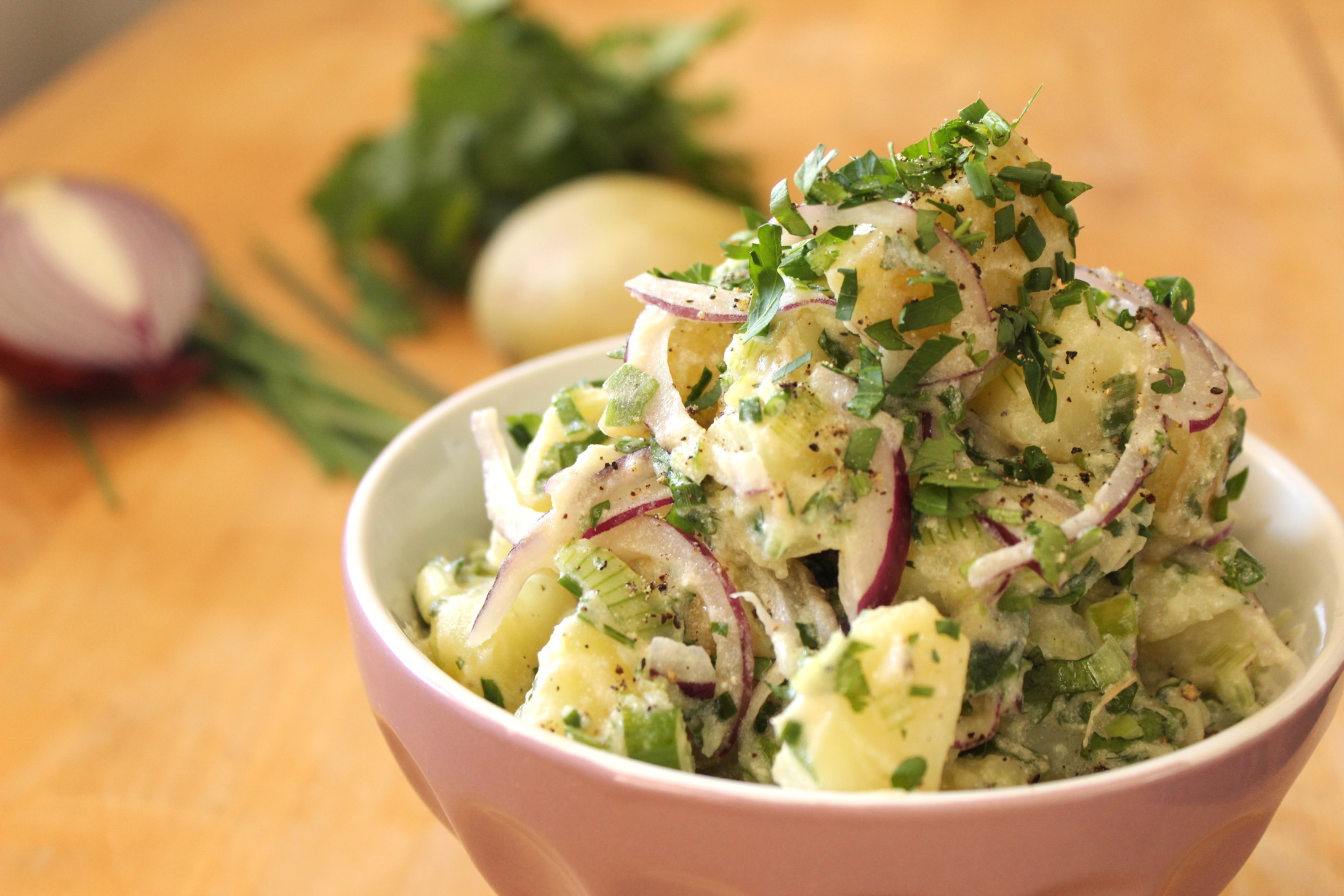 You might also like...
Our Program and Courses
Take a look
Don't miss our weekly goodies!
Our best FREE content straight to your inbox