It's so strange how such a tiny little ingredient can cause so much overwhelm in the kitchen. If there's one thing I've noticed over the years in people who are beginning to cook, it's the fact that their entire spice cabinet is full, and also expired.
That's right, endless beautiful jars of dried herbs and spices are full to the brim, and way past their peak. Sometimes we buy one of those spice kits and they simply go unused, sometimes we bought spices that were called for in a recipe, used a quarter teaspoon and then it just stood there in our spice cabinet so sad with the rest of its unused friends.
Spices are so essential in cooking and nutrition, that supplement companies and labs have been bottling up their goodness into capsules and bottles for years. Turmeric or curcumin is a great example of this right now due to its crazy anti-inflamatory properties.


Here's the thing though, I have serious issues with messing with nature. When we concentrate these ingredients, make them into supplements and pills, we're not only spending way more than we need to, but we're also getting a very large amount, and we're not using it in its natural state, in combination with other healthful foods. Remember, most nutrients work as a little symbiotic engine, holding hands with one another to make you healthy. This is why building a wonderful plate of plant goodness is so good for you. The iron in your lentils grabs ahold of the vitamin C in your bell peppers to help you absorb it to the max, and fat soluble vitamins such as vitamin K, grabs onto the naturally occurring fats in avocados to make your body shine from the inside out. Mustard powder boosts amazing nutritional components in broccoli. This is just to name a few, but there are countless examples. You get the idea. Real food is where it's at, and although I'm all for correct supplementation as vegans, adding as much nutrition to our meals as possible is not only simple but very inexpensive. Enter the spice.
Ancient healing traditions like ayurveda and traditional Chinese medicine have been using herbs and spices for centuries. The first time I read an ayurvedic recipe I was so surprised to see that they basically used what we would call the main ingredients, as simple excuses to use as many spices as possible.
Dried herbs and spices are basically dried, ground up and therefore concentrated sources of antioxidants, vitamins, and so many other nutrients. Here's the real kicker... they add so much flavor to your dishes that you'd think a 5 star chef got ahold of your body or ratatouille is hiding under your chef's hat.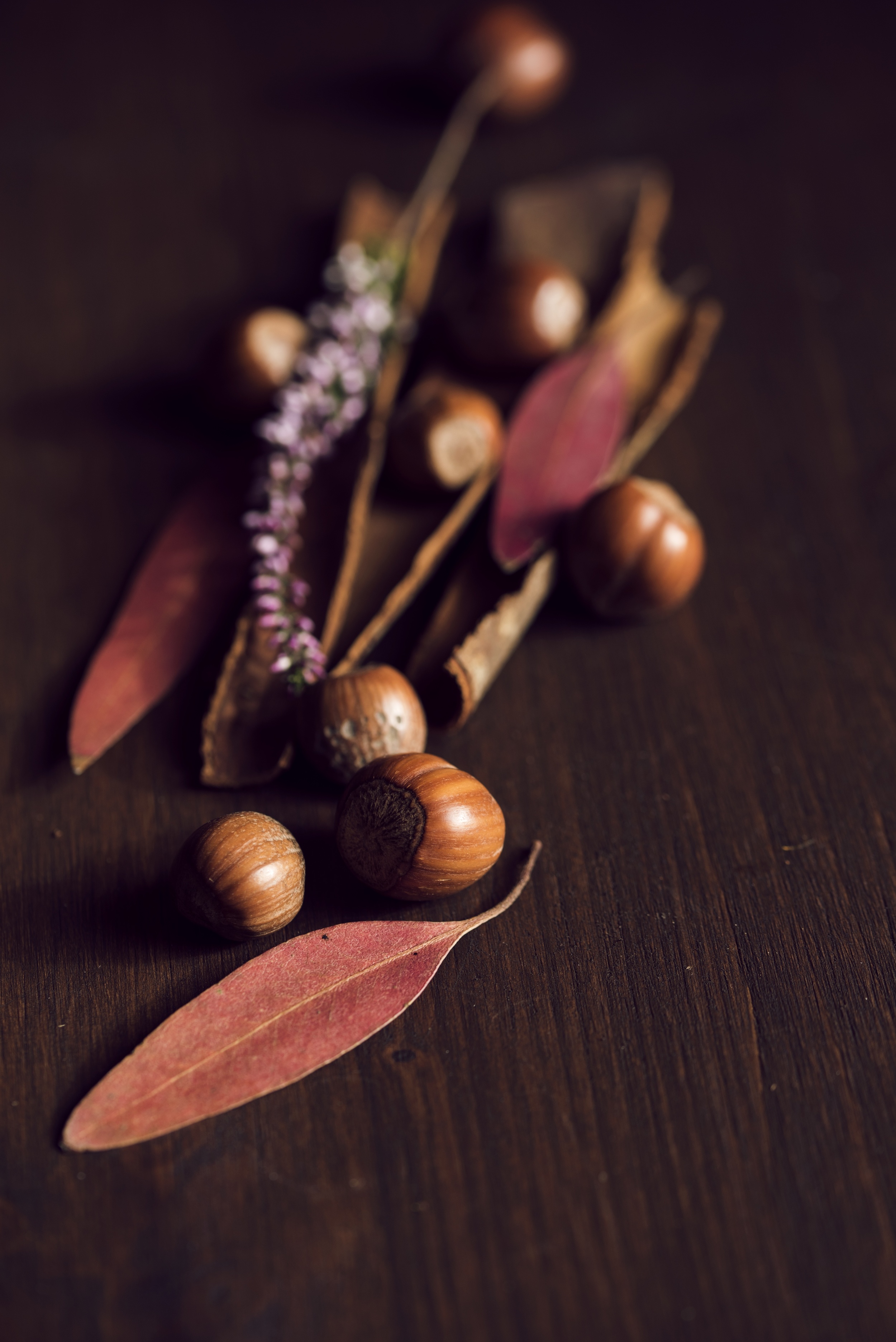 Although I'd love to geek out with all the nutritional information and medicinal benefits behind each spice, what I really want to do today is revamp your spice cabinet, and have you shopping for refills way before the expiration date approaches, and yes, we're going to talk about how to use them in your meals.
Here's another reason why this topic is so dear to my heart. Whenever I ask new cooks what their biggest struggle in the kitchen is, so many of them have said: "all my food tastes the same". Spices are the cure for this, as are herbs, which we'll be covering much more in depth in a future post.
4 Basic Principles to Understand Spices
Whole vs Ground
We will often see the same spice in its whole or ground form. Which one should we buy? It depends on how much time you have. The quick answer is I like both. Whole spices maintain their essential oils and aromas much more intact and are therefore bursting with flavor, but in most cases you need to grind them up yourself before using them. This can be done manually in a mortar and pestle (which I love, it makes me feel like I'm living in another time!), or it can be done in a blender or spice or coffee grinder.
Ground spices have already gone through this process so you basically have to shake or sprinkle the contents into your dish. Their flavor isn't as robust, but if you're using them and re-stocking these frequently, they are still amazing flavor powerhouses. I love to have both the whole and ground versions of my favorites, using the ground ones for my daily cooking, and my whole spices for when I'm making a special dish like an amazing curry or a Morroccan tagine. If you're a beginner, I would start with the ground version until you understand the flavors and get used to adding them to your usual dishes.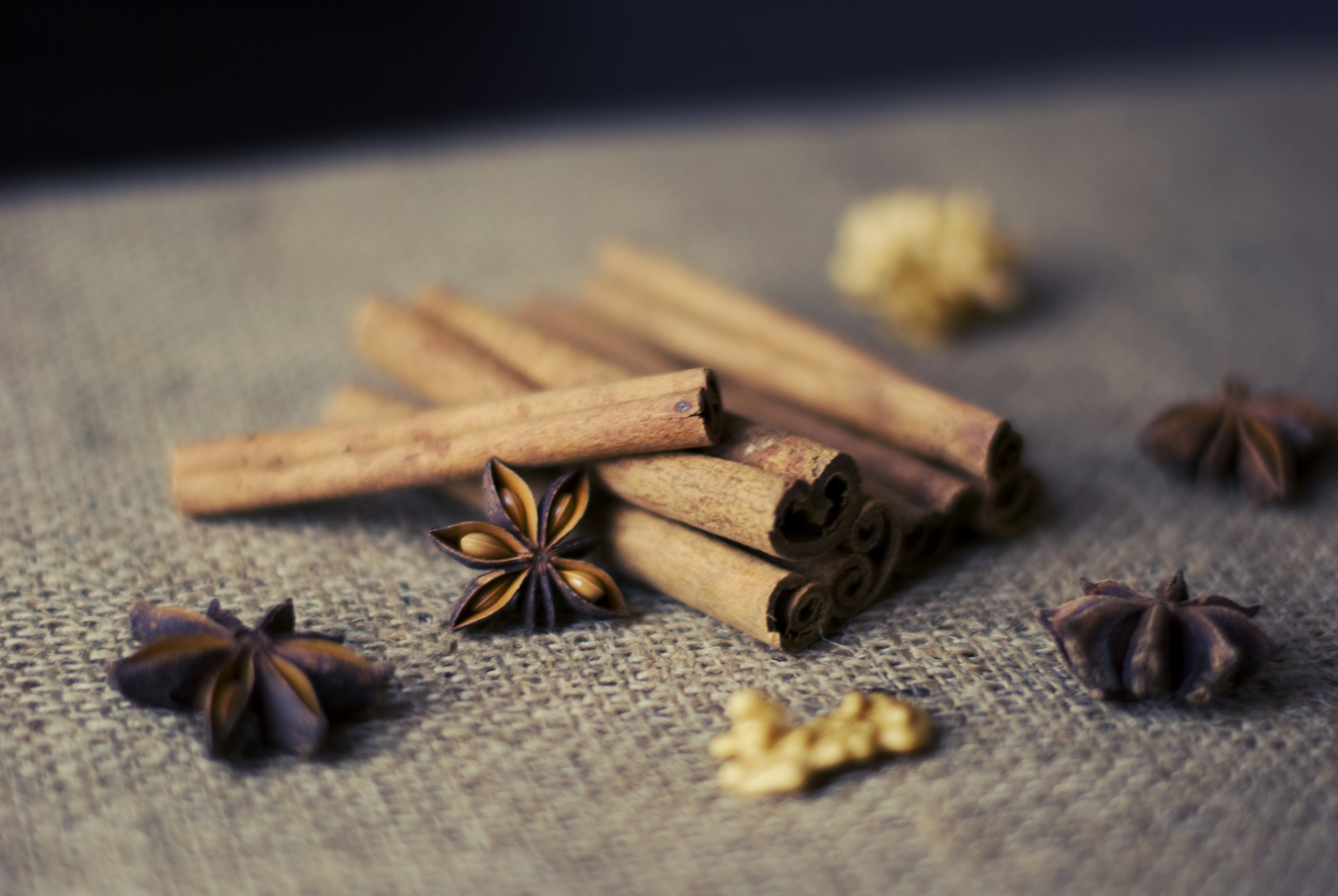 Dry Toasting
When using spices, especially if you're planning on grinding whole spices, heat is like their fountain of youth. It makes them come alive and get rejuvenated with bold flavors and aromas. This can be done by lightly toasting them in a dry pan until you can smell them, making sure not to burn the spice.
Shake the pan back and forth a few times and remove it from the heat once the smell has filled your kitchen (some whole spices will pop, crackle and jump up, which is fun). If you're dry toasting whole spices, you can now grind them up to provide the most amazing flavor in the spice. If you're trying to experiment first with ground spices, you can also do this step to awaken the flavors slightly.
Blooming Spices
When you bloom a spice you're basically adding heat to your spice by letting the flavors release in a pan which has some oil in it. The result is slightly different than when you dry toast your spices, because by having oil in the pan you can't grind up the spice afterwards. This means that whether you're blooming whole or ground spices, this will form the base of your recipe. Once you feel the fragrance coming out of your pan, you're ready to continue building layers of flavor by adding the rest of your ingredients to that flavorful oil and spice combo.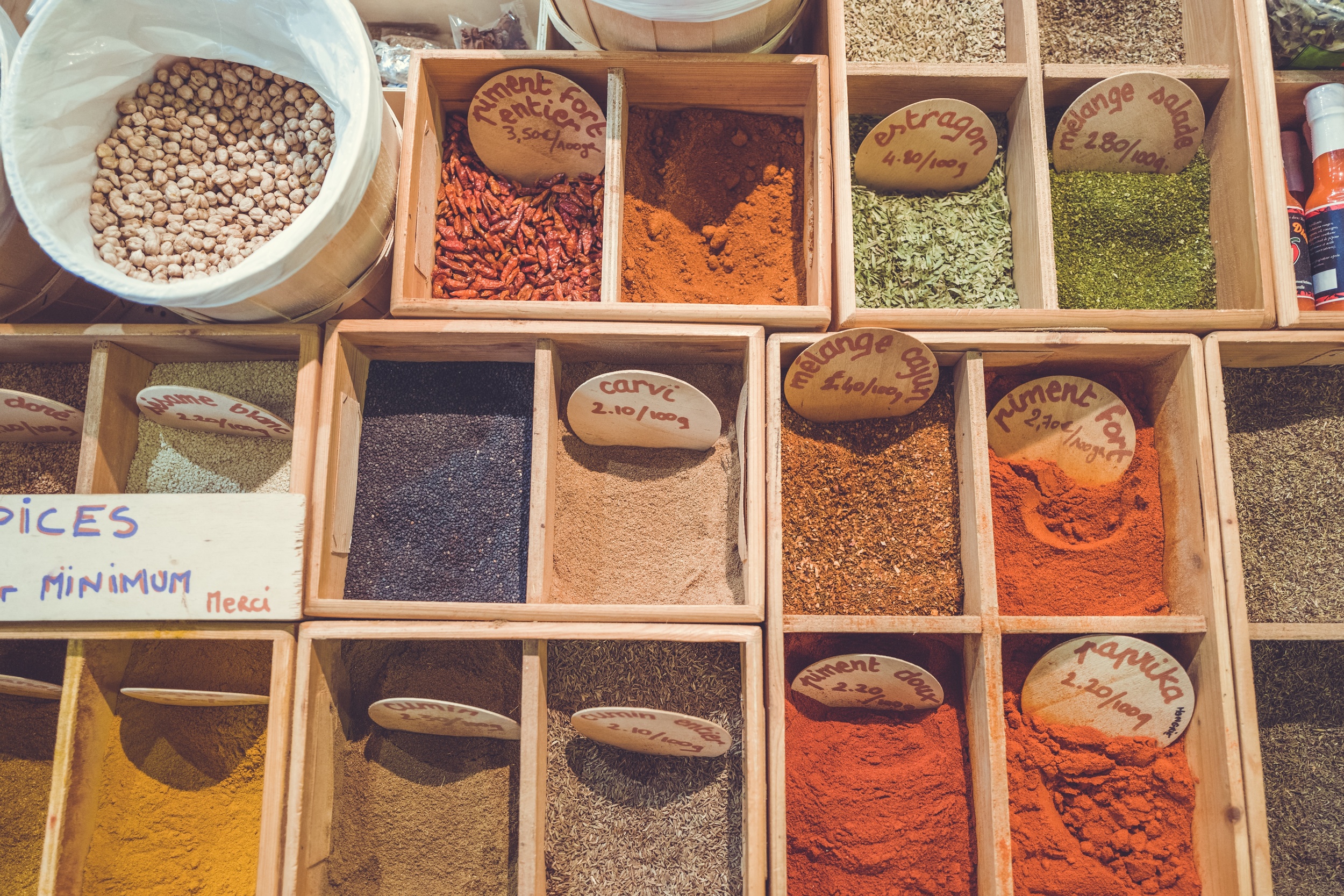 Understanding Flavor Profiles
Learning how to use spices really relies in understanding where these spices come from, since regionality and geography have turned spices into the base flavor that defines the different world cuisines we have today.
Were it not for spices, Italian food might be very similar to Morroccan, the American lasagna and the Greek moussaka would be on the same flavor spectrum, Chinese, Ethiopian, African, Japanese and South American cuisines would be much more similar. Yes, I know that the main ingredients in recipes also play a huge part, but spices are the backbone of flavor profiles, and the good thing is you can use little cheat combinations to make your own kitchen smell like whatever country your little heart desires.
Combinations to Get Started
Although this post was mainly focused on learning how to use spices, I'm including herbs below as well so you understand how these flavors play together. We'll be having a whole post on the amazing little plants that are herbs soon, but here are some great flavor profile combinations to get you started. I'm mentioning the main spices for each cuisine, but this definitely doesn't mean you have to use all of them in the same dish. Choose 1 or 2 or 3, and if you're going Mexican... go wild!
Italian
Basil
Parsley
Sage
Chili flakes
Oregano
Garlic powder (or fresh garlic)
Thyme
Rosemary
Bay leaves
Greek
Oregano
Parsley
Mint
Cinnamon
Black and white pepper
Cloves
Allspice
Nutmeg
Paprika
Saffron
Spanish
Paprika (sweet or hot)
Cayenne pepper
Saffron
Bay leaves
Garlic
Onion
Cinnamon
Nutmeg
Mexican
Cumin
Chili powder
Chili flakes
Chipotle, habanero, guajillo, serrano and ancho chili powder (among others)
Fresh cilantro
Coriander
Garlic
Onion
Cinnamon
Annatto
Cocoa
Other Latin American Cuisines
Fresh cilantro
Aji dulce (a sweet and pungent chili)
Cinnamon
Garlic powder
Bay leaves
Cumin
Annatto
Paprika
Cocoa
Japanese
Ginger
Coriander
Fresh cilantro
Wasabi powder or paste
Karashi (Japanese mustard powder)
Chili peppers
Chinese
Star anise
Szechuan peppercorns
Five spice powder
Cinnamon
Basil
Chili
Coriander
Ginger
Fennel seeds
Sesame
African (spices vary from region to region, but in general)
Cardamom
Cloves
Cinnamon
Coriander
Cumin
Fenugreek
Ginger
Onion
Sage
Saffron
Nutmeg
Indian
Turmeric
Cardamom
Anise
Chili
Cinnamon
Clove
Coriander
Cumin
Curry
Garam masala
Garlic
Ginger
Mustard powder
Middle Eastern
Cumin
White pepper
Turmeric
Cardamom
Cloves
Coriander
Cilantro
Ginger
Garlic
Ethiopian
Berbere blend (often called the big daddy of Ethiopian spices)
Ginger
Cinnamon
Dried chilis
Cloves
Coriander
Fenugreek
Turmeric
Cardamom
Harissa
La kama
Ras-el-hanout
Thai
Basil
Chili
Cilantro
Coriander
Cumin
Curry
Galangal
Ginger
Kaffir lime leaf
Lemongrass
... among many others.
My Basics
If the list above felt overwhelming, here's my ver basic list of spices. I even have two separate spice cabinets in the kitchen. One for more exotic and less frequently used spices, and one for these, my basics. These I buy and use frequently:
For the spices:
Cumin · Garlic Powder · Onion powder · Chili powder · Curry powder · Black peppercorns · Paprika
For the dried herbs:
Oregano · Thyme
For the fresh herbs:
Cilantro · Parsley · Rosemary · Thyme · Basil · Chives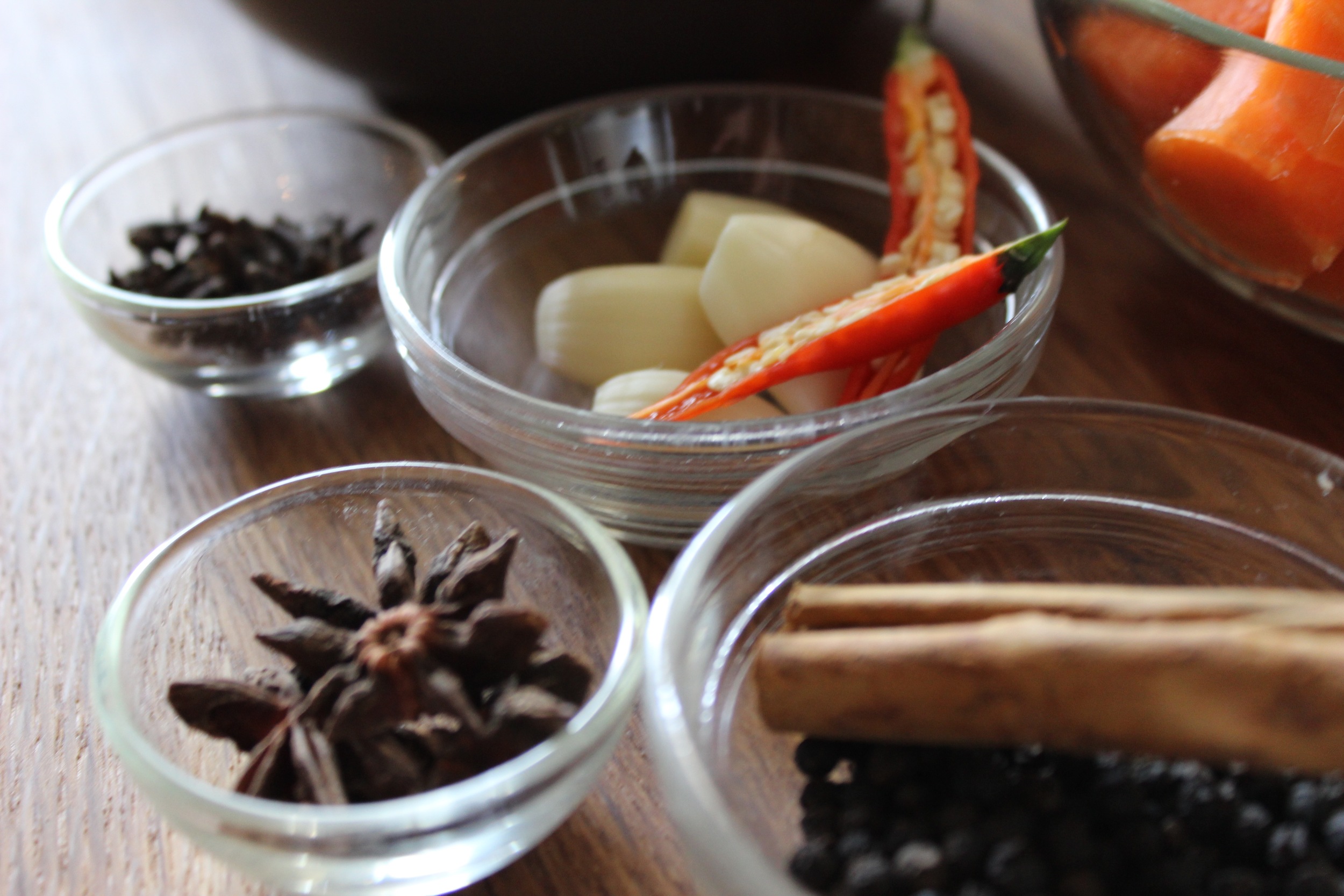 A Little Culinary Homework
One of the best ways to start experimenting with spices is to visit a spice shop. Here you'll find not only the traditional ones you can buy at the supermarket, but other, more exotic spices and blends.
Choose whichever one jumps out at you. Buy the minimum amount the store allows, go home, and google it. You'll immediately find the region where the spice is commonly used, and some perfect pairings. Use it next time you're cooking with these ingredients.
I call this the school of spice, where experimentation will help you find the ones that make your tastebuds do a happy dance.
Do you have any questions about adding layers of flavor into your cooking? Let us know in the comments below, and don't forget to share this post if you loved it!
You might also like...
Our Program and Courses
Take a look
Don't miss our weekly goodies!
Our best FREE content straight to your inbox