Show Notes:
Our online vegan cooking classes and lifestyle program My Brownble
Our recipe and video for making hummus
Yotam Ottolenghi's book Plenty
Two must visit restaurants in Madrid that serve the best hummus:
How to trim artichokes video


---

I don't think I've ever encountered someone who doesn't have a pure and sincere love of hummus, vegans and non vegans alike, and today we're celebrating it in all its glory.
As you probably know, hummus is a Middle Eastern dip made out of chickpeas and tahini that is vegan by default, and has been so popular outside its region of origin that every supermarket sells a ready made version of it nowadays.
Growing up in Venezuela, they sold these little plastic containers in the supermarket, one with tabbouleh salad, one with an eggplant dip, and one with hummus and my mom and I would by the three, some pita bread and we'd make delicious sandwiches or just serve the pita next to the dips and salad and just ate them together. We'd also go to the Lebanese social club and have the best combinations of hummus, other dips and salads, and have that very distinct experience of those Middle Eastern flavors that are sharp, exciting, aromatic, peppery and full of lemon and spice.




It was in Spain however, that I truly fell in love with hummus, all thanks to two amazing restaurants. One was La Hummuseria, a practically hummus only restaurant that I resisted going to for years because I thought "how am I going to fill up with just hummus?", well the joke was on me because we encountered three surprises when we ate there:
The pita bread was the most unbelievable pita we'd ever had. Served warm, it was pillowy and you got a basket full of it.

The hummus was served warm.

The hummus had toppings, preserved lemons, mushrooms, roasted cauliflower, toasted almonds and pine nuts, spicy toppings, and you could also order some delicious small salads or sides that were full of flavor and delicious vegetables with very aromatic preparations and strong flavors.
It was one of the most incredible meals, and I began to understand the joy of hummus as the main character of a meal.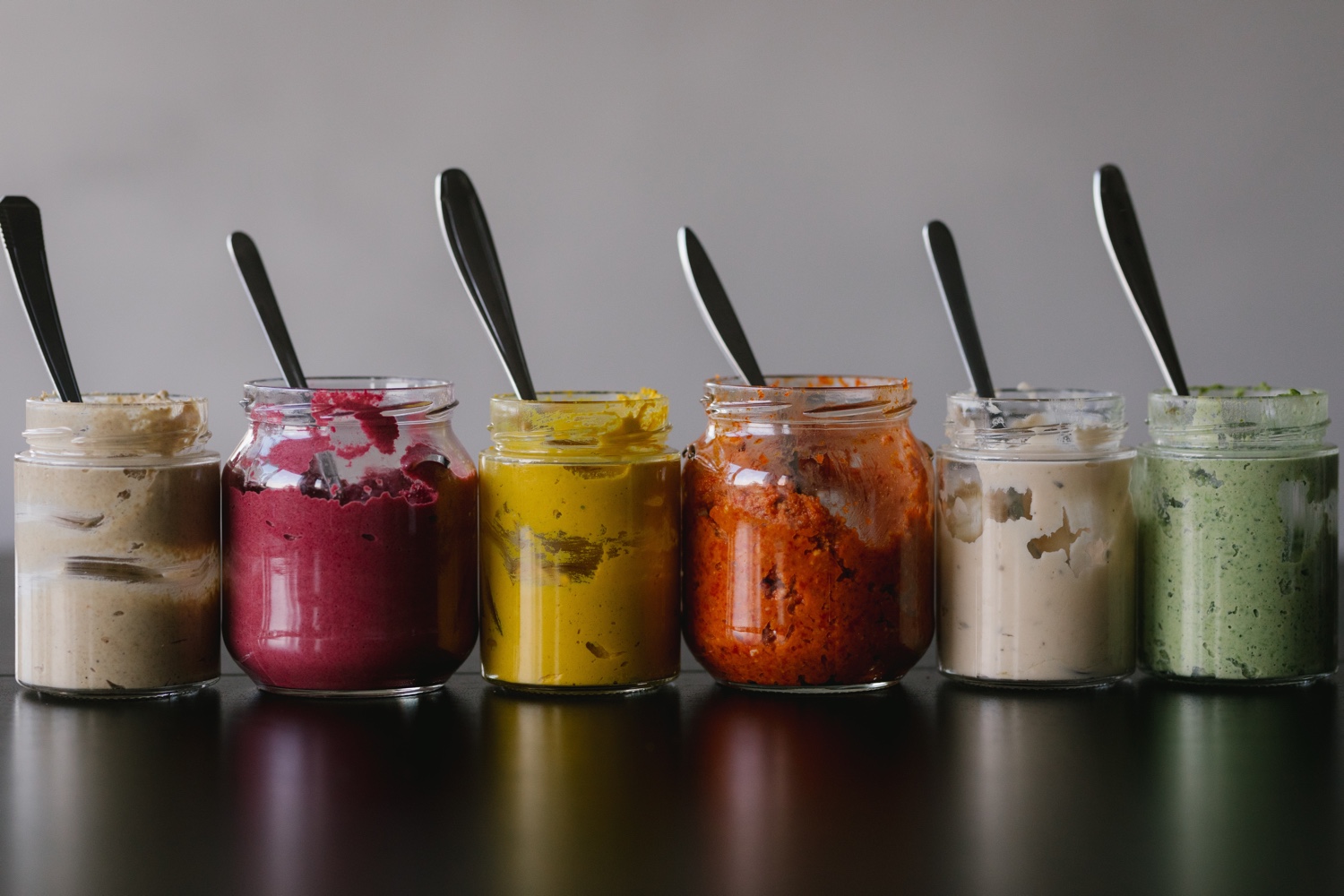 The second restaurant was Barganzo, which isn't a hummus only restaurant but had some of the best hummus I've ever had in my life, this time around topped with an incredible tahini sauce that again taught me the joy of two types of creamy and smooth ingredients together, but how a slight contrast in texture between them can make a dish.
All this to say that we were hooked, hummus won us over as not only a yummy dip for a party or inside a falafel sandwich, but as the centerpiece.
The work of Yotam Ottolenghi was also huge in helping me understand how to play with these flavors, and why the cuisine of this part of the world is all about the condiments, toppings, sauces, confit vegetables that you can make to enhance dishes. Get his book Plenty, it's not 100% vegan but the recipes can easily be made vegan and so many of them are.




We've shared many recipes for hummus through the years and every time I improve it, I delete the previous recipe because I can never go back, and I thought today I'd pay tribute to this fascinating Middle Eastern staple that we should pay more respects to.
I also want to share how as vegans, hummus can teach us so much about building meals, when we want to add variety to our legume intake, which is where, as vegans, we get most of our protein from.


Basic Hummus Preparation
So my version of hummus, ready? You can find the full recipe here but I'll explain the process below:
You'll need:
For the hummus:
2 & 1/2 cups cooked chickpeas (reserve 1/4 cup for the topping)

1-2 garlic cloves, peeled

2 teaspoons salt (or to taste)

1 lemon, juiced

1/2 cup tahini (sesame seed paste)

1/4-1/2 cup ice water (as needed)
For the tahini sauce:
1 garlic clove, peeled

2 pinches of salt

1/2 a lemon, juiced

1/3 cup tahini

2-3 tablespoons water

A drizzle of olive oil

The reserved chickpeas

Chopped fresh parsley

You can do the entire process in a food processor or blender, or also use a mortar and pestle to grind the ingredients by hand which is the traditional way hummus is made, or, you can do what I do, which is I start with the mortar and pestle (I think it works through the garlic in a way that is slightly different from the food processor), and then continue in your food processor.
I add the garlic to the mortar and pestle and grind it with the salt until I have a garlic paste, then I add the lemon juice. That hit of the lemon juice over the garlic tames it ever so slightly and the hummus that comes out has the garlic taste without it being overpowering, but you can of course add everything together into a food processor as well.
Add the chickpeas, the tahini and the garlic paste you made, plus a bit of the ice water (some people use ice cubes which can work as well), and turn on your food processor. Now you are creaming everything up, and here you can add more of that ice water as needed, but what you're also doing is incorporating air into your hummus, so you want to let that go until your hummus is creamy and airy, hard to describe for a cream but you'll know it when you taste it.




For the very basic topping, make our tahini sauce:
Add the clove of garlic and the 2 pinches of salt and mash in the mortar and pestle just as you did for the hummus. Add the juice of 1/2 a lemon and stir. If you don't have a mortar and pestle you can pass the garlic through a garlic press and combine with the salt and lemon.
Place the 1/3 cup of tahini in a bowl and add the mixture from the mortar and pestle and whisk until combined.
Add 2-3 tablespoons of water until you have the consistency of a creamy sauce.
Plate your hummus, topped with olive oil, the tahini sauce, some chickpeas and parsley.


Now Let's Make Hummus Shine Even More: Delicious Vegan Topping Ideas for Hummus
Middle Eastern cuisine is all about those vegetables transformed and used as a topping or a small side, similar to greek mezze. So here you can really let your imagination fly.
A few weeks ago we taught our students in My Brownble, (our membership program with over 500 cooking classes and recipes on video), how to make a sumac roasted vegetable topping for hummus so go check that out if you're a member. We've also taught you how to confit garlic which would be a great topping as well.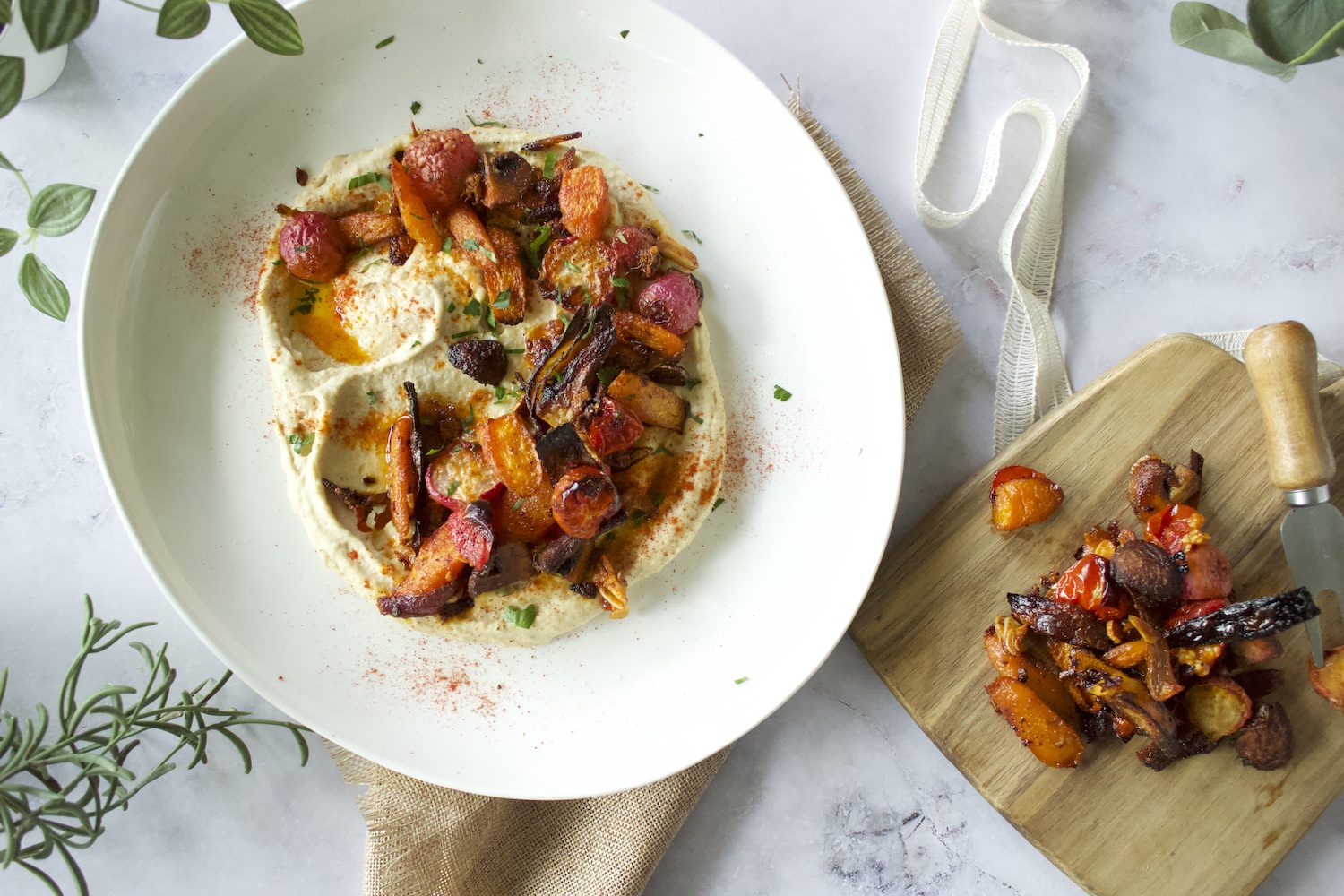 I want to give you some additional ideas today that in my opinion would pair very well with this hummus recipe, either on the side to dip right in, or served on top of the hummus.
I recently served a platter of hummus at a family gathering and added my toppings, plated the dish in a beautiful way and people were eating it so quickly that no one dared step away from the table because the hummus was gone in about 5 minutes, toppings and all.
Preserved lemons. You can find these online, they are quite fragrant so you just need to chop and add them, I would add this along with the tahini sauce.
Roasted beets and radishes for a stunning look, and with a squeeze of lemon on top, lots of fresh parsley and the tahini sauce drizzled over the pink vegetables, some lemon zest on top.
Fried artichokes or fried leeks
Roasted artichoke hearts with a squeeze of lemon and maybe some fresh dill. We teach you how to trim artichokes to go straight to the heart in this video
Confit artichokes, garlic, leeks and / or mushrooms
Roasted or sautéed mushrooms with some chili flakes
Roasted peppers and salt flakes
Roasted sweet potatoes, sweet potato fritters or pancakes or sweet potato fries topped with lots of fresh parsley and pepper and served on the side of your hummus
Make a tabbouleh salad or quinoa salad and serve it alongside your hummus
Make falafel and place them on top of the hummus for people to cut up and dip
Grilled vegetables with a nice char on them. My favorites for these would be eggplant, peppers, onions and zucchini





Make it a Full Meal
Serve your hummus, next to warm pita bread, add those vegetables as toppings or sides and what do you have?
You've got your protein component in the form of those legumes aka the chickpeas, you've got your starch in the form of pita bread, your fats in the form of that tahini, and your vegetables by loading up on the toppings.
When I see my students feeling like they need to have lentils or beans for their legume sources I remind them that there are so many ways to transform these and switch things up.
Are you hungry yet? Go make some hummus and celebrate it by making it the star of the show.
You might also like...
Our Program and Courses
Take a look
Don't miss our weekly goodies!
Our best FREE content straight to your inbox