Seitan is one of those things that I thank veganism for. When we go vegan we think it's going to be all about giving up foods you love. The reality is that you're really giving up some foods you love and that taste good, and exchanging them for other foods that you love and that taste good. Once you wrap your head around this new way of eating, you discover that new options abound. Ingredients and combinations you would have probably never had as a meat eater are now filling your plate. Suddenly mealtime is about new discoveries as opposed to the lack you were expecting to find. This was totally the case for me and so many vegans I know. Carlos and I eat a much more varied diet now than we ever did as meat eaters. I'm talking worlds apart!
Then you discover certain foods that you had never even heard of! For me, that included things like nutritional yeast, umeboshi, tempeh, and yes, seitan. Seitan and I now have a serious love affair, and to me it's the most versatile of all the vegan meats you can make, for the very simple reason that you can make it from scratch and infuse it with any flavors you want, make it into any shape, size, and texture you want. So yeah... seitan and I are besties.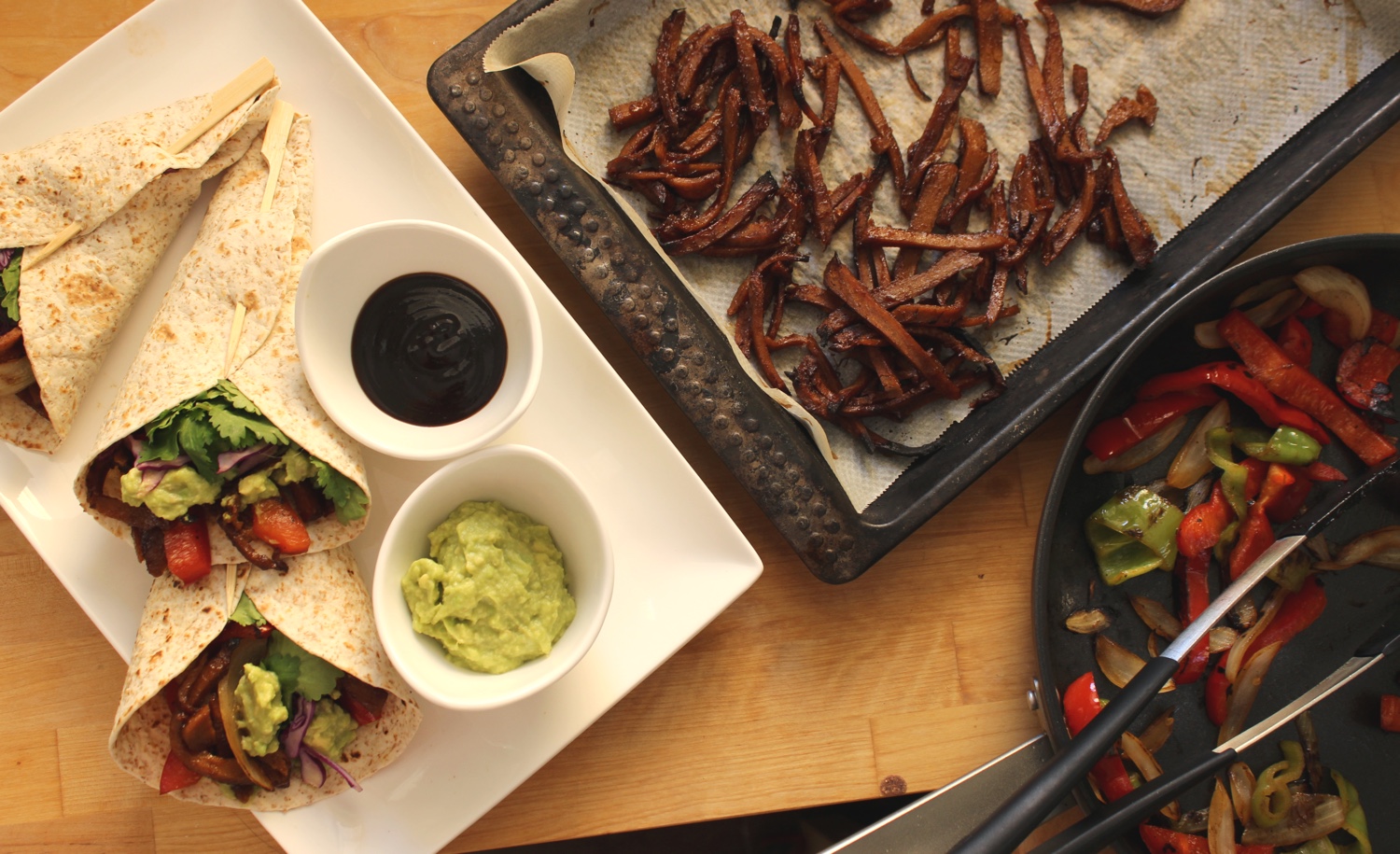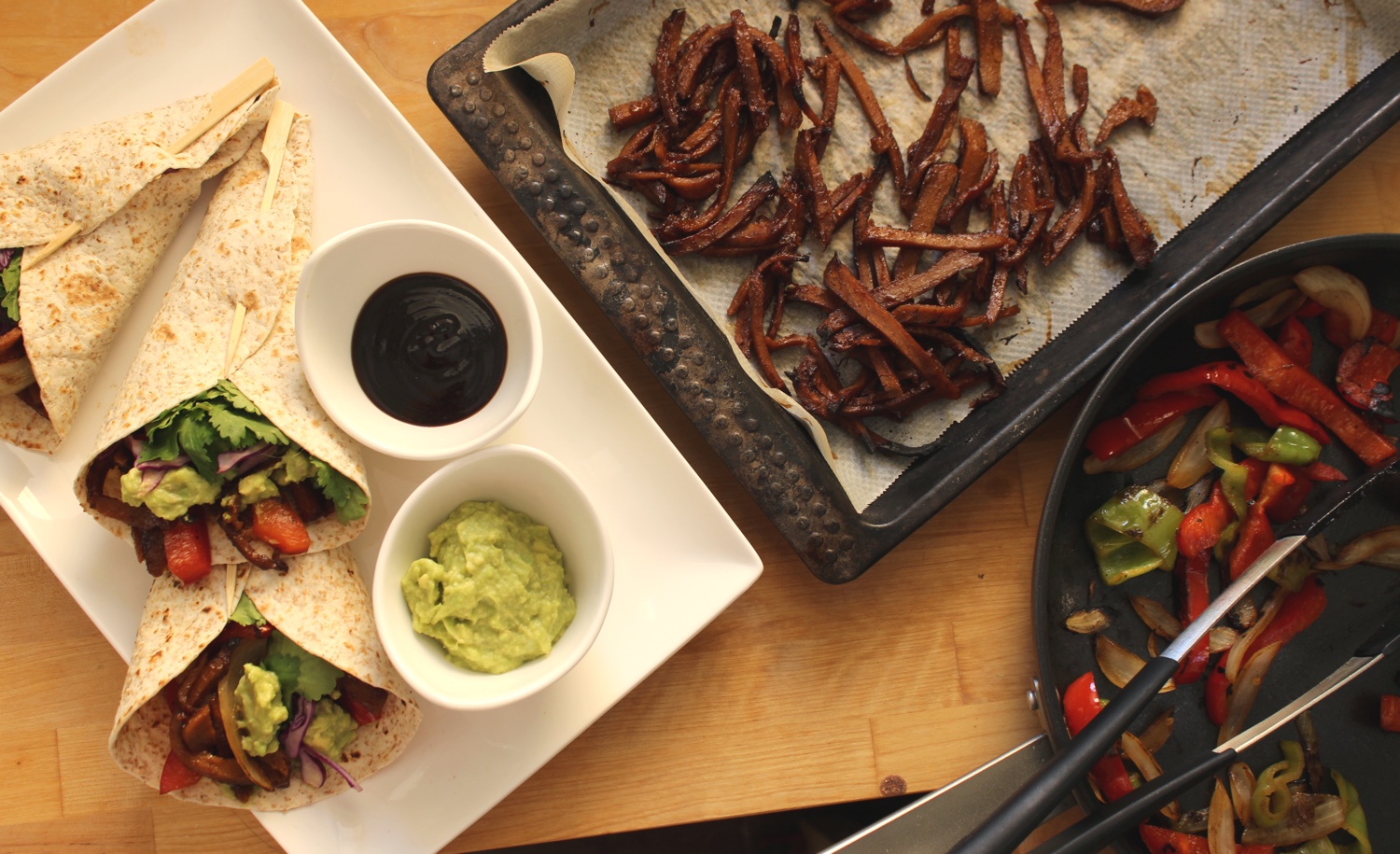 If you're a member of our online program you know the braising technique of making barbecue seitan, as well as our peanut seitan satay, you know how to use the steaming technique to make the homemade sausages from our free breakfast and brunch course.
It's easy peasy to make drool-worthy seitan when you're making it yourself, but what about when you buy a package of ready-made seitan at the store?
What can you do with it?
Today's recipe is the perfect way to jazz it up and make it deliciously hearty and filling.
Did I mention the fact that seitan is ridiculously high in protein? Yeah...
We're giving these fajitas a delicious Asian twist, and making a wasabi avocado cream to go with them. You heard me! Wasabi! Which interestingly enough, helps anything with avocado brown less quickly! Who knew!
Let's do this!
ASIAN SEITAN FAJITAS WITH WASABI AVOCADO CREAM
Yield: 6-8 fajitas ⎮ Prep time: 20 minutes ⎮ Cook time: 25 minutes
Ingredients
For the seitan and vegetables:
1/4 cup + 1 tablespoon hoisin sauce
1 & 1/2 teaspoons sriracha sauce
1 & 1/2 teaspoons neutral tasting oil (canola, safflower, sunflower, etc, plus a bit more for the pan)
2 teaspoons cornstarch
1 tablespoon soy sauce
1 package of seitan (the firmer the better) (about 300 grams/10-11 ounces)
1/2 an onion, cut into thick slices
1/2 a red bell pepper, cut into thick slices
1/2 a green pepper, cut into thick slices
Salt to taste
For the wasabi avocado cream:
1 large, ripe, hass avocado
1 lime, juiced
1 - 1 & 1/2 teaspoons wasabi paste
Salt to taste
For serving:
6-8 whole wheat tortillas
Fresh cilantro
Finely sliced red cabbage
Extra hoisin sauce for serving if desired
Directions
Pre-heat the oven to 410ºF (210ºC) with the broiler setting on, and move the oven rack higher to the top.
Prepare the marinade for your seitan by whisking together the hoisin sauce, sriracha, oil, cornstarch, and soy sauce.
Thinly slice the seitan and toss it with the marinade until coated.
Spread the seitan on a shallow parchment lined baking sheet and broil in the oven for 20-25 minutes until caramelized.
To prepare the wasabi avocado cream, mash together the avocado, lime juice and add the wasabi and salt slowly to taste until it is to your liking.
In a pan on high heat, add a drizzle of oil to coat and sauté the onions and peppers until golden and tender. Season with salt to taste.
Warm up the tortillas in a pan until slightly golden and warmed through.
To assemble your fajitas, add a bit of the wasabi cream, top with the seitan strips, onions and peppers, add another dollop of the avocado cream, and top with fresh cilantro and the cabbage.
Serve with extra avocado cream and hoisin sauce if desired and enjoy!
You might also like...
Our Program and Courses
Take a look
Don't miss our weekly goodies!
Our best FREE content straight to your inbox