Easy Peasy Vegan Entertaining, Tips for Feeding a Non-Vegan Crowd, Hosting Delicious Dinner Parties and more
May 17, 2017
When I was growing up my house was always full of the most interesting characters. My mom was an archaeologist and for a very long time worked in the science and art museums in town, which meant my house was filled with artists, scientists, writers, adventure seekers and sometimes a combination of all four. This meant two things, I was blessed to grow up in a house where I saw a lot of people living their lives in so many different ways. Some were married, others were not, some were gay, some were straight, some had high paying jobs, others had several low paying jobs, some were the corporate type and came in suits, others were hippies who loved living off the grid. Some had children, some had cats.
It also meant that there was ALWAYS food being served at our house. Perhaps it's the reason why people were always hanging out there! My mom was known for inviting people over for full English teas (cucumber sandwiches, buttery scones and all), in the middle of the tropical heat and weather of Venezuela, might I add.
She would make elaborate brunches for people, her dinners were legendary, and she even had friends come over for lunch for years on a particular day of the week, every single week. So there was Tuesday lunches with Mary, or Friday lunches with John.
Her Halloween parties were so famous our house became the hot spot every year at the end of October.
All of these events were cool and fun, but nothing was bigger or better than my birthday parties. Beauty and the Beast fans, you're going to LOVE this! On my 10th birthday, which was a huge deal at my house since it was the first double digit birthday (small things like that were ALWAYS made into HUGE excuses to celebrate and eat at my house), she threw me a beauty and the beast sleepover party. She bought me pjs with a beauty and the beast print, she invited all my friends and we played games, did aerobics (that was a thing back then), we watched the movie, and we dug into... wait for it... little ceramic pots filled with chocolate pudding with a tall chocolate rose in the center. If you're a fan of beauty and the beast you know why this little dessert was so important. My friends, now parents themselves, are STILL talking about that party and the fact that they ate the Beauty and the Beast rose... "dirt" and all.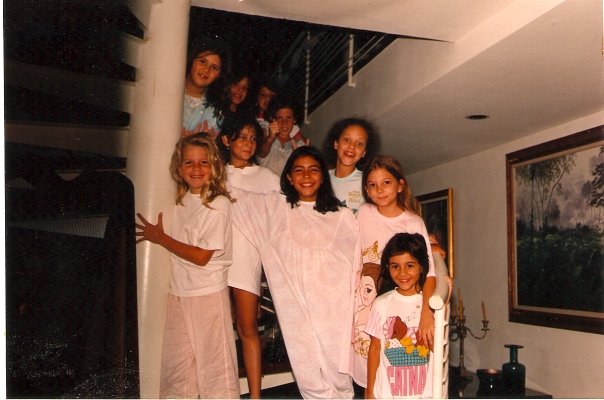 All this to say, I learned from the Jedi master of entertaining and I definitely followed in her footsteps because having dinner parties at home is one of my favorite things to do.
Nowadays, this includes cooking up a storm for all our friends, none of whom are vegan, and who now jump at the chance to come and eat vegan goodies at our house. Today I'm going to teach you how to simplify, enjoy, get creative and feel stress free when entertaining as a vegan, because I learned from the woman who would paint individual place cards with watercolors, with a design that matched each person's personality and would then make them guess where they were supposed to sit. Yes... she went totally overboard, and sometimes I still find diagrams of table settings inside her old cookbooks.
She was the queen.
And I know all her secrets (wink!).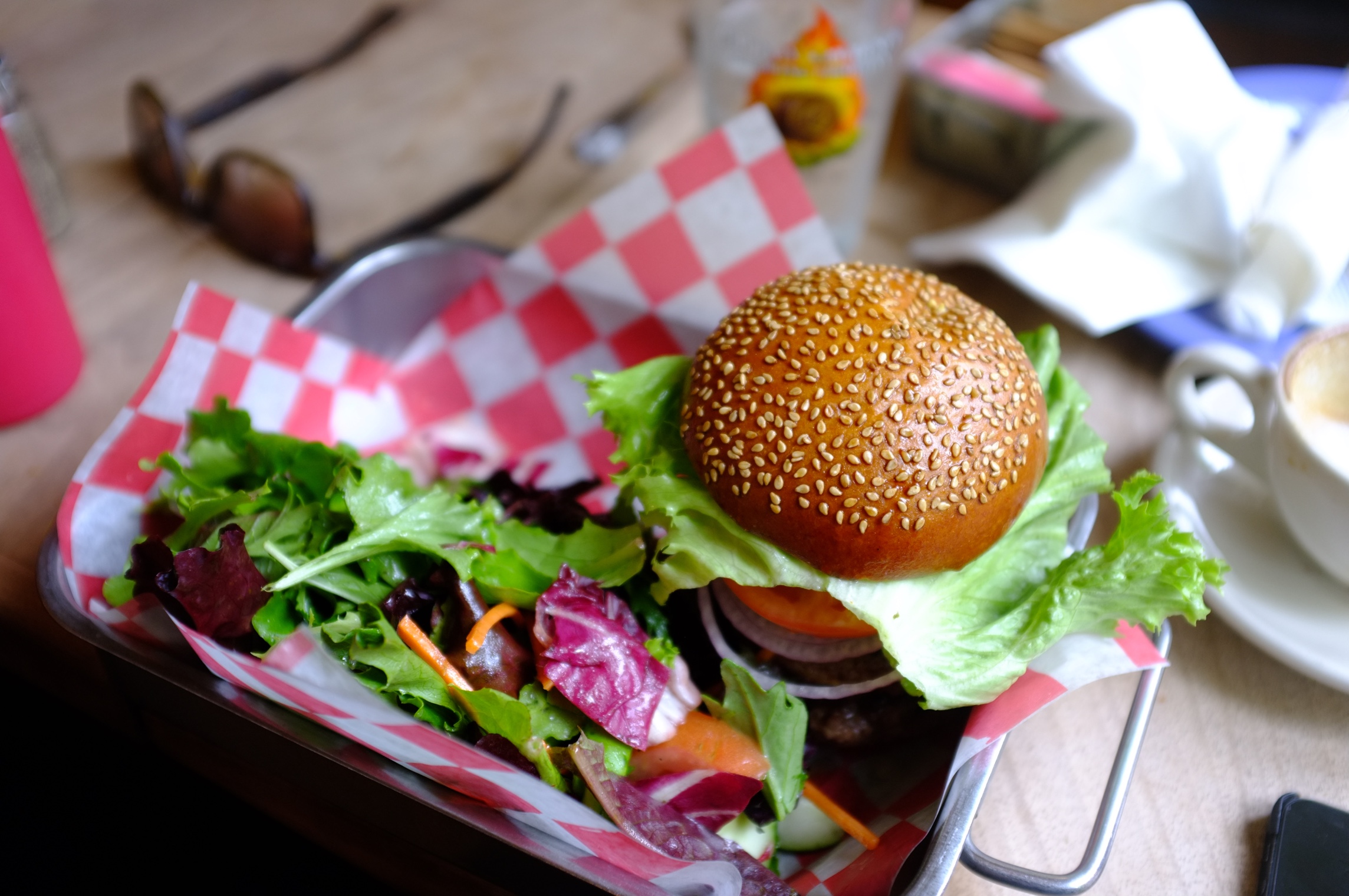 To theme or not to theme
The reason my mom's Beauty and the Beast party was such a big hit and went into my friends' hall of fame memory reel, is because everything had the same theme. Her Halloween parties were legendary because they had a theme and they also had several mini traditions that she repeated every year (more on honoring traditions at the end of the post). They were memorable because they made you feel like a giddy little kid, even after we were no longer kids.
Themes not only apply to Halloween, Christmas or a kid's birthday party:
You can have a theme based on the menu you're planning (tapa night, taco night, Japanese or handheld).
You can make the reason why you're celebrating the theme (i.e. if you're celebrating someone's birthday you can make vegan versions of all of their favorite foods).
You can create a twist on traditional foods and make that the theme (i.e. a full-on breakfast for dinner party).
You can use the type of cuisine as a theme,
or make what I call Sunday family lunch your non-theme theme. Meaning you invite your close friends and family home for lunch or dinner and make it the least fussy meal ever by just opening your door to friends on any given day. Making something yummy without having to plan everything out. Sometimes the simplest most basic invitation to someone's home because they made too much lasagna makes for the best gathering ever.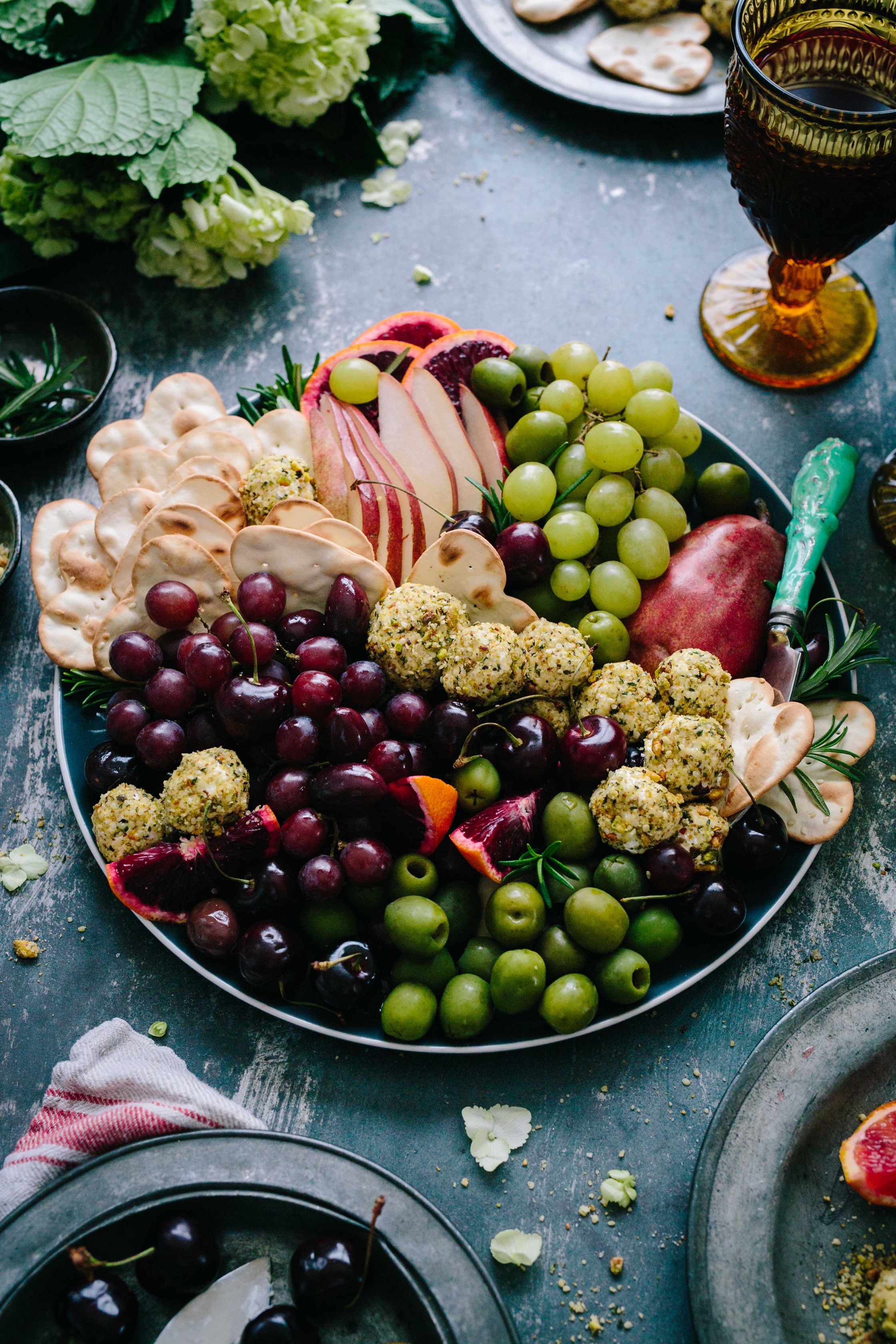 Planning the menu
When planning your menu, and especially when feeding a non-vegan crowd, make sure you have a combination of familiar dishes in their vegan versions as well as any less traditional foods you'd like to serve. This will make people comfortable and more open to the idea that a vegan meal can actually fill you up, be delicious and doesn't require a trip to Burger King afterwards.
Include something to pass around or serve with drinks when people arrive, especially if you have friends who are usually late and you might have hungry guest early birds. This also prolongs the meal and can especially give you extra time to prepare any last minute dishes.
Always include some store-bought items that you can just serve as is, think store-bought vegan pates or cheeses, crackers, olives or an olive tapenade, or even a vegan dessert. That way cooking for a crowd at home doesn't become overwhelming.
Think of drinks that might go with the food you're serving or your theme. Make sangria and call it bloody sangria if it's Halloween, or freeze fruit in ice cubes or put out a blender for some daiquiris in the summer.
Think of your cooking space and the timing of each dish when planning your meal. Meaning, don't plan on making three dishes that need to go in the oven at the same time.
Plan a meal that can have several make ahead components and make them one or two days before. This will save you so much time and stress.
Plan some cold dishes as well as hot ones, that way you can set them out while you warm things up and it will save you a lot of stress during those last moments before serving.
Write a list of everything you're making and keep it in the kitchen and cross things off while you're cooking. This will prevent finding an un-served sauce or side dish in the fridge the next day.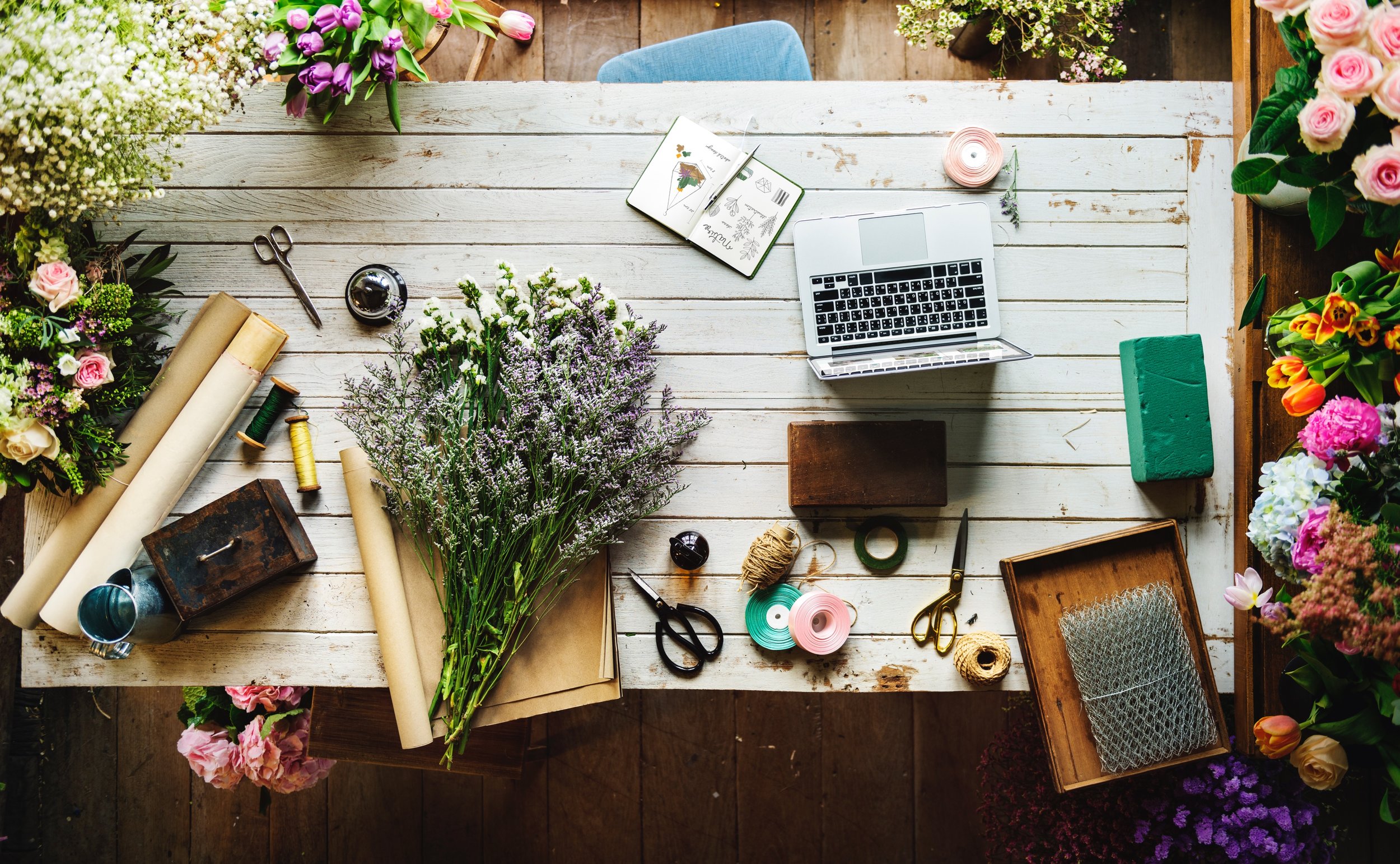 Planning the decor
Decor doesn't have to mean making a whole elaborate set up like you'd do for a big holiday party. It can mean something as simple as how you set the table. It can give guests an instant "feel" for the menu you plan to serve and nothing is better than getting people excited even before they take the first bite. It's all about that emotional build-up, and definitely part of the experience.
A rustic example:
If you're cooking up a rustic family style menu, for example, put some fresh wildflowers in the center of the table, and use a pitcher or a basket instead of a traditional vase.
Choose things like sunflowers, or daisies.
Serve the dishes in cast iron pans at the center of the table.
Use clay pots or bowls or plates that don't match instead of traditional china.
Have lots of little dishes that everyone can grab, a basket full of garlic bread that people need to tear into with their hands.
You get the idea, if the food is rustic and fun, make the vibe rustic and fun.
If planning a formal dinner, set up elegant place settings, light candles and make smaller bouquets of flowers.
If making sushi, eat around the coffee table on the floor instead of the dining room table. You get the gist.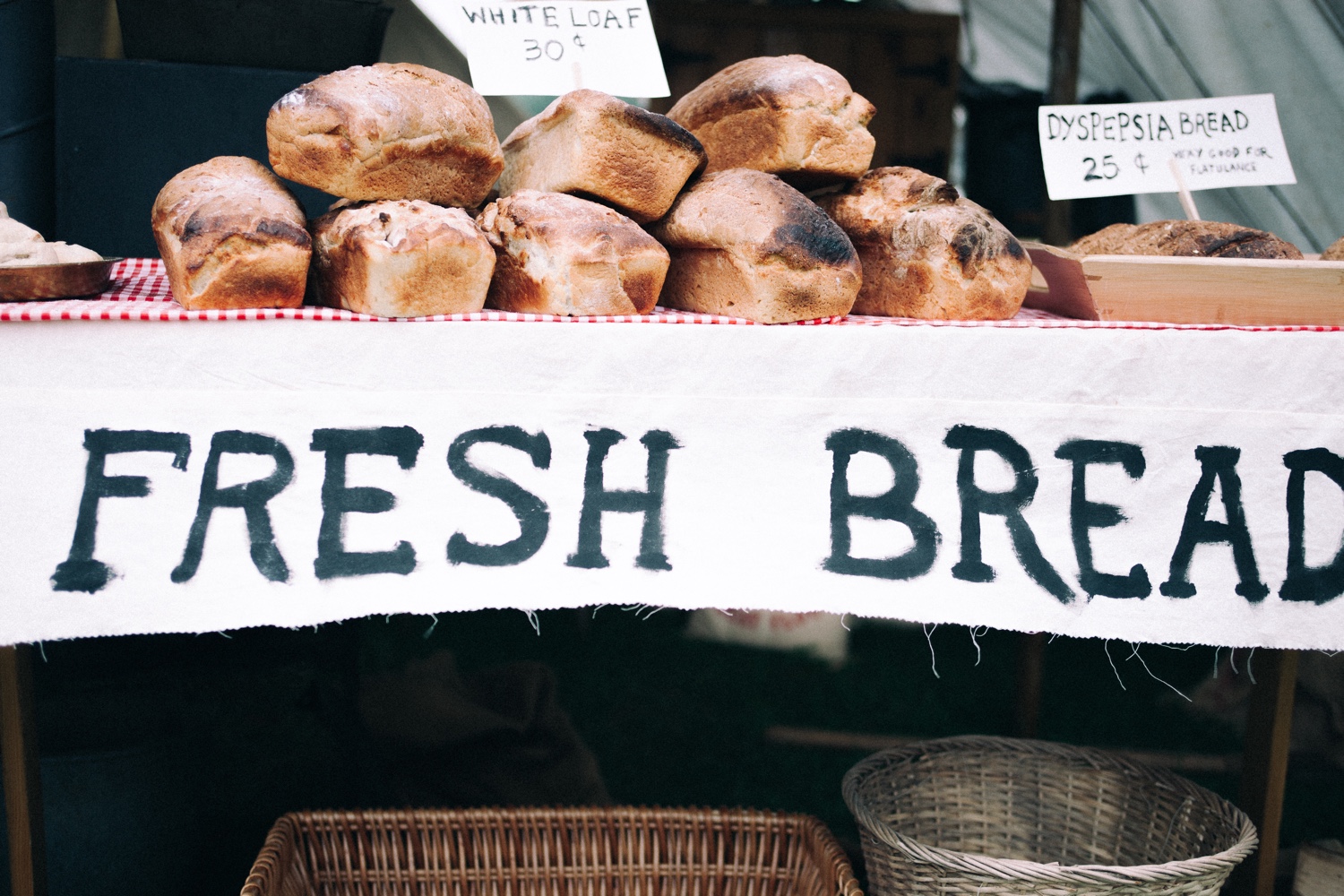 Shopping
We tend to go overboard when we're planning out parties and meals for friends and family. We think it won't be enough food, that we need to have hundreds of options, two pies, two salads.
This means entertaining starts becoming expensive and overwhelming:
Once you've planned your menu, look at it again. Is there anything you can trim, or anything you can swap for something yummy but simpler, or that doesn't require too many ingredients.
Take anything out that is causing you stress when you look at it. If you feel it's too complicated and it will make you feel stressed, take it out and include something you know how to make blindfolded.
Make your shopping list.
When writing down ingredients you'll need for more than one recipe, write the name of the dish next to it (for example: 4 potatoes, 2 for baking, 2 for salad). This way, if there's an ingredient you can't find at the store, you'll immediately know what you can substitute and you won't get any surprises when you're cooking your meal and suddenly realize you actually needed that nutritional yeast for three of the recipes.
You've heard this one before! Don't shop hungry!
Remember that cooking for friends and family doesn't have to mean fancy ingredients or spending a ton of money. One of my famous dishes when I have people over is a simple homemade focaccia, which only uses flour, salt, yeast and olive oil. I add some store-bought tapenade and people go nuts! Simple and inexpensive.
Cooking and serving on that day
Whenever possible, set the table the night before, and make a list of what you still need to make on that day and the order in which you'll be cooking them.
Set out all your utensils, serving platters, glasses and drinks early that day so you don't even have to think about it.
Cook with some tunes, a movie you love in the background, or your favorite podcast, or make it a cooking party and invite one of your friends over to help you. Make it a fun process. I almost enjoy the process of cooking with a good funny movie in the background, as much as the moment of eating itself (note that I said almost).
The beauty of including appetizers or something to serve with drinks is it will give you time to re-heat or prepare anything that needs to be made in that moment. Relax about this stage of last minute cooking, do it slowly and don't stress out about needing everything to be perfect. Some of my favorite meals with friends have been those in which the host has actually done some of the cooking while we're there, and we get to eat the meal slowly and in parts, getting plenty of time to talk and indulge in every dish in an even more special way.
Remember that anything that gets cold can be re-heated, don't stress over perfection.
Warm up your plates in the microwave before serving, this will keep the food warmer while you serve or take the inevitable instagram photo (or 10).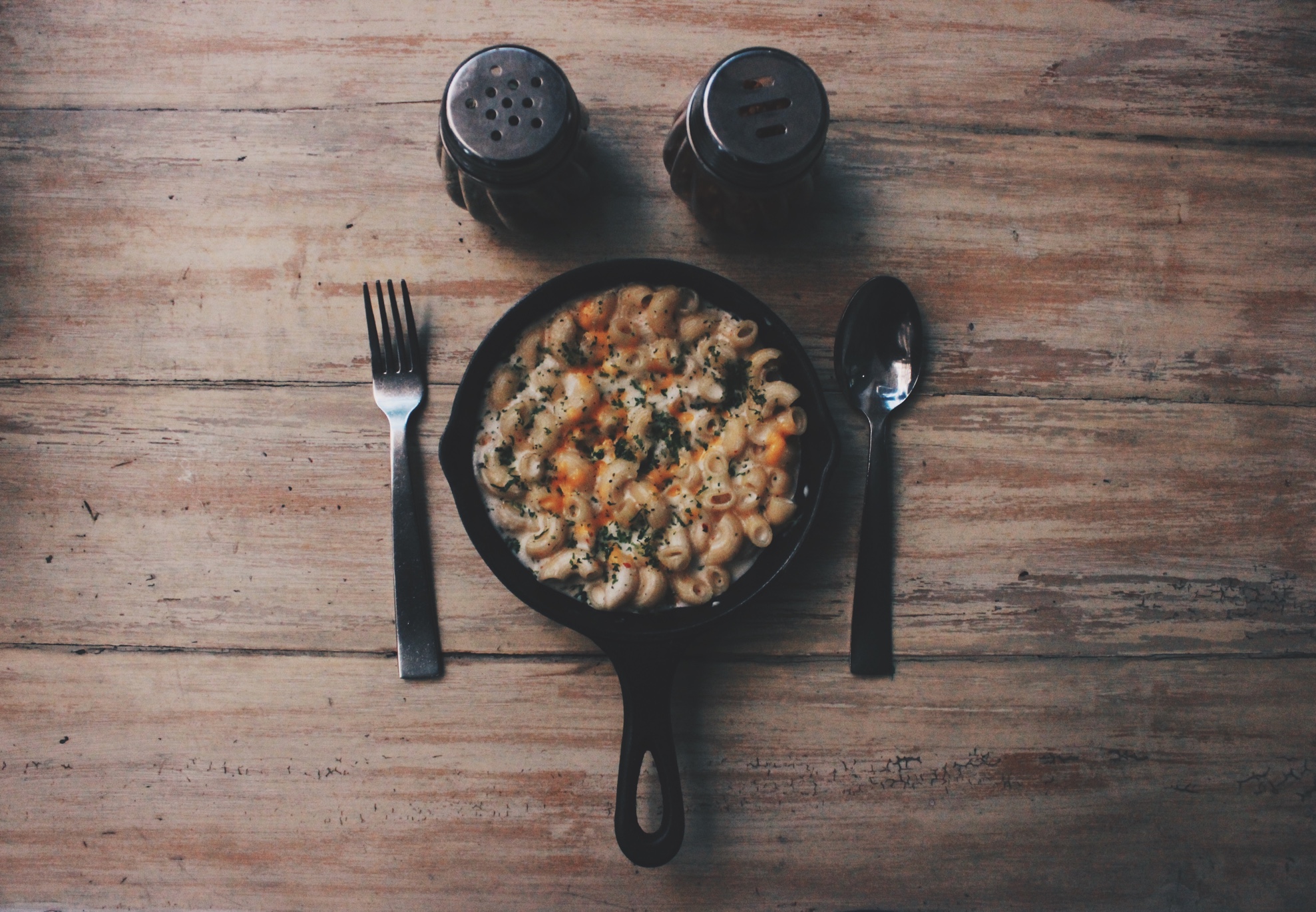 Making it formal and elegant or making it rustic and homey
Remember you can make the meal a total fancy pants feast, complete with place cards, printed little menus and center pieces, or you can have it family style, rustic and homey with lots of dishes at the center of the table for people to grab what they like. This can include piling up the dishes in a corner without even setting the table or placing utensils in a basket for each person to grab. Both styles of entertaining are awesome and make people feel like they're about to dig into something special.
Honoring tradition
As vegans sometimes we're accused of going against tradition, and I'm on a mission to challenge that.
We have the same Christmas feast as we did before we went vegan, only instead of turkey we have a yummy seitan roast, instead of mashed potatoes with dairy milk and butter we make mashed potatoes with non-dairy milk and non-dairy butter. You can make ANYTHING vegan, and when it comes to celebrations with friends, I always say: embrace tradition.
Did you use to have barbecues together? Invite them over for a vegan barbecue full of veggie burgers and all the fixings, hotdogs, baked potatoes, grilled corn, coleslaw, the works.
Did you use to have pumpkin pie every Thanksgiving? Make it and make it vegan!
You can also start incorporating new traditions that people always look forward to. One thing that is typical at our house is we often times include audience participation (think vegan cheese fondue, a make your own sandwich night or burger bar) or a dish that can be assembled at the table in front of everybody. At our house this is almost the case with the dessert. I bring out toppings, or warm up a sauce and pour it over a cake, all at the table for those mouths to start watering. I've done this so frequently that the moment the dessert is about to come out, people are already wondering what I'm going to surprise them with this time around.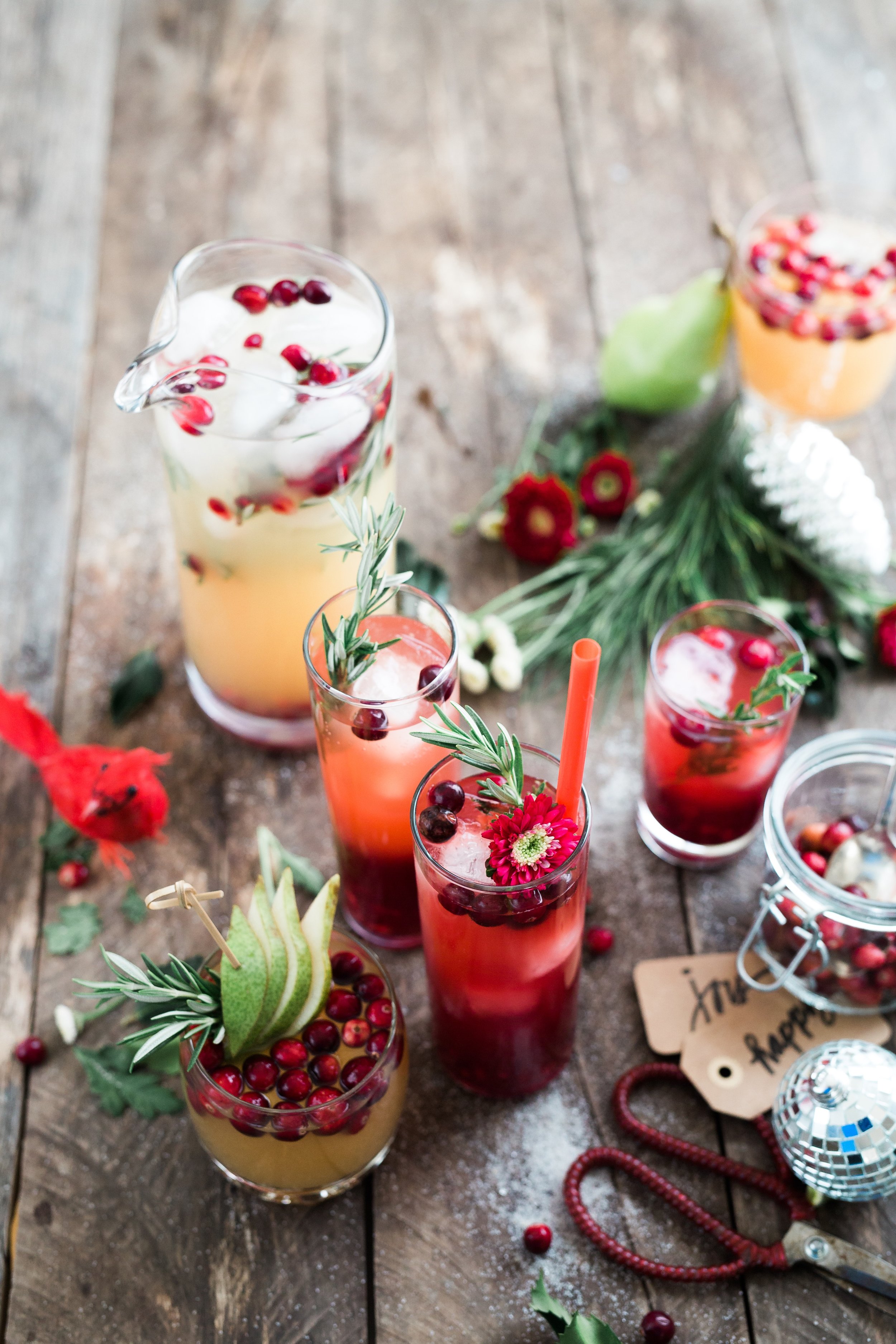 Ideas for entertaining at home
Just in case you're all amped up and want to have some people over asap but need some ideas. Here are some of my favorites for vegan entertaining at home:
- A vegan barbecue with all the fixings: cold beer, white sangria or fruity cocktails, corn on the cob, coleslaw and other fresh salads, Grilled veggie burgers, sausages, hotdogs or seitan steaks, grilled veggie and tofu skewers, baked potatoes with all the fixings, a banana split station for dessert.
- A burger or sandwich bar where everyone can assemble their own to their liking. I love including all the sauces, onions, tomatoes, lettuce, pickles, fried onions, grilled onions, guacamole, sauerkraut, vegan cheese, barbecue sauce, chutneys, grilled mushrooms, the works.
- Japanese night with vegan sushi rolls, tempura, gyosas and some sake.
- Vegan fondue night.
- Mexican taco night.
- Breakfast for dinner.
- A delicious breakfast or brunch including some mimosas and a tall stack of pancakes. Throw in some hash browns!
- Tapas and sangria.
- Comfort food classics! Make some mac and cheese, or some chili and cornbread, lasagna and garlic bread and some brownies a la mode for dessert.
- 1950s diner style: Make some burgers or BLTs, vegan ice cream floats or milkshakes and of course some pie for dessert.
- Have a Middle Eastern night and make (or buy), some Middle Eastern dips like hummus or babaganoush, warm pita bread, falafel, stuffed grape leaves and vegan baklava for dessert.
- Takeout night made by me!: from Indian to Chinese to pizza night.
- Have a movie night and make the menu movie theater themed: Nachos with lots of vegan cheese sauce, hotdogs and all the fixings, jazzed up popcorn and candy, a good movie and you'll have a huge hit.
- Have an elegant English tea party with freshly brewed tea, finger sandwiches, cookies, scones or mini muffins.
- Make it all about pie: From savory quiches to sweet pies and a fresh salad, you can never go wrong with pie.
- Wine and vegan cheese night. Need I explain this one further? Wine! Vegan cheese! Yes please...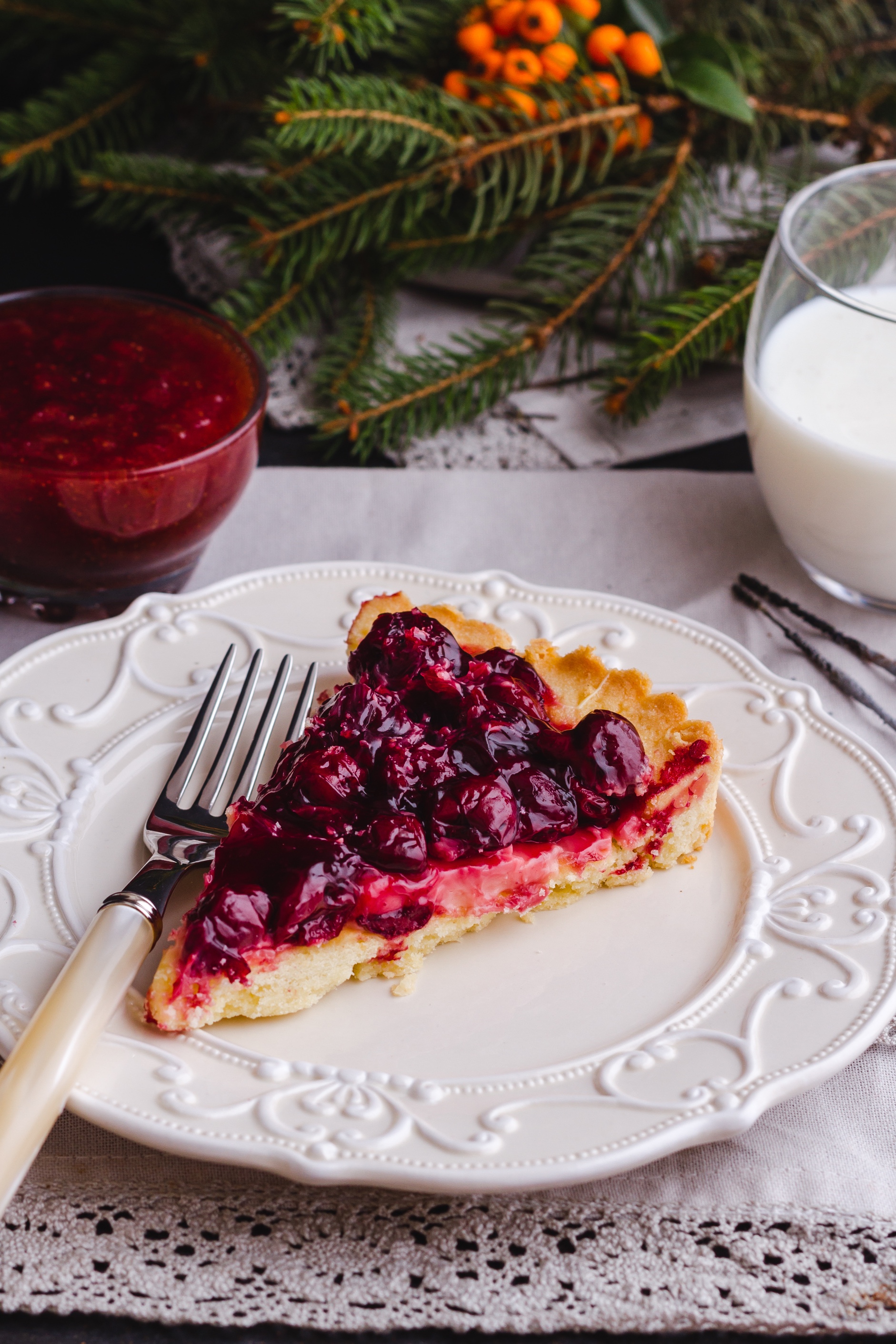 Vegan menu ideas
Here are some ideas for seasonal vegan menus that would be delicious for entertaining:
Ode to Veggies Spring Menu
Mint and pea soup
Arugula, grilled asparagus, pine nut and sun-dried tomato salad with kalamata olives and a lemon vinaigrette
Potato rosemary pizza with grilled mushrooms
Lemon tart
Fun and Fresh Summer Menu
Cool gazpacho
Grilled corn on the cob
Grilled marinated tofu and vegetable skewers (with peppers, red onions, mushrooms, pineapple and cherry tomatoes)
Baked potatoes with vegan sour cream and chives
Mixed salad greens with slivered almonds, strawberries, cherry tomatoes and an herby cilantro dressing
Roasted peaches and plums with vanilla and sugar and some non-dairy vanilla ice cream on top
Comforting Fall Menu
Bubbly spinach and artichoke dip served in a bread bowl
Individual tempeh and veggie pot pies
Stuffed mushrooms with a quinoa, pine nut and sage pilaf, and our basil and avocado pesto to top
Holiday Winter Menu
A festive vegan cheese plate with cheeses, crackers, focaccia, olives, grapes and fig jam
Seitan or a store-bought holiday roast with mushroom gravy
Garlic mashed potatoes
Roasted brussels sprouts with red grapes and pecans
Sautéed green beans with herby garlic butter
I hope this gave you a ton of ideas for celebrating with friends and family over a yummy table full of food. Remember it's not about making it perfect, it's about having food to share and having fun from the cooking to the serving to the eating.
Happy vegan entertaining!
You might also like...
Our Program and Courses
Take a look
Don't miss our weekly goodies!
Our best FREE content straight to your inbox