If I was a food poet (and if that was even a thing!) there is no doubt in my mind that my first poem would be an ode to the potato. Poor spud, it's been so misunderstood, and so vilified thanks to the anti-carb craze that has seeped into our culture these days. In today's post, our very first recipe collection, we're bringing the potato back, because let's face it, few things are as delicious.
Here are some other reasons why potatoes simply rock: they're inexpensive, they're available year round and almost everywhere, they're super simple to make and they're choc-full of potassium (containing more than a banana does!) as well vitamin C, vitamin B6, fiber, iron, magnesium, calcium, antioxidants and even some healthy plant based protein. That's not the only reason to love them though.
Potatoes have long been a symbol of comfort, of bounty and of celebration. We have mashed potatoes at Thanksgiving and Christmas, potato latkes for Hanukkah, potato salad to celebrate the summer and of course the 4th of July, we have it in chowders in the winter, and of course we can't forget the match made in heaven that is a burger and fries.
So many classic dishes can be made with this gorgeous root vegetable and I find that whenever I serve it at a dinner party there's simply no going wrong. You can almost see the excitement in people's faces, even if it's something as simple as a roasted potato. The reason is we've kind of forgotten about this veg and left it only for special occasions, and it's my intention to bring it back. Potatoes are filling, have plenty of nutrition and have the magical power of being incredibly satisfying and enjoyable, one of the most important factors when it comes to happy and healthy eating.
Yup! We're bringing the potato back and to do so I've gathered some of my favorite potato recipes, not only from our blog, but from some of my favorite websites and cooking blogs from around the web. I love sharing some of the amazing work other bloggers are doing out there, and it always makes me happy when I get to be the one that introduces you to an awesome blog you'll get to use again and again. In a way this is not only a tribute to our superstar du jour, the potato, but also to the awesome bloggers that created these recipes.
I could have chosen 20, 50, 70 recipes based on what is out there when it comes to potatoes, but I chose recipes that really jumped out as being new and unique, and that also make the potato the star of the dish instead of the sidekick that it normally is.
Are you ready? Let's do this thang! Grab your peelers!

These scrumptious Smashed Potatoes with Garlic Pesto by Minimalist Baker, one of my absolute favorite bloggers out there. If you haven't been introduced to the magic of potatoes and pesto together you're in for a real treat! Plus, Dana's recipes are always so simple to put together. Win-win!
---

If you're thinking MUST-HAVE-THESE-NOW let me just say I hear ya! These delicious Potato Cakes Stuffed with Mushrooms are by Julia of Imagelicious. You can't go wrong when it comes to potato cakes, but these are stuffed! With mushrooms! Yeah...
---

With spring quickly approaching, and picnic season rearing it's pretty little head, you'll love making this Vegan Potato Salad by Kelly of The Pretty Bee. So simple and perfect for taking on the go.
---

Yes, these are potato tacos! Delicious tortillas filled with colorful potatoes, veggies, guacamole, beans and all your favorite fixings, by Marlena from Where you Get your Protein. I mean.... yeah.... POTATO TACOS!
---

We have one motto at our house: veggie burgers must always be served with a side of fries (and by side of fries I mean fries and ketchup of course). Sometimes though, I feel like having something a little lighter, or even more so, avoid the hassle of frying. That's where our crispy oil free potatoes come in. It's the easiest recipe EVER, and you get crispy potatoes every time without using a drop of oil or moving from the comfy couch since the oven does all the work for you.
These are our crazy easy Oil Free Crispy Potatoes which you can find the recipe and video for here.
---

Whenever I'd go back to my family's home in Woodstock, New York, my uncle would go out and buy the most incredible vegetable shepherd's pie on this planet, made by a local shop. Even though he was the best cook on this planet, he never made it himself and yet it's one of the dishes that most feels like home to me, so I had to include it on this list.
This is the stunning and scrumptious Vegetable Shepherd's Pie by Melissa from Cilantro and Citronella.
---

My husband is the king of finding new sauces to dip things into, but Lindsey from Dolly and Oatmeal took this up a notch by teaching us how to make crispy oven fries with a spicy mung bean hummus for dipping. Ah-mazing!
---

There is one Italian specialty that is so often overlooked and most people don't know about. It's the wonder of the potato and rosemary pizza. Yes it's a thing and you can now learn how to make it thanks to Ania from the wonderful blog Lazy Cat Kitchen.
---

I'm always telling you how when we dive deep into international cuisines we find so much abundance when it comes to vegan dishes.
This means we just had to take yet another little trip for our potato collection, this time to Sri Lanka, to learn how to make these delicious Turmeric Infused Baked Potatoes with Garlic by Jehan from the blog Island Smile (which is all about Srilankan food! How cool is that?!)
---

The blog where this delicious recipe is from is one that I simply can't live without. I think it will be hard to ever create a recipe collection like this one without including one of Jackie Sobon's UNBELIEVABLE recipes.
This is her slow-cooker potato curry chili. I mean that's a mouthful of goodness right there when you can say the words potato and curry and chili in the same sentence. Yowza! Jackie blogs and creates mouthwatering recipes that will never EVER fail you, at Vegan Yack Attack.
---
BONUS ROUND!
You know me, if I promise 10, I'll give you 11. It's just the way I roll. The reason today is because after finding so many delicious potato recipes online, I suddenly remembered its twin sister, the utterly delicious sweet potato.
No, I wasn't trying to purposely ignore her, she'll get her moment in the limelight too, but I thought I had to mention her before we go, with our recipe and video for crispy oven sweet potato fries, in which I give you my top tips to get sweet potatoes to actually crisp up. Yes it is possible, but you need to know a few tricks (which I of course share in the video!).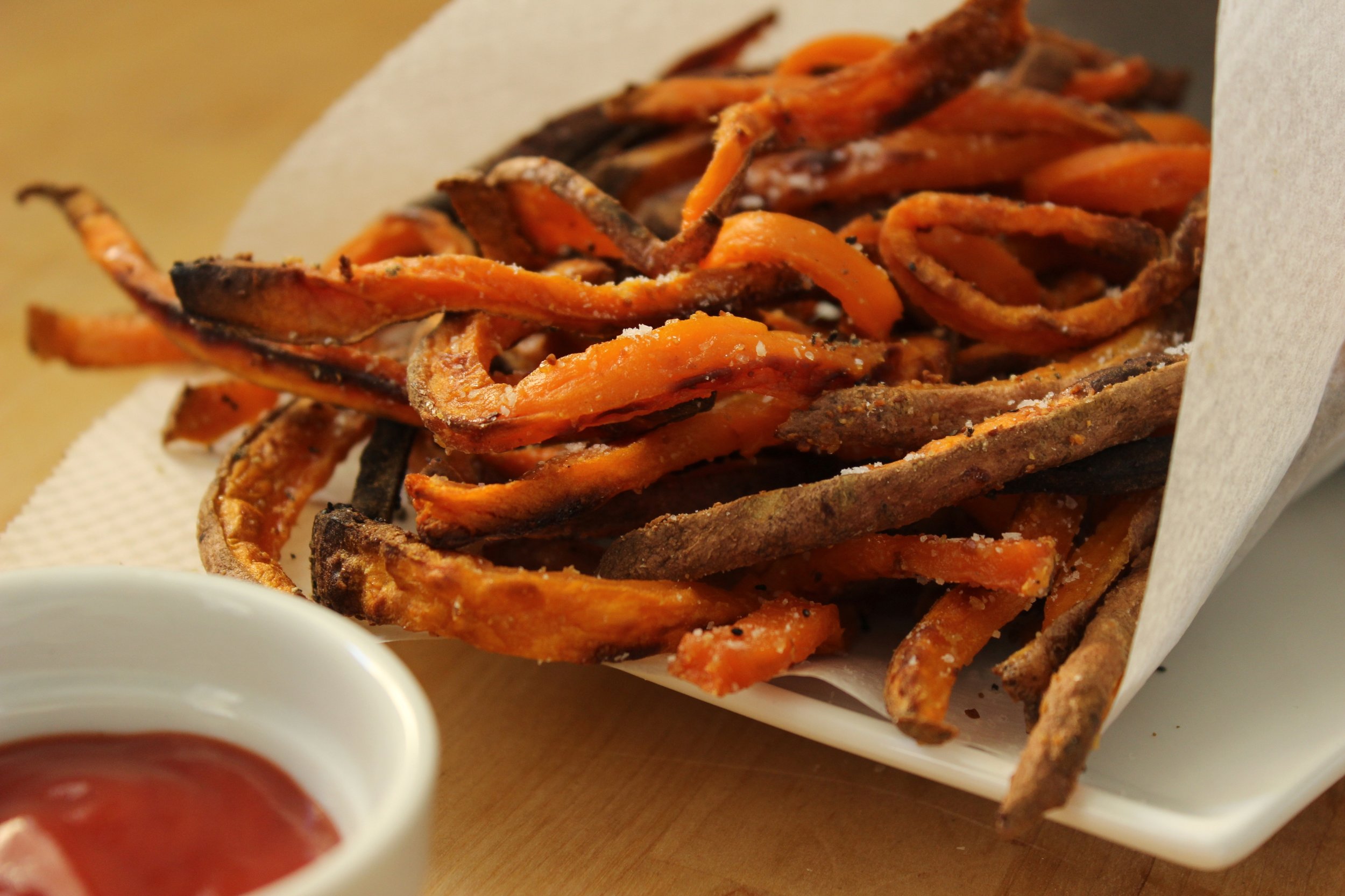 Thanks for checking out these amazing websites and bloggers, and thanks to them for making me drool, and filling up my kitchen with yumminess every time I cook one of their recipes.
You might also like...
Our Program and Courses
Take a look
Don't miss our weekly goodies!
Our best FREE content straight to your inbox