The first flowers officially bloomed in our home this past weekend and that means quite a few things at our house. First, we get to basically move to our terrace from now until October, our favorite part of the house. We also start grilling outside like maniacs. Lastly, it's time to dust off the picnic blankets and plan little excursions with the dogs and of course a delicious vegan picnic.
I've always been a fan of picnics because I love doing anything in a way it's not supposed to be done, a.k.a eating on the floor, and often times delicious goodies with your hands. I love planning the menu, packing it up, and nothing makes me more giddy than the crazy excitement my dogs get the minute they see our picnic bag. They immediately know what's coming even before the leashes come out. It was however when I met Carlos, my husband, and we moved to Spain, that my love of picnics grew exponentially.
Carlos had lived in Spain as a a kid, and as soon as we moved here he started telling me about the dozens of road trips he would take with his mom a dad, and how they would always pack a picnic with sandwiches, drinks, snacks. I fell in love with the idea just by listening to him talk about it and we vowed to continue the tradition, and we took it so seriously that yes, we have an official picnic bag even our dogs can recognize instantly.
With spring's arrival, I thought it was the perfect time to tell you all about some of our favorites for picnics, which usually apply to potlucks too, so that they inspire you to grab a blanket, a basket (or even a bag will do), a bottle of wine and head out to sit under the sun.
We had previously posted a blog post full of on the go ideas for meals, but today I thought I would get more picnic and potluck specific, along with some great tips and products for those of you who are whatever the equivalent to gadget crazy is, but for picnics.
Are you ready? Let's do this!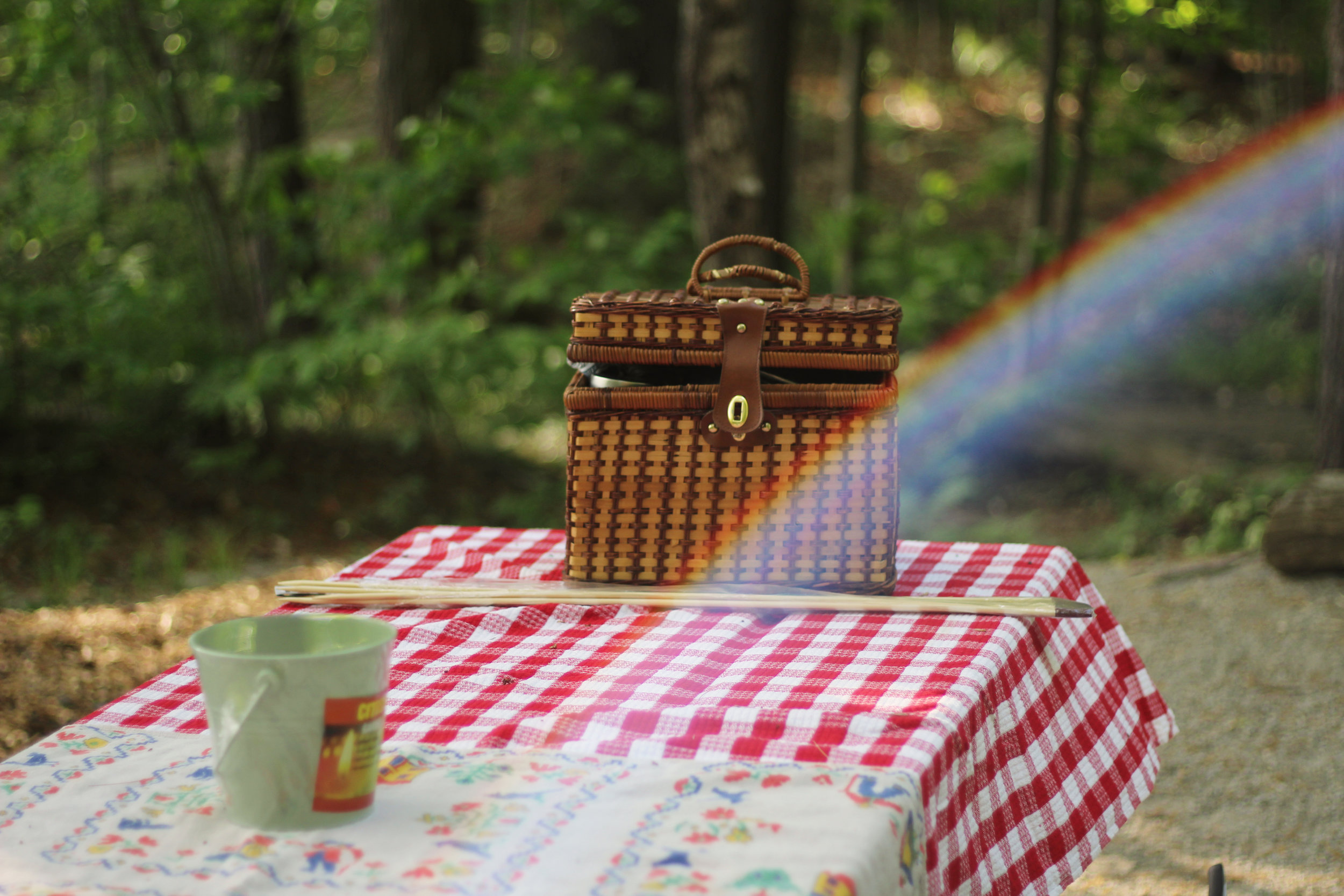 Picnic Essentials
Some of the things we always like to make sure we pack on picnics are our picnic blanket, and a very handy plastic tablecloth we actually bought to cover the car seats in case the dogs went into the river. Turns out it's the only thing that will save your picnic if the grass or ground is wet. You place it under the picnic blanket, and voilà, picnic not ruined.
Drinks, but also water. In case you're packing lemonade, iced tea, wine, beer, or whatever it is you like to drink, always remember to pack water as well. We take a big bottle not only for us but also for the dogs. We always find that drinks get consumed really quickly and then everyone's thristy on the way back home. Plus, water is the perfect drink in and of itself!
Snacks for you and also for your dogs if they're coming along.
Plates, glasses and utensils if the food isn't handheld. Try to stock up on some re-usable and lightweight plates and utensils to avoid extra plastic which is so harmful for the environment. If plastic is all you can find, just make sure to bring it back with you, wash it and re-use if possible.
Chips are a must at our house, and we always take a container of guacamole for dipping. Assorted raw veggies and dip and/or hummus also make a great crunchy snack for picnics.
If packing wine or beer remember to also pack a bottle opener or cork screw.
Include some fresh fruit or fruit salad, especially for the summer heat. Frozen grapes make the perfect refreshing snack for a beach day.
Think of food that travels well and that will be safe without refrigeration, or pack a cooler that will help things stay cold. Make sure to think of your menu and go through a little mental checklist of what you'll need to eat it. Do you need forks? Knives? Spoons? Plates? Extra paper napkins? A sauce or condiment? Bread or chips? Make sure you pack everything you need, and make a little list if you're making everything the night before. I can't tell you how many times my perfectly balled watermelon has sat in our fridge while we are desperately searching for it miles away.
A cooler with ice to keep drinks cold is a great idea.
Bring towels or extra blankets if you have a big group, as most of the food and drinks will be on your picnic blanket.
Bring napkins and a trash bag. Always leave that beautiful outdoor space you just enjoyed as clean as nature intended.
Potluck Essentials
Potlucks are easy since you're usually just supposed to bring one dish. Make sure to find out how many people are attending so you can plan your dish accordingly.
Prepare a dish that can sit out of the fridge for the duration of the potluck.
Think of what you'll need to eat it, from plates, to utensils, to condiments, bread or crackers. Make sure to bring everything a person will need to enjoy your dish.
Meal ideas: What to bring
Our favorite sandwiches:
Tempeh bacon BLT's (you can find our recipe for the tempeh bacon here).
Baguettes or whole wheat artisanal bread with vegan cheese, thinly sliced tomato, fresh basil leaves, a drizzle of olive oil, sea salt and pepper.
The classic Pb and J, or our pb and j roll ups which you can vary up by adding different kinds of fruit, seeds, or nut butters. Especially good when you're packing a snack.
Baguettes with melted vegan cheese, tofurky slices or other vegan deli slices, some caramelized onions and grainy mustard. For this one you can also make your own no-honey mustard by combining your favorite dijon or spicy brown mustard with a little bit of agave.
The great "choripan!", a classic at our house and the official sandwich for when we go to the lake in the summer. It simply consists of grilled vegan chorizo sausages (or any type of vegan sausage you like) in a baguette with a little bit of mustard, melted vegan cheese, thinly sliced tomato, fresh basil leaves, salt, pepper, and guacamole on the side for adding to the sandwich as you eat it.
BBQ seitan sandwich with some sauerkraut and dijon mustard. If you're a member of our online program you can find the recipe in our quick fix section!
Tofu egg salad bagels with thinly sliced cucumber.
No-tuna salad made with mashed chickpeas instead of tuna, eggless mayo and anything else you love in your no-tuna salad.
Grilled veggie sub: Your favorite grilled vegetables like zucchini, eggplant, red bell peppers, portobello mushrooms and onions, on focaccia or your favorite bread and some hummus or babaganoush (a Middle Eastern eggplant dip).
Bean burrito with sautéed peppers and onions, shredded lettuce, brown rice, and salsa and guacamole on the side to add to it as you eat.
The sky is the limit really, all you need is some bread and whatever fillings you're craving.
Our favorite salads and veggies:
Potato salad made with eggless mayo.
Pasta salad with tons of veggies and chickpeas or lentils.
Lentil herb salad made by combining cooked lentils and very finely chopped tomatoes, fresh herbs, onion, peppers, salt, pepper, lemon juice and zest and a small drizzle of olive oil.
3 bean salad made with black beans, kidney beans and black eyed peas (or your favorite combo), some corn, diced onion, peppers, tomatoes, lots of cilantro and some salsa and guacamole on the side for topping. Turn it into a taco fest by bringing along some tortillas. Take a look at our roasted corn and bean salad video here for some ideas.
Couscous or orzo salad with grilled vegetables cut into strips, olive oil, lemon juice and fresh basil and some hummus for topping.
The classic coleslaw, made with eggless mayonnaise.
Grilled corn on the cob which you can make ahead of time.
Roasted mini potatoes which you can make ahead of time.
Spanish escalivada, a delicious dish you can make by roasting onions, red bell peppers and eggplant in the oven until very tender and caramelized, then cut everything into thick strips, drizzle with a bit of olive oil, sprinkle with sea salt or sea salt flakes and enjoy with the rest of your meal or favorite bread.
Fruit salads. We always forget about the magical dish that is a fruit salad. Just make sure to add a touch of lemon juice to whatever combination you like, to prevent bananas and apples from browning too quickly.
Our favorite snacks and treats:
Guacamole, salsa and chips.
Frozen grapes.
Homemade trail mix made with your favorite nuts, pumpkin seeds, dried cranberries or raisins and toasted coconut flakes.
Cut up fruit, especially pineapple, mango and watermelon in the summer.
Sliced apples rubbed with a little lemon juice and some pumpkin butter, peanut butter or almond butter with cinnamon for dipping.
Energy balls made at home by just combining some cacao, coconut flakes, almonds and dates in a food processor. Then making the mixture into little balls.
Dark chocolate! Need I say more?
Your favorite store-bought protein or energy bars, especially if you'll be exercising or going on a long hike or if you're pressed for time and the other options aren't possible.
Cut up veggies, and hummus, guacamole or bean dip for dipping.
Cookies or your favorite dessert for a post picnic treat.
Fresh strawberries (pre-washed), and some non-dairy whipped cream.
Peach or berry cobbler, which is easy to pack and transport. Just have everyone grab a fork and dig into the same casserole you baked it in! So simple.
Our favorite drinks:
Water with some lemon or lime slices, even fruit slices or berries.
Lemonade.
Iced tea.
Iced green tea.
Iced coffee, or hot coffee or tea in a thermos.
A nice bottle of wine, apple cider or beer, whatever floats your boat.
Homemade juices or smoothies
If you don't drink alcohol, a bottle of something bubbly that is non-alcoholic will be perfect for a festive celebratory drink.
Gadgets for the hardcore picnic goer
I'm not affiliated with these products, I simply thought they were pretty cool in a "oh my God I can't believe I hadn't thought of this before/why don't we have it" kind of way.
This little rolling cart that transforms into a picnic table by Yanko Design.

This cool condiment tray that holds ice in the bottom by Houzz.

If sitting on the ground is uncomfortable for you or you've got some sneaky dogs who try to eat everything, this awesome rolling cooler that opens up into a table and includes chairs will do the trick. From icreativeideas.

Loved this wicker picnic caddy that will hold everything in one place, from Fresh finds.

If you haven't seen the Lamzac yet... well... you're welcome.

There's no instructions with this DIY project by Buzzfeed, but you'll understand why I had to include it.

The most portable grill on the planet, by Fab.


Giant clip-style cupholders, perfect if you're at a picnic table but have kiddos running around spilling things, by Off Some Design.

Get rid of all that environmentally hazardous plastic and get these beautiful and light teak wood cutlery set by Anthropolgie.

Yes, you can keep your picnic blanket in your pocket with the Matador blanket from Amazon.
If you want to go full on fairy tale, the hanging tent by the hanging tent company. Yeah.... had to close the post off with this one.

Do you have any picnic or potluck favorites when it comes to dishes or traditions? I'd love to hear them! Leave them in the comments below and don't forget to share this post with the picnic adventure goers on your life. See you next time!
You might also like...
Our Program and Courses
Take a look
Don't miss our weekly goodies!
Our best FREE content straight to your inbox