Last week, we helped you celebrate 4th of July weekend with some delicious vegan recipes from across the blogosphere, which you can check out here. We had delicious homemade vegan sausages, red, white and blue fruit tarts and bars, crispy no fry onion rings, yummy burgers, the works! It inspired me to create the series you're going to start enjoying today, all with a friend in mind: the barbecue.
I can't tell you how much we love barbecue season. Partly because as Venezuelans we both grew up with family barbecues every weekend. Carlos would go to his grandparent's house, which was also the house he grew up in, and his whole family would get together on Saturdays for some grilling. We don't have seasons back home, meaning this was a tradition held year round. Talk about a lot of barbecues.
My story is a bit different. Compared to Carlos's huge family, mine was just my mom and me, and sometimes the friends that would join us. We would drive 3 hours away from home to the beach where my mom had a little beach house with the most magical backyard. The house was really simple, beautiful, and not too big, but the backyard had over 30 fruit trees including limes, tangerines, "cemoruco" (a tart cherry used for jams and pies), palm trees with lots of coconuts, tamarind trees, loquat (medlar) trees and soursop trees, a vegetable garden, a pond for ducks and birds, two sheep, 5 ducks, and a partridge in a pear tree. Just kidding, no partridge in a pear tree, but we would always add to this mix the fact that we drove there with our dog, cat, and tortoise, so yeah... not your typical childhood. You can check out lots of family photos of this place in this older post I wrote on doing what I call wellness detective work.
Every Saturday, my mom would pack her famous picnics, we would head to the beach with our friends, and when we felt we had had a bit too much sun, we would all go back to our place for a barbecue, on this homemade, disheveled, brick grill with a grate someone had built before we set up house there. Everyone had a job, including the kids. For me, other than my daily chores of climbing and picking the trees for fresh fruit and helping feed the animals, it was the making of my famous barbecue sauce, which after gaining some culinary knowledge later in life I realized was not exactly a barbecue sauce, and more like a marinade or "mojo". Still, it was the bomb, and it was usually made with the veggies and limes we had in the garden. We would grill, eat, and take naps in the hammock or under the trees, and talk to all the friends who were gathered around the table, who weren't at all related to us, but who ultimately became our family.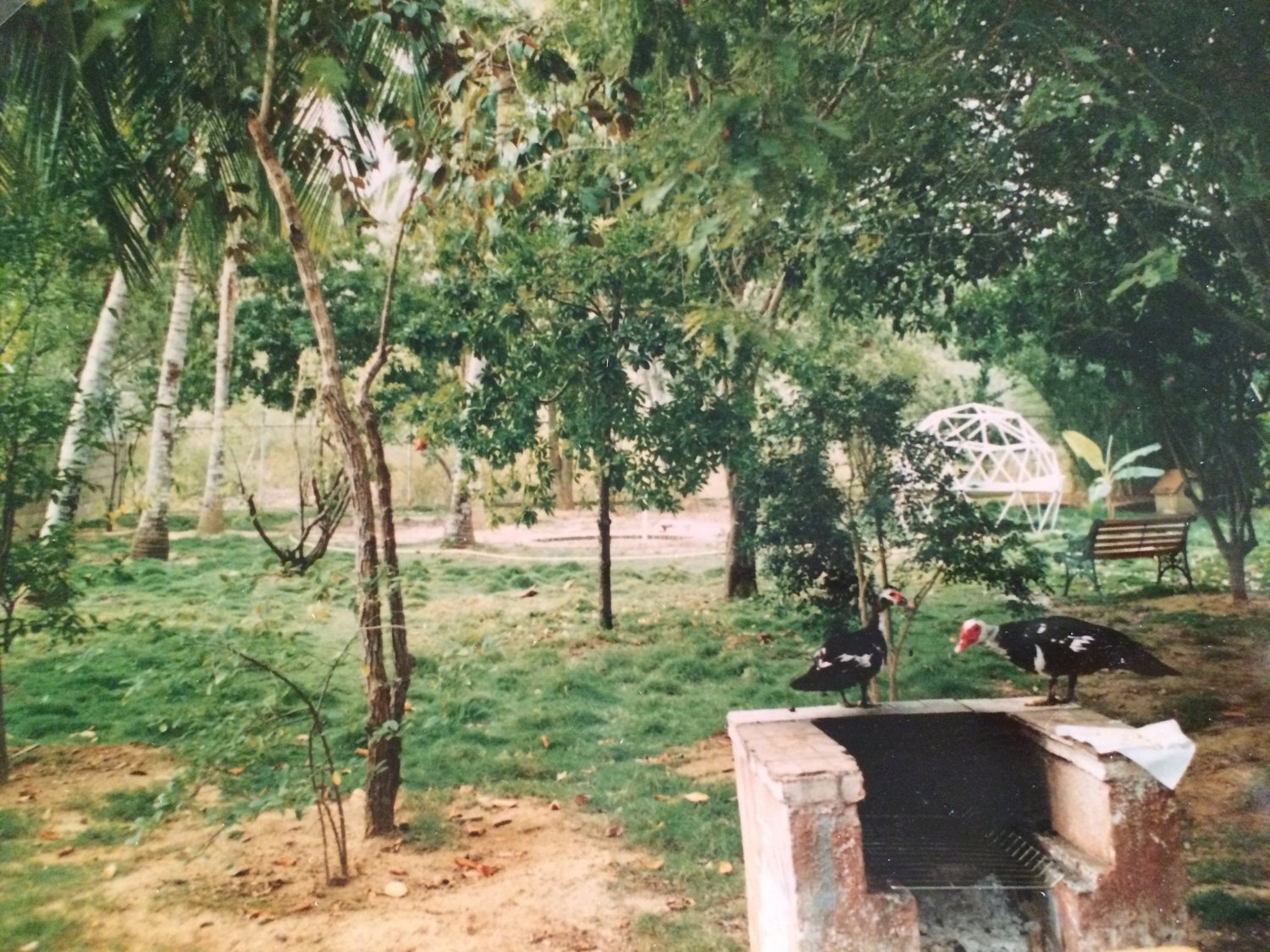 Years later, when Carlos and I started dating, I met his entire family during one of his famous family barbecues on Saturdays, and although we no longer had our beach house, Carlos joined me and my mom, in our little city apartment balcony, where we had the most ridiculously tiny grill on the planet, but still, we kept the tradition alive.
So yeah, Carlos, barbecues and I go way back.
No, none of these barbecues were remotely close to vegan.
What were two barbecue and meat junkies to do when we decided to go vegan? Turns out it was easier than we thought, and we managed to keep all our traditions alive and simply swap one ingredient for another, pop it on the grill, put on some tunes, and have summer barbecues every Saturday.
These are some of the reasons why having a whole series on barbecues was in store! During the summer, when the weather allows, grilling season starts, and we receive invitations left and right for barbecue parties, it's great to have ideas of what we can fire up, and what we can also take to non-vegan barbecues if we're sharing grill time with non-vegan family and friends.
I could talk forever about grilling, one of my favorite cooking methods, so just so I don't keep you here forever, I've divided it up into several posts and episodes, so that it's also easy for you to find what you're looking for. Today we're talking all about vegan meatiness and marinades.
Although you can have a delicious grilling extravaganza based entirely on grilled vegetables, guacamole, side dishes, salads, and desserts, I love including a little vegan meatiness to mine, especially for when non-vegan friends and family join us. That way it feels familiar and hearty. The idea behind these posts and episodes is that you pick and choose what you like, and leave the rest!
Here we go!
Delicious vegan meats for the barbecue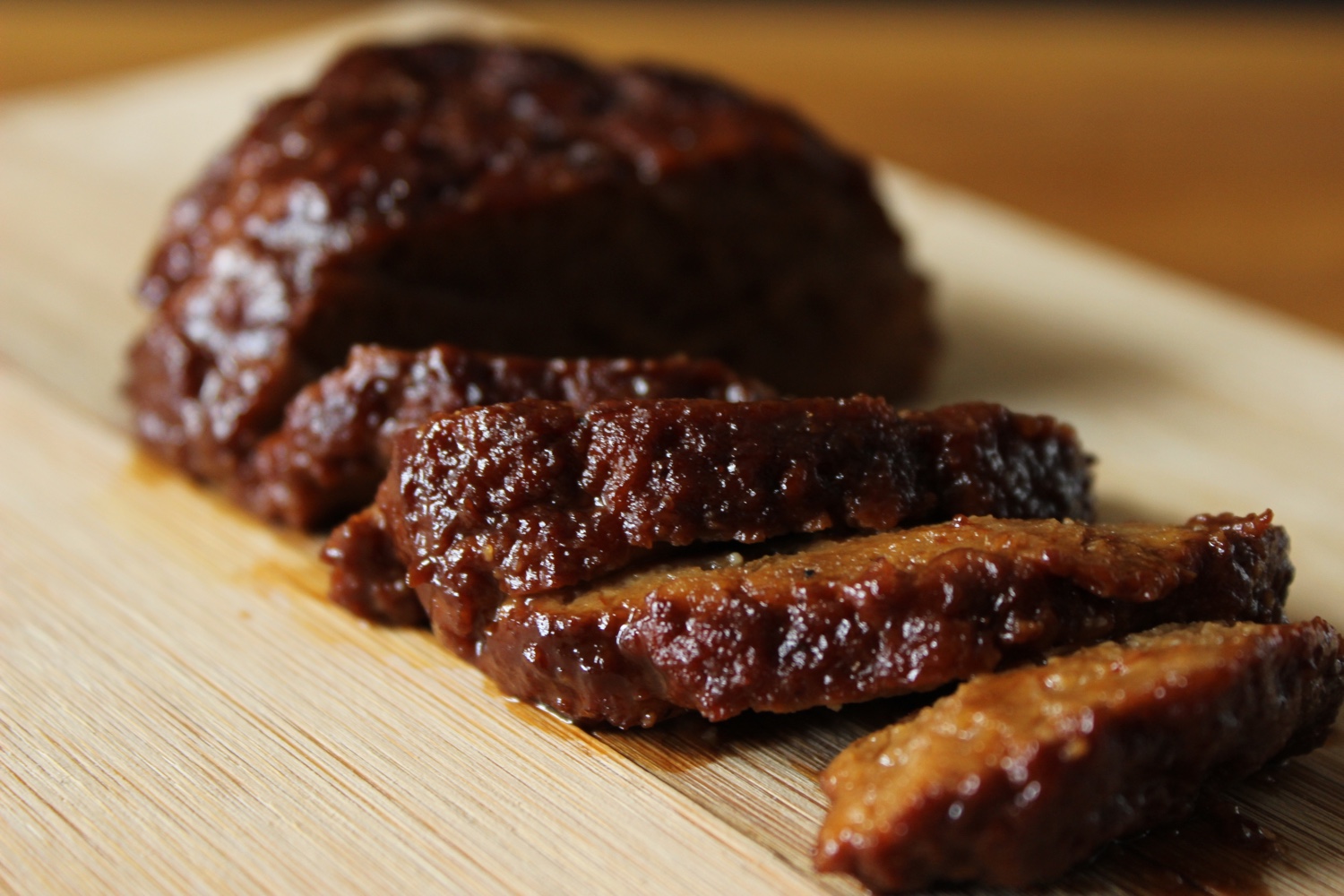 Seitan steaks
Previously marinate some seitan steaks (a vegan protein made from wheat that is so meaty it's crazy!), and pop them on the grill. Continue brushing the marinade or barbecue sauce on top as you cook them. The best seitan for grilling is any that is really firm. You can make the seitan itself at home a day ahead to let it firm up, or choose a brand you know has a very meaty and firm seitan. Packages of smoked seitan if you can find them, usually provide this, but regular varieties are awesome as well.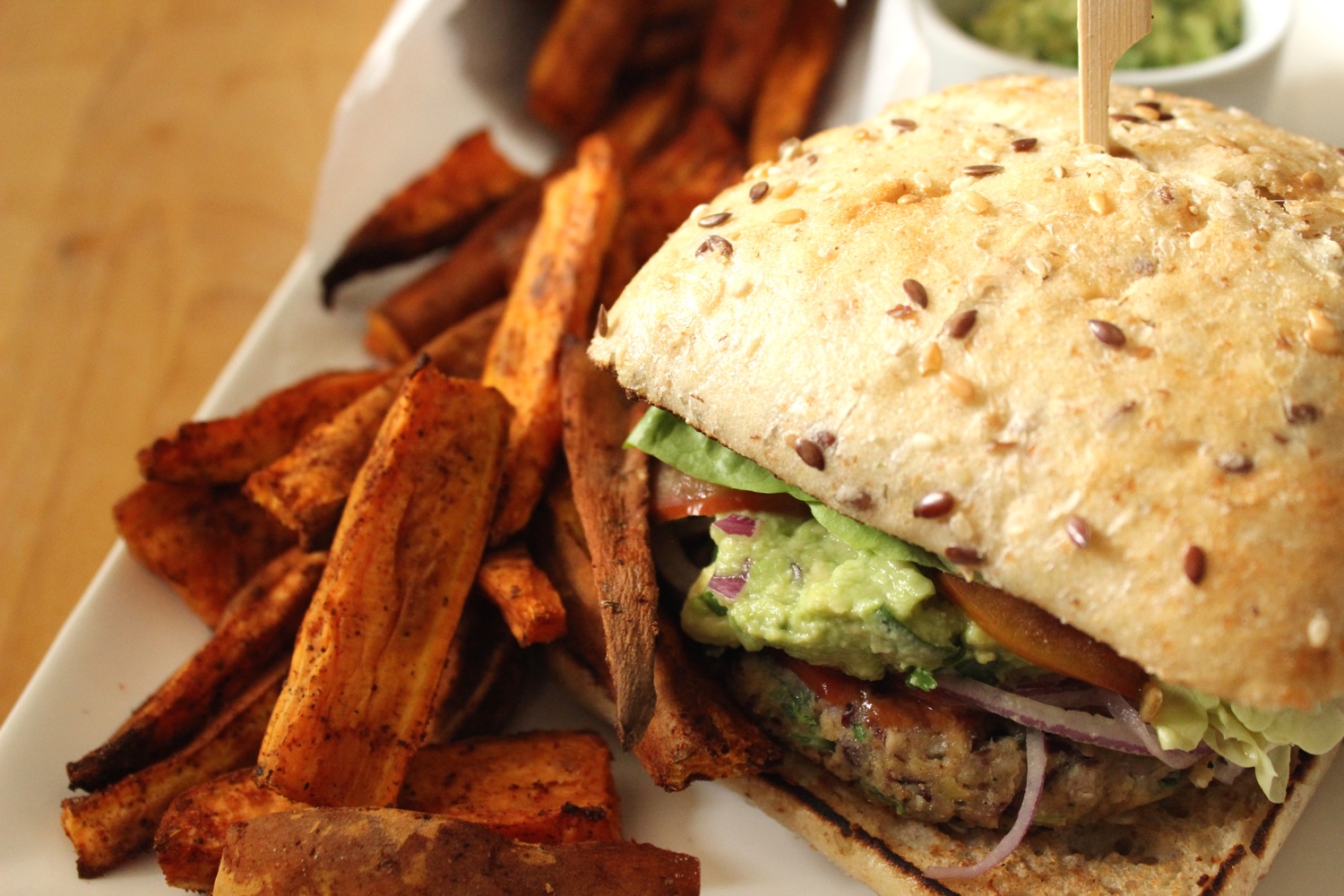 Veggie burgers
Make a big batch of veggie burgers in advance, and just warm them up and let them get a nice char on the grill. You can also buy ready-made vegan burgers you love, and the work gets even easier! Make sure whatever burger you make or buy, it can withstand the flipping and still remain intact. Two of our yummy recipes are great on the grill and can be made ahead of time, these include our BBQ black bean and portobello mushroom burgers, and our tempeh and kidney bean tortilla burgers. A great tip is to brush them with a bit of high heat oil to prevent them from drying out, or use a marinade or barbecue sauce to brush them as you grill. So good! Then you get to serve lots of fixings and your favorite bun on the side or serve them on their own.
The land of skewers!
I love skewers on the grill because they're quick to cook, you get delicious crispy charred veggies in the mix, and they're easy on the cook since all they need to do is turn the skewers on the grill! Here are some combinations I love:
Tofu cubes marinated with barbecue sauce or any of the marinades below, with pieces of onion, red bell pepper, and mushrooms.
Cubed up and marinated seitan with pieces of onion, red bell pepper, and whole cherry tomatoes.
Previously steamed tempeh cubes, marinated and placed on the skewer with mini onions and pineapple.
Your favorite vegan meats like Gardein, cut into pieces and placed on the skewer with peppers, onion, pieces of eggplant and zucchini.
Your favorite store-bought vegan meats or roasts
There are so many vegan meats out there, from seitan (wheat based) to soy, and even vegetable based! Any of these can be grilled on the barbecue with a delicious sauce for a nice char and delicious flavor. Use any of the sauces or marinades below, place them on skewers, etc.
Tofu steaks
I can't even begin to tell you about my love of tofu, and it's usually a regular at our barbecues. Skewers are a recent favorite, but sometimes I just slice up the tofu into thick rectangles, I make sure to squeeze as much of the water out, let them marinate well in any of my barbecue sauces or marinades below, and then we place them on the grill. It needs to be the firmest variety of tofu you can find to get the perfect texture, and you also have to be patient so that the tofu gets charred and is deliciously chewy.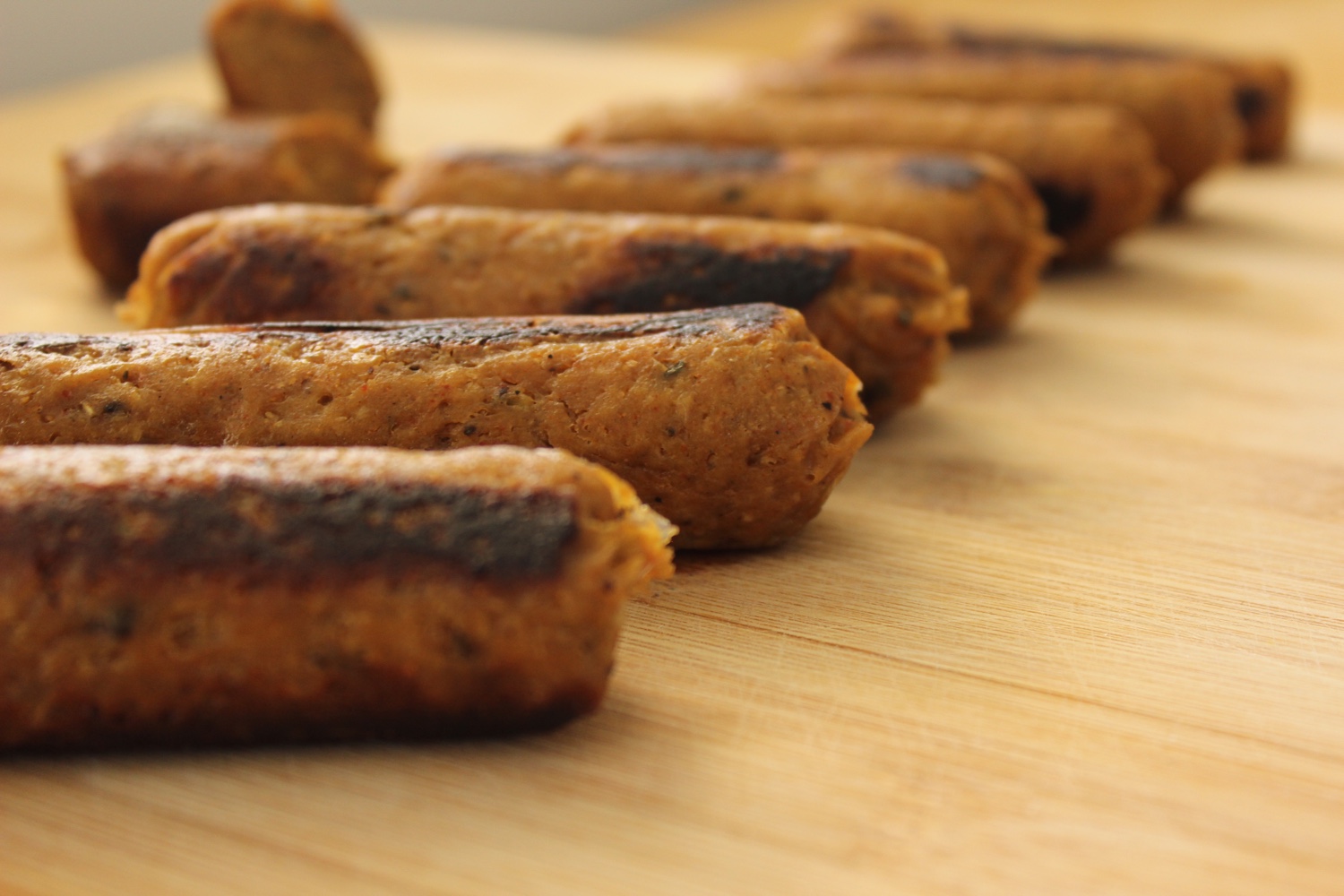 Vegan sausages, hotdogs, and brats
Making your own sausages at home is as easy as a bag of gluten, some tofu, spices, and vegetable broth like we teach you in our latest FREE breakfast and brunch classics course. Even if you have celiac disease, you can still make other versions using soy, tofu, tempeh and even mushrooms and other vegetables! However, so many companies are now making delicious vegan hotdogs, sausages, chorizo, and brats, that it can be as simple as buying your favorites and placing them on the grill. This is my favorite choice for when non-vegan friends and family invite me over for barbecues. They're portable, delicious, familiar, and don't add any extra work for the cook. Some great brands, both in the US and outside the US are Field Roast, Wheaty, Tofurky, Veggisimo, Red Wood, Vegan Deli, VegIn, among many others. Varieties include delicious things like apple maple and sage sausages, spicy chorizo, Italian sausage, beer brats, spinach pesto, chick'n style, smoky chorizo, and countless others, and it's easier to make your own than you think if you live in an area where these products aren't as readily available.
Think of vegan meatiness beyond meat substitutes
Delicious vegetables like portobello mushrooms, shiitakes, and eggplant, among others, are delicious grilled and will give you a meaty and hearty texture and flavor when you don't have vegan proteins available or you prefer to keep things based entirely on whole foods. Same goes for using a fruit like jackfruit or pulled smoked porcini mushrooms to make a type of shredded barbecue meat dish like sloppy joes or vegan carnitas. I love some marinated eggplant steaks and big portobello mushrooms with liquid smoke and soy sauce on the grill until charred and smoky. Carlos loves charred shiitakes that are previously marinated in tamari and thyme. There's nothing like 'em!
Marinades and Sauces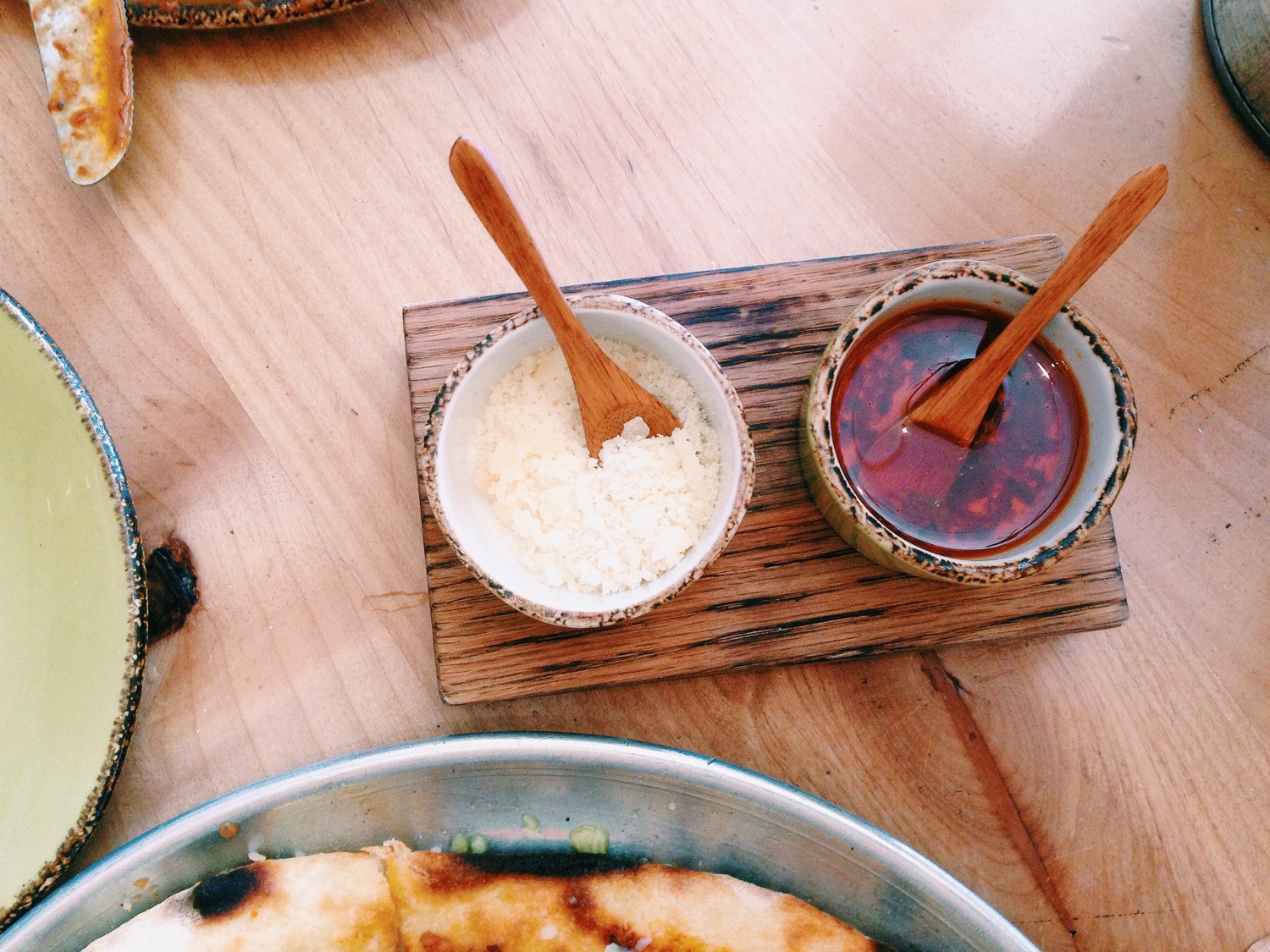 Although I mostly think of marinades for the meaty portion of the barbecue, marinades can also act as sauces to serve on the side, you can toss them with vegetables before adding them to skewers, or brush them on everything while you're grilling. They can be as simple as your favorite barbecue sauce, to very exotic combinations to give your grilling faves a twist. There's no need to measure any ingredients with this, during all my childhood years I never once created a recipe for my beach "mojo", and it came out delicious every time. With sauces and marinades, it's a great way to get some cooking skills by playing it by taste. Add a bit of each, and taste and adjust until you get a delicious flavor you love.
Your favorite store-bought barbecue sauce
Toss any of the options in our vegan meatiness section above with your favorite barbecue sauce, let them marinate, and brush it as they cook on the grill.
Flash barbecue marinade
Combine:
Soy sauce (tamari for the gluten free option).
Liquid smoke (you'll find it next to the barbecue sauces or condiments at the supermarket and it's a vegan's best friend!).
Tomato paste.
A bit of high heat oil.
Maple syrup, molasses or brown sugar.
A squeeze of lime or lemon and a bit of the zest.
Finely minced onion, garlic, and red bell pepper if desired.
Asian sweet barbecue
Hoisin sauce.
Lime juice.
Soy sauce.
Liquid smoke.
Sriracha sauce.
A bit of water until the desired consistency is reached.
Kim's beach "mojo"
Finely minced onion
Finely minced green onion.
Finely minced red bell pepper.
Finely minced green bell pepper.
Finely minced garlic (about 1 clove).
Finely minced parsley, and/or chives, and/or cilantro.
Ketchup.
Heinz 57 sauce.
Lime juice.
A drizzle of a neutral tasting oil.
Pesto
Your favorite dairy-free, store-bought or homemade pesto for marinating vegetables, veggie burgers, skewers or served as a side sauce.
For curry lovers
Use this as a marinade and/or sauce. It's great for when you want to make tofu and vegetable skewers and make something different. After you've grilled your skewers, you can also brush more of the sauce on top, and roll the skewers over unsweetened coconut flakes.
Curry paste
Coconut milk
Grated ginger
Lemon or lime juice
Agave or maple syrup
A dash of cinnamon and paprika
Jamaican jerk
Jerk seasoning mix.
Tomato paste.
A bit of ketchup.
Lemon juice and a bit of the zest.
A neutral tasting high-heat oil like safflower, sunflower, canola, etc.
A bit of mustard.
Liquid smoke.
Oniony goodness, ranch style
Eggless mayonnaise.
Non-dairy milk to thin out the consistency.
Onion powder (lots!).
Garlic powder.
Hickory, cajun or jerk seasoning mix.
Lemon juice.
Chives
My mom's lemony-mustard marinade
Lemon juice.
Mustard.
A bit of agave
Sea salt and pepper
Water to thin out the consistency.
Grated onion (yes! you can grate an onion and it's awesome for marinades!)
Smoky miso
Miso paste.
Soy sauce.
Tomato paste or a bit of your favorite barbecue sauce.
Maple syrup or agave.
Liquid smoke.
A drizzle of a neutral tasting high-heat oil like safflower, sunflower, canola etc.
Lemon juice.
Grated onion.
Water to thin it out until a creamy consistency is reached.
Classic Teriyaki
Grated ginger.
Soy sauce.
Maple syrup, agave and/or brown sugar.
A bit of cornstarch.
Minced garlic or garlic powder.
Water.
We haven't even scratched the surface when it comes to vegan grilling. Next week it will be all about grilling vegetables, and making great sides and salads for your barbecues, so stay tuned!
Do you have any meaty barbecue favorites or marinades/sauces that weren't mentioned here? Leave them in the comments below!
You might also like...
Our Program and Courses
Take a look
Don't miss our weekly goodies!
Our best FREE content straight to your inbox